Over the next few weeks, we will be breaking down each team's situation as it pertains to the 2021 NHL Expansion Draft. Which players are eligible, who will likely warrant protection, and which ones may be on the block to avoid the risk of losing them for nothing? Each team is required to submit their protection lists by 4:00 PM CDT on July 17th. The full eligibility rules can be found here, while CapFriendly has an expansion tool to make your own lists.
Back in 2017, the San Jose Sharks ended up losing David Schlemko to the Vegas Golden Knights in the expansion process after they decided not to make any side deals with the incoming team. Vegas decided on Schlemko with the intention of a trade and quickly flipped him to the Montreal Canadiens for a fifth-round pick. The Sharks are the perfect example in favor of just letting the expansion process play out, as the Golden Knights ended up leaving other names like Brenden Dillon on the table. Schlemko played just 55 more NHL games and was out of professional hockey after the 2018-19 season.
At that point, the Sharks were a recent Stanley Cup runner-up and had been to the playoffs 13 of the previous 14 seasons. It's a much different situation this time after two years of missing the postseason and the protection options show how thin the roster is getting.
Eligible Players (Non-UFA)
Forwards:

Logan Couture, Evander Kane, Timo Meier, Tomas Hertl, Kevin Labanc, Ryan Donato, Alexander True, Rudolfs Balcers, Jayden Halbgewachs, Dylan Gambrell, Jonatan Dahlen
Defense:
Erik Karlsson (NMC), Brent Burns, Marc-Edouard Vlasic (NMC), Radim Simek, Christian Jaros, Jacob Middleton, Nicolas Meloche
Goalies:
Notable Unrestricted Free Agents
Marcus Sorensen, Matthew Nieto, Patrick Marleau, Kurtis Gabriel, Maxim Letunov, Greg Pateryn
Notable Exemptions
Alexander Barabanov, John Leonard, Nikolai Knyzhov, Mario Ferraro, Noah Gregor, Alexei Melnichuk, Sasha Chmelevski, Ivan Chekhovich
Key Decisions
Overall, the Sharks are facing a tough offseason. How do you retool and get the roster back to contender status when you have so much money tied up in aging players? The contracts handed out to the old core are anchors on the roster now, especially in a flat-cap world, and there are holes all over the place. With that in mind, the Sharks could potentially use the expansion draft as an opportunity, trying to bait (or entice) the Kraken into taking one of those contracts off the books.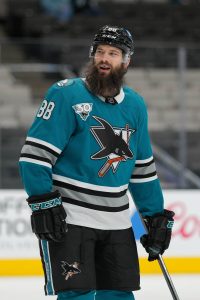 That discussion starts (and perhaps ends) with Burns, the bearded, unique, franchise icon that has done so many incredible things for the Sharks. Burns turned 36 in March and just had his second-worst offensive season (even by points-per-game) since arriving in San Jose a decade ago. Gone are the days of the 20+ goal, point-per-game rover that took home the Norris Trophy in 2017 and yet, there are still four more years on his contract at an $8MM cap hit. It's not that Burns is completely ineffective, but the idea of having his contract vanish has to be at least a little bit enticing for GM Doug Wilson. That's a tough trigger to pull given how popular he is in the market, but it actually might be the most effective way to clear some space.
A move like that is only even a possibility because both Karlsson and Vlasic have no-movement clauses that force San Jose to protect them in the draft. Getting out from either one of their contracts—seven more years at $11.5MM for Karlsson and five at $7MM for Vlasic—would be ideal, but isn't possible unless Wilson can somehow convince them to waive their clause.
If the team goes with the traditional seven forwards/three defensemen protection scheme, which is likely, that basically makes the decision either Burns or Simek for the last spot. The 28-year-old Simek signed a four-year, $9MM contract just over a year ago and looked like a stable, stay-at-home foil for Burns or Karlsson,  but has quickly been passed on the depth chart by younger options. Though he dealt with some injuries this season, Simek only averaged 14:13 in ice time through 40 appearances and really doesn't need to be protected at this point.
Upfront, things are a little more favorable. Couture, Kane, Meier, Hertl, and Labanc seem like locks for protection, even though not all of them lived up to their contracts this season. Even though Meier and Labanc only had 12 goals each, it doesn't make a lot of sense to expose them and give up on the chance for a bounceback in 2021-22.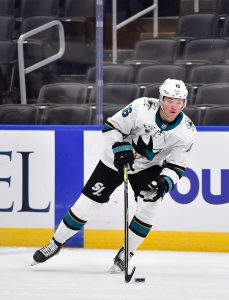 That leaves two protection spots available at forward and there are several options. Donato was supposed to reach another level in San Jose after being acquired for a third-round pick in October, but managed just six goals and 20 points in 50 games. He is actually a restricted free agent, so even if the team wants to leave him exposed to fill a required spot he'd need a new contract first. Balcers showed flashes potential and could likely warrant a spot, while Gambrell is at least still young enough to hopefully take a step forward offensively.
The real wildcard is Dahlen, who just signed a contract to return from Sweden after dominating the second tier there. The 23-year-old is the kind of boom-or-bust prospect that an expansion team would love to get their hands on, meaning San Jose is probably going to have to protect him. There's no guarantee Dahlen ever works in the NHL, but his offensive skill makes him so intriguing that Seattle would have to take a swing.
In net, it seems obvious to leave Jones exposed and protect Korenar. Even though the young goaltender didn't perform particularly well in his ten-game stint this season, Jones has been so bad for so long now that it would be a miracle to get his contract off the books. For three straight seasons, Jones has posted an .896 save percentage as the team's starting goaltender and he has three years at $5.75MM left on his deal.
Projected Protection List
F Logan Couture
F Evander Kane
F Timo Meier
F Tomas Hertl
F Kevin Labanc
F Jonatan Dahlen
F Rudolfs Balcers
D Erik Karlsson
D Marc-Edouard Vlasic
D Brent Burns
Skater Exposure Requirement Checklist
When Vegas had their expansion draft, a minimum of two forwards and one defenseman had to be exposed that were under contract and played either 40 games in the most recent season or 70 over the past two combined.  Due to the pandemic, those thresholds have been changed to 27 games played in 2020-21 or 54 in 2019/20 and 2020-21 combined.  In creating our expansion list for each team in this series, we will ensure that these criteria are met.
Forwards (0)
Defensemen (1): Radim Simek
The Sharks actually don't have either of their required forward spots filled if they protect those top five, but could easily fix this with new contracts for Donato and Gambrell. Even re-signing Marleau would give them one, if the all-time games played leader is serious about returning for another season. Remember though that this isn't a perfect situation to be in, given that both Donato and Gambrell are arbitration-eligible. It's doesn't help leverage much when the other side knows the contract they are signing may immediately go to another team. Either one could decide to wait for the arbitration process, leaving the Sharks in a tougher spot with the expansion draft coming in just over a month.
At defense, even if the Sharks decided to leave Burns exposed instead, he fills the requirement as well.
Photos courtesy of USA Today Sports Images.  Contract information courtesy of CapFriendly.