Over the next few weeks, we will be breaking down each team's situation as it pertains to the 2021 NHL Expansion Draft. Which players are eligible, who will likely warrant protection, and which ones may be on the block to avoid the risk of losing them for nothing? Each team is required to submit their protection lists by 4:00 PM CDT on July 17th. The full eligibility rules can be found here, while CapFriendly has an expansion tool to make your own lists.
If you picked a team that had the least painful expansion process the last time around, the New York Rangers may be near the top. They didn't have to make a side deal with the Vegas Golden Knights and ended up losing Oscar Lindberg, a depth player who had averaged fewer than 11 minutes a night in 2016-17. Sure, he seemed like a useful piece, but he played just two more seasons in the NHL before heading back overseas. He's now in the KHL, a long way removed from the Rangers roster. This time around, New York is still in a pretty strong position heading into the draft and likely will avoid losing a key player once again.
Eligible Players (Non-UFA)
Forwards:

Artemi Panarin (NMC), Chris Kreider (NMC), Mika Zibanejad (NMC), Ryan Strome, Kevin Rooney, Jonny Brodzinski, Anthony Greco, Colin Blackwell, Julien Gauthier, Timothy Gettinger, Gabriel Fontaine, Ty Ronning, Filip Chytil, Pavel Buchnevich, Brett Howden
Defense:
Jacob Trouba (NMC), Anthony DeAngelo, Ryan Lindgren, Anthony Bitetto, Mason Geertsen, Brandon Crawley, Libor Hajek
Goalies:
Alexandar Georgiev, Keith Kinkaid
Notable Unrestricted Free Agents
Phillip Di Giuseppe, Brendan Smith, Jack Johnson
Notable Exemptions
Alexis Lafreniere, Kaapo Kakko, Vitali Kravtsov, Morgan Barron, Adam Fox, K'Andre Miller, Zachary Jones, Tarmo Reunanen, Nils Lundkvist, Igor Shesterkin
Key Decisions
For the Rangers, who have started a rebuild since the last draft, the key is in their exemptions. The real core of the future in New York isn't even eligible to be picked, meaning no matter who they choose to protect, the group will still have tons of talent coming back next season. That leaves really only fringe choices, just like when they decided to leave Lindberg–who was a regular in the lineup–exposed to the Golden Knights.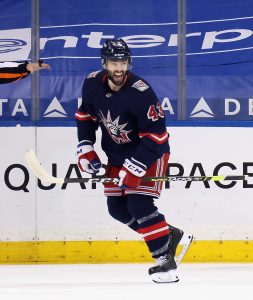 At forward, there are three players who have no-move clauses, but all of them would deserve protection anyway. Panarin, Kreider, and Zibanejad make the veteran part of the group upfront and are key pieces if the Rangers expect to compete for the playoffs next season. Chytil, who took a strong step forward this season, is a no-doubt choice for protection to make it four. There is perhaps an argument to be made for leaving Strome or Buchnevich available, given they each are scheduled for unrestricted free agency after the 2021-22 season (Buchnevich is an RFA this summer, but a one-year arbitration award would take him to the open market), but it seems much more likely that they both will be protected as valuable assets.
That leaves one spot for several names, with a case to be made for any of Rooney, Blackwell, Gauthier, or Howden. Many would lean toward the latter two because of their youth, but that doesn't necessarily matter when a team is trying to make the playoffs in 2021-22. Rooney and Blackwell are both better NHL players right now than the two youngsters, meaning they could end up protected ahead of them. Blackwell especially showed he could be a legitimate depth scoring option for the Rangers this season, registering 12 goals and 22 points in 47 games. The fact that he is signed for next season at a cap hit less than the league minimum makes him a valuable piece.
On defense, things would have been much more interesting if DeAngelo hadn't worn out his welcome so thoroughly. The 25-year-old defenseman was banished from the team earlier this season and is almost certainly going to be left unprotected in the expansion draft (if he's still a Ranger by then). Trouba's no-movement clause stifles any debate over his place on the list and Lindgren is an obvious choice after inking his new deal. Once again, that leaves just a single spot for GM Chris Drury to play with, and again it comes down to a decision between youth and experience. Hajek played in 44 games for the Rangers this season but wasn't very effective, while Bitetto has at least shown he can handle a bottom-pairing role in the NHL.
Of course, these decisions are all subject to change dramatically should Drury decide to pull the trigger on a trade over the next few weeks. That defensive protection slot especially could be weaponized, if he decides that Hajek is worth risking to the Kraken. The Rangers could acquire another player that is at risk elsewhere, adding him to what is looking like quite the formidable defense group for 2021-22.
In net, there isn't really a decision to be made. The team signed Kinkaid to fill the exposure requirements so that they could protect Georgiev. The fact that Shesterkin is still ineligible despite having already turned 25 saves them from a tough call.
Projected Protection List
F Artemi Panarin
F Chris Kreider
F Mika Zibanejad
F Ryan Strome
F Filip Chytil
F Pavel Buchnevich
F Colin Blackwell
D Jacob Trouba
D Ryan Lindgren
D Libor Hajek
Skater Exposure Requirement Checklist
When Vegas had their expansion draft, a minimum of two forwards and one defenseman had to be exposed that were under contract and played either 40 games in the most recent season or 70 over the past two combined.  Due to the pandemic, those thresholds have been changed to 27 games played in 2020-21 or 54 in 2019/20 and 2020-21 combined.  In creating our expansion list for each team in this series, we will ensure that these criteria are met.
Forwards (1): Kevin Rooney
Defensemen (2): Anthony DeAngelo, Anthony Bitetto
By protecting Blackwell, it does create a bit of an issue for Drury to fix. The team would then only have one forward left exposed who have both completed the requisite games played and is signed for next season. A quick contract for any of Di Giuseppe, Gauthier, or Howden would fix that problem though, something that shouldn't be too much trouble. For defense, DeAngelo can serve as that exposure requirement if he's still around, or Bitetto can take his place if the team makes a move in the coming weeks.
Photos courtesy of USA Today Sports Images.  Contract information courtesy of CapFriendly.