The offseason has arrived with roughly half of the league finished up after missing the playoffs.  It's time to examine what those teams need to accomplish over the coming months.  Next up is a look at Columbus.
After eliminating Toronto in the Qualifying Round last season, there was supposed to be a bit of momentum for the Blue Jackets heading into 2020-21.  However, that was quickly derailed by a trade request from Pierre-Luc Dubois and Gustav Nyqvist being ruled out for the season before it even began.  Things basically only went downhill from there and instead of being in the mix for a playoff spot, they will be picking much higher in the draft than they wanted to.  Now two years removed from their all-in push, GM Jarmo Kekalainen and the recently re-hired John Davidson have a lot of work to do this offseason to retain and supplement their new core.
Find A New Coach
Let's get the easy one out of the way.  Columbus has a vacancy behind the bench following the recent parting of ways between them and John Tortorella whose contract was not renewed.  (On top of that, Brad Shaw, one of their assistant coaches, won't be back either.)
As coaching cycles tend to alternate between tougher coaches and ones viewed as more of 'players' coaches', it would seem that Kekalainen would be seeking someone in the latter category.  The GM has already expressed an openness to hiring a first-time NHL head coach or someone who has held that title before so they'll be casting a wide net.
One element Kekalainen will likely try to focus on is finding a coach who is going to play a more up-tempo system.  Columbus struggled mightily in the offensive zone this season and while part of that is simply a lack of offensive firepower, some of the better forwards they had are coming off of tough seasons.  Finding someone who can get more out of those players would certainly help their cause.
Extensions For Defensemen
While Columbus has seen their forward core get progressively weaker the past couple of years, that hasn't been the case on the back end as their two stalwarts – Seth Jones and Zach Werenski – remain with the team.  Both of them are signed for next season already but that's it.  As a result, they'll be eligible to sign contract extensions once the 2021-22 calendar officially begins in July and Kekalainen will undoubtedly be looking to get new deals done with both of them.
Jones needs to be the priority of the two given his expiration status as he will be eligible for unrestricted free agency at the end of next season.  His offensive numbers have dipped the last couple of years but he still managed to put up five goals and 23 assists in 56 games while averaging more than 25 minutes a night for the third straight year.  He's a legitimate top-pairing defenseman and will be in line for a significant raise on his current $5.4MM AAV.  At 26, he's in the prime of his career and should be able to command a max-term contract of eight years.  He won't come close to the highest-paid blueliners in the league but something in the $8MM range would appear to be doable.
As for Werenski, he will be a restricted free agent with another year of team control but that will already carry a premium price as his qualifying offer jumps to $7MM despite a $5MM AAV.  It's not that the price tag is daunting at that level but if you're Werenski, it wouldn't be worth accepting less than that on an extension knowing that much is already locked in for 2022-23.  He is the better offensive player than Jones but isn't as good in his own end and doesn't play quite as much.  However, he's also in the prime of his career and is a viable top pairing player so he should be able to command a similar price tag as Jones.
While deals in that range would represent a substantial increase in cost, it's one that they'd be wise to pay.  That's a strong defensive core to build around and they don't even have $21MM in salary commitments for 2022-23; they have one of the cleanest cap situations in the league for that year.  They can afford to do it.
New Deal For Laine
The trade of Dubois to Winnipeg brought back two forwards.  One wound up finishing tied for second in team scoring while the other struggled offensively.  Patrik Laine was supposed to become the go-to scorer for the Blue Jackets but instead, it was Jack Roslovic who thrived while Laine struggled considerably.  He had just 10 goals in 45 games with his new team and while those numbers are certainly lower due to the pandemic-shortened season, it's still worth noting that it was only an 18-goal pace over a full 82-game campaign.  For someone that had at least 30 in each of his first three NHL seasons and played at a similar pace when COVID-19 put an early end to the 2019-20 campaign, that's a substantial drop.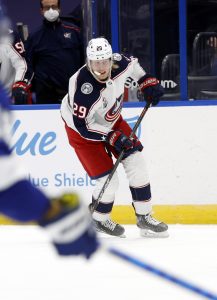 From Laine's perspective, it was also an untimely one as the 23-year-old will be a restricted free agent this summer.  This was supposed to be the year that helped him earn a long-term, lucrative contract.  But after a year like this, there will definitely be questions about how much a deal that buys out several UFA years should cost.
At a minimum, we can comfortably say it will cost at least $7.5MM.  With his bridge deal being backloaded, that's the minimum required qualifying offer and while Laine didn't have a season worthy of that level of production, there's no way they're non-tendering him.  Has he done enough to earn more than that though?  Is he willing to sign a long-term deal for that amount, even in this flat-cap market?  Is he willing to sign a long-term deal in Columbus?  (His comments at the end of the season seemed to suggest he would.)  Is Kekalainen willing to do that type of contract or would he prefer a one-year pact to see how he fits in with a new coach and a new system?
There are undoubtedly plenty of questions, certainly more than either side would have hoped for when the trade was made.  With Laine having arbitration eligibility this summer, they will have to be answered somewhere around the middle of August at the latest.
Add Impact Center
If this sounds like a familiar headline when it comes to Columbus, it's because it is.  Unfortunately for the Blue Jackets, it's an even bigger issue now.
Kekalainen tried to address the issue last summer when he brought in Max Domi from Montreal.  While he was coming off of a down season, he was only a year removed from a 72-point season so there was optimism that he'd be able to bounce back.  A one-two punch of Dubois and Domi wouldn't challenge for the best in the league but there seemed to be some legitimate offensive upside there.  Except that didn't happen.  Dubois wanted out and was eventually obliged while Domi struggled even more than a year ago, putting up the lowest per-game numbers of his career while collecting just 24 points in 54 games.  To make matters worse, he spent time on the wing as well.
Now, their one-two punch is Roslovic, a player who had mostly been a winger in the NHL before getting to Columbus and Domi.  Boone Jenner is a capable third liner while Alexandre Texier has top-six upside but hasn't put it all together.  There's a case to be made here that they could use two impact centers but in a free agent market where there aren't many available, that would be tough to do.  It may have to come from a trade but another notable addition down the middle is certainly required.
Pick A Goalie
The good news is that the Blue Jackets have a good goalie tandem in Joonas Korpisalo and Elvis Merzlikins.  It's a homegrown duo and they combine for a $6.8MM cap hit which is the league median.  They don't even have to worry about losing one to Seattle in expansion as Merzlikins is exempt having just come off his second NHL season.
The bad news is that both goalies are set to become unrestricted free agents next summer.  Speculatively, it stands to reason that neither of them will be content with being in a platoon beyond that as both have aspirations of being a starting goalie.  Both of them have shown flashes of that already.  At some point over the next year or so, they need to pick who they want to keep.
Having said that, the in-season trade market for rental goalies has been minimal for years now.  That probably isn't going to change next year.  Accordingly, Kekalainen's best chance at extracting reasonable value for one of them on the trade front would be over the next couple of months before money starts to be spent in free agency.  To that end, in his end-of-season media availability with reporters including Jeff Svoboda of the Blue Jackets' team site, Merzlikins indicated that he's expecting an uncertain summer with it seeming unlikely that both goalies will be content with the current situation.
As a result, that pick of who is going to be their goalie of the future may have to come sooner than later and could be dependent simply on if one is willing to sign now versus preferring to wait things out.  It's certainly shaping up to be a very busy offseason for Columbus.
Photo courtesy of USA Today Sports Images.  Cap information courtesy of CapFriendly.