Topics in this edition of the PHR Mailbag include what's next for the Flames, an underachieving winger in Boston, rebuilding New Jersey, projecting the most prominent player moved at the trade deadline, the futures of Ralph Krueger and Jared Bednar, thoughts a Minnesota forward who has produced in the minors yet hasn't had much of an opportunity, looking at the free agent goalie market, and a first in the history of this mailbag column (spanning more than four years).  If your question doesn't appear here, watch for it in next weekend's piece.
MoneyBallJustWorks: What do you do if you're the Flames? I know the Markstrom injury is unfortunate but this season must be a disappointment as of now.
Clearly, this question came before Thursday night's coaching change but I can safely say my answer wouldn't have been hiring Darryl Sutter on a three-year contract though his style may wind up being the kick that the team ultimately needs.  But with that having now been done, let's look ahead past that.
I'd like to see their top four defensemen get a bit more playing time; they don't have anyone at 22 minutes a game.  Having some balance isn't necessarily a bad thing but I don't think giving Nikita Nesterov 16 minutes a game is the best usage for him, especially with his struggles in his own end.  On the flip side, the fourth line has been underused; bringing Glenn Gawdin in to play less than six minutes a game is really pointless.  The fourth line can't be that much of a liability nowadays.
Unfortunately, this is not a season where Canadian teams will be able to trade their way out of their troubles.  The two-week quarantine for players coming from the other 24 teams is going to act as more of a deterrent now than it did earlier in the year and while it doesn't make a trade impossible, it doesn't make one likely.  What they have now is what they're going to need to work with moving forward but if they can make a small move, I'd look for a third-pairing blueliner and some upgraded forward depth by the deadline.
I'm intrigued to see how Sam Bennett fares under Sutter; I think he will benefit a lot from the change.  They'll play with more of an edge now and I think that will suit Bennett just fine.  Jacob Markstrom returning will certainly help as well.  This isn't a year where Calgary is going to contend but at the same time, they're within striking distance of a playoff spot and the teams directly ahead of them have their own flaws.  After this coaching change, it'll just be small tweaks and that may very well be enough to get in.
@jrice521: I don't see how the Bruins keep DeBrusk at the trade deadline. His production is virtually nothing. One goal to date on the season. Shouldn't they try to pry Virtanen out of Vancouver? They probably both need a change of scenery!
There's no denying that Jake DeBrusk is having a tough year and he is definitely a change of scenery candidate as a result.  So too is Jake Virtanen and in theory, the idea has a bit of merit.
From Boston's perspective, Virtanen has the weaker track record and a lengthier history of inconsistent play so there is some risk.  But they also would benefit from the cheaper cap hit in terms of freeing up a bit more flexibility to add another piece and also would appreciate the cheaper qualifying offer in the 2022 offseason.
However, that same reason is why Vancouver doesn't do the deal.  Virtanen's $3.4MM price tag next season (in terms of salary plus signing bonus) was a big reason the trade talks with Anaheim didn't go anywhere and DeBrusk's pay checks in at $4.85MM next year.  I suspect Vancouver's interest in Danton Heinen was more centered around the expiring contract where he could be non-tendered with the team then getting out of that final year of Virtanen's obligation.  While DeBrusk is the more proven player, that extra cost in terms of real money and cap space isn't going to go over well, especially since big-ticket deals for Elias Pettersson and Quinn Hughes are on the immediate horizon.
This is a season where quite a few of the trades made in the coming weeks will likely involve swapping change of scenery players so this type of move makes some sense on paper but the economic element probably stops it from happening, at least straight up.
SpeakOfTheDevil: What sort of adjustments do the Devils need to make to finally get out of this ongoing rebuild? I honestly want to know how you would make this team better.
Most teams in the league have some sort of identity.  Some are defense-first that rely on the goaltending, others have high-end offenses.  Some really like to push the pace.  I honestly have no idea what New Jersey's identity is.  They've been trying to make incremental upgrades to deepen their roster which is an okay starting spot but at some point, you have to pick a direction and build around that.  They seem to want to build around their attack so I'll make my plan based on that.
Goaltending – There isn't much I'd do here.  I liked the Corey Crawford signing to give Mackenzie Blackwood some insurance and it's not New Jersey's fault that Crawford had a last-minute change of heart.  Adding another similar veteran next year would be ideal.
Defense – Having puck-movers that can accelerate the attack is all well and good but they need someone who can actually defend in their own end as well.  I liked the Ryan Murray addition for that reason and leveraging their cap room to do something like that again would work.  Will Butcher is an expensive extraneous piece right now; if they're content with their puck-movers, try to flip him for a more stable defensive defender.  Their atrocious penalty kill (which sits at 62.5% heading into Saturday's game) will improve as a result.
Forwards – Sell out for high-end skill on the wing.  It's great to have seven or eight wingers capable of scoring double-digit goals.  But those players shouldn't be on the top two lines.  Unfortunately, their only true top-six winger is Kyle Palmieri, a pending UFA.  They're set down the middle with Jack Hughes, Nico Hischier, and Pavel Zacha.  But for them to truly reach their ceiling, they need wingers that are capable of producing consistently and they don't have that.  I recognize that they're not a free agent destination but in this cap environment, them having more cap room than most counts for a lot.  And if they can't add an impact UFA, then leverage that cap space into adding an impact player; don't settle for another Andreas Johnsson.
There's a decent young core foundation in place with their centers, Blackwood, and Ty Smith.  That's a good start but until they can supplement them with impact wingers and not just above-average role players, they're going to spin their tires.  Unfortunately for GM Tom Fitzgerald, accomplishing that is something that's easier said than done but they can't have another offseason of incremental upgrades if they want to take that next step.
DarkSide830: Biggest name dealt at the deadline?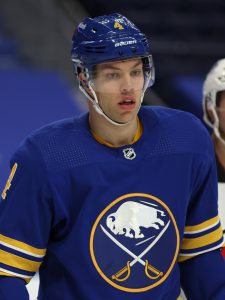 I know Taylor Hall is open to staying in Buffalo and the Sabres would like to have him back but I think it's Hall that will be the biggest name moved.  Given how much the 29-year-old has struggled this season, it's hard to see the two sides agreeing on a price point for a long-term extension that both sides will be happy with.  Hall went to the Sabres in part to try to prove that he's still a top-line player with an eye on securing the lucrative long-term contract he couldn't get in October.  Now, he needs to get out of Buffalo to accomplish the very thing he signed there to do.
From Buffalo's perspective, they're almost certainly missing the playoffs again so there's no reason to hold onto him if there's no extension in place.  If they're willing to retain, they should be able to land a decent return (not quite what the Devils got a year ago, however) as $4MM for a second-liner which is more of where he should be valued isn't impossible.  The Sabres will need to take a contract back but there's a suitable trade to be made.
LarryJ4: Does it look as clear to you as it does to me that the Sabres GM Kevyn Adams is completely handcuffed by Pegula when it comes to Krueger? If you had to choose between the next coach for Buffalo, who would it be? I'm hearing more Gallant than Boudreau but I think with the mix we have Boudreau would be better. Oh, and a goalie is needed as a stop-gap?
I don't think Adams is being handcuffed by ownership when it comes to Krueger.  Adams has been on the job for all of 22 games and doesn't have the prior front office experience to have a better feel for things.  When you're wading through your first experiences, the logical step is to ere on the side of caution.  In this case, it's keeping Krueger around and trying to be patient.  He can wait to make the move in the offseason if he needs to where he'd have a slightly better foundation to draw from or if things keep going off the rails, sometime between now and then.
I'm not sure Gerard Gallant takes the Buffalo job if it was to be offered to him.  This is not a situation that looks overly desirable from the outside given the turnover they've had and the fact they're perpetually not improving.  He can afford to be selective.  Bruce Boudreau does make some sense though.  This team can't score and he has been known to get his teams to at least average in that regard.  Even that would be an improvement.  Is Boudreau the coach to take Buffalo back to the promised land?  No, but he'd lay a better foundation for whoever comes after him.  If the Sabres were to make a coaching move, he would make some sense.
If Adams thinks they can stay in the playoff race, then yes, a stopgap goalie needs to be added.  I was shocked that they passed on Alex Stalock as he felt like the perfect fit though given what he just went through, maybe there were some lingering health concerns on Buffalo's end.  But if they're going to throw in the towel and sell, I'd give Jonas Johansson a longer look.  Can he be the future backup?  Now is as good a time as any to try and find out.
backhandinbaptist: Do you know much about Gerald Mayhew of the wild? He seems to dominate the AHL every year (last year 49GP/39G/22A/61P), yet on a team starved for offense over the past five years, he has barely gotten a sniff. Does he have an attitude issue? Is he a defensive liability? We have a deep keeper league of 24 teams, (keep 32 players and have 35 on the roster during the season) and I'm always adding him hoping this time he'll stick. He clearly has talent so if you have any insight, I'd appreciate it!
This question made me think of another Minnesota minor leaguer who had a very similar statistical profile and never really got a look in Sam Anas who is now with St. Louis.  Mayhew has had a handful of NHL games, is similarly undersized, and is basically in the same situation.
Mayhew is someone who benefits from having a bit of extra time in the AHL to get his shot off or set up a play but hasn't really been able to adapt to play just that tiny bit quicker in the NHL which is why his production has been minimal so far (two goals and one assist in 17 career games).  Anas – who never got the NHL chance – was the same.  So too are most of the top scorers in the AHL most years.  They have the skill in the minors but it doesn't carry over to the NHL and unfortunately for someone like Mayhew, his defensive game isn't good enough to warrant getting a longer leash.  I think of someone like Chris Terry who was dominant for many years in the minors and actually got the longer look from Carolina but in the end, he wasn't good enough in his own end to warrant a fourth-line spot even though there were some legitimate offensive skills.
Mayhew has gone the route that certainly makes him an underdog to root for – undrafted college player to an AHL contract to a two-way deal that finally yielded some NHL minutes.  But from your pool perspective, he can safely be dropped
M34: How long is the leash on Bednar? Colorado won't be able to have this much talent forever, and for being Cup favorites, they sure don't look like contenders to me.
I think Jared Bednar's leash is quite long still.  Colorado certainly hasn't dominated but they've also been hit extremely hard by injuries this season and haven't had their full lineup available once.  They're at their best with their goalies platooning but one of them (Pavel Francouz) has yet to play which has forced them to overplay Philipp Grubauer, someone who struggles when used too often.
The Avalanche benefit from being in a weak division where they can take care of business against the lower-end teams and hang around the top of the race where they're only four points out of first and three out of second (with three games in hand).  Accordingly, if I was going to make a hypothetical list of coaches who could be on the hot seat, Bednar isn't in my top ten.
pawtucket: What is the goaltending FA landscape going to look like for next year? Some good names (again).
Binnington, Andersen, Grubauer, Mrazek, Rittich, Ullmark
All of these guys are starter-caliber goalies. There are some older ones too like Rinne and Rask.
Who gets paid and who goes where?
First, I'm going to disagree on all of them being starting-caliber netminders.  Jordan Binnington and Frederik Andersen are and Grubauer can be although I have concerns about his ability to play a 55-60 game workload.  That's where I'd cut off the list out of your first group.  Petr Mrazek works as a platoon option in Carolina but I don't see another team that would view him as a 1A, David Rittich doesn't have the track record to command starter money, and Linus Ullmark is a bit of a wild card given everything that has happened in Buffalo but he'll have more interest as a platoon goalie than a sure-fire starter.
As for Pekka Rinne and Tuukka Rask, they're in situations where they likely either re-sign or retire.  Rask would come in lower than his $7MM AAV given that he's more of a platoon player now and I'd loosely slot him around $4.5MM.  Rinne would need to take another cut from his $5MM price tag to re-up with the Predators.
In terms of what the top end of the market would look like, Markstrom's $6MM AAV is probably going to be the bar for Binnington.  He might get a bit more but that's the neighborhood it will be in.  Andersen likely checks in a bit below that while Grubauer gets a raise on his current $3.33MM AAV to something closer to $5MM.  The others are all likely in the high $2MM, low-to-mid $3MM range, similar to what some of the better backups or 1B goaltenders have received in recent years.
It's too early to forecast the musical chairs as at this point, there are two or three more teams that are going to be involved in the goalie market that we don't know about yet.  We need to wait to see who Seattle winds up with before getting the full picture of who is going to be in on free agent goaltenders in July before making predictions on who goes where.
JustPete: How would you grade the Angels' offseason and are they really of the belief that they can compete for a playoff run this season with the team (pitching) that they have?
This is a first in the little more than four years that I've been doing these mailbags, to get a question about another sport.  I assume this was intended for Tim Dierkes' weekly mailbag which is one of the subscriber benefits of Trade Rumors Front Office but since you posted it here instead, I'll give it my best shot.
Earlier in this mailbag when I was talking about New Jersey, I mentioned the incremental upgrades they were making as a starting spot to build from.  That's basically what GM Perry Minasian did this offseason.  With questions surrounding the rotation, they went out and added Jose Quintana and Alex Cobb.  Neither are top options at this point in their careers but they improve the back end.  In a year where innings are going to be monitored closer than ever as teams go from 60 games to 162, major league-caliber depth is more important than usual as teams are going to go through plenty of arms.  And by now, they've learned that while they can hope for Shohei Ohtani to become the elite two-way player they wanted when they signed him, there are plenty of question marks given his UCL injury in the past.
Speaking of incremental improvement, Kurt Suzuki and Dexter Fowler qualify in that category as well, upgrading the backup catching situation and adding a serviceable veteran in the outfield.  And while he's more of an impact piece, Raisel Iglesias at the back end of the bullpen is another incremental upgrade.
Now, are they a playoff team?  Barring a last-minute change to the format to expand things like there was last year, they're probably still on the outside looking in.  But this team feels like it has been constructed to try to stay close enough to being in mix to the point where if all goes well, they're an in-season pickup or two away from pushing for a Wild Card spot.
All of these additions have one thing in common in that they're expiring contracts and pending free agents.  I don't think that's by coincidence.  Next year, these are all off the books as well as Albert Pujols (among others), giving Minasian a pretty clean slate to build off of with only four notable contracts on the books plus just one Arb-3 player in Max Stassi who shouldn't cost a ton.  It feels like the set up to really make a splash is a year away with a roster that's good enough to hang around for this season and if it doesn't pan out, they'll be selling some capable veterans near the trade deadline and getting some prospect capital.
Is that a particularly exciting offseason?  Probably not, especially when you're cheering for a team with Mike Trout who has all of one playoff appearance in his career.  But in a marketplace like this, it was a safe offseason that upgraded the floor without taking away the window to make a bigger splash next offseason.  That feels like a B- grade in this hockey writer's opinion.
Photo courtesy of USA Today Sports Images.