The Blues are getting a big boost to their lineup for their game versus Los Angeles tonight as the team announced that winger Vladimir Tarasenko has been activated off LTIR and will be in the lineup for his season debut.  He had missed the entire season so far due to shoulder surgery and this will be his first regular season game in nearly 17 months.
When he has been in the lineup, Tarasenko has been one of the more consistent scoring threats in the league.  Between 2014-15 and 2018-19 (before the injuries began), he had at least 33 goals in every one of them, averaging just over 36 per year, making him a reliable top-liner in St. Louis' lineup.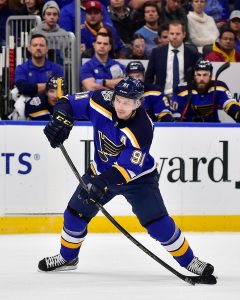 Of course, it would be hard to expect that from the 29-year-old now with how much time he has missed.  He played in just ten regular season games last season plus four more in the bubble so there is definitely going to be some rust to work off.  Fortunately for him and the Blues, the team is sitting in second place in the West Division and are eight points ahead of fifth-place Los Angeles.  They don't necessarily need Tarasenko to step in and play a big role right away; they'll be able to ease him in and allow him to work his way up.
Heading into the season, one of the storylines for Tarasenko's eventual return was going to be how they would get back into salary cap compliance.  However, that has effectively been mitigated for now with so many other injuries.  Tyler Bozak, Carl Gunnarsson, and Ivan Barbashev have all been placed on LTIR in recent weeks with their combined cap hits ($8.225MM) exceeding that of Tarasenko's $7.5MM while Alex Steen ($5.75MM) is also there.
With St. Louis carrying the maximum 23 players on their active roster, they needed to make a move before they could activate Tarasenko.  That move is the placement of Colton Parayko on regular injured reserve.  The blueliner has missed eight straight games due to an upper-body injury and is eligible to be activated at any time but considering he's not with the team on their current road trip, that's unlikely to be happening soon.  Assuming he misses another two games as expected, he could also be transferred to LTIR if they need to.
Photo courtesy of USA Today Sports Images.