We've now made it past the holiday season but there is still plenty to be thankful. Like the last few years, PHR will take a look at what teams are thankful for but this year comes with a bit of a change. Normally teams would have an idea of where their season was heading, coming up on the one-quarter mark with mountains of statistics to analyze. Instead, in this unprecedented year, the season hasn't even begun. We'll still take a look at what each group is excited about and what they could hope for with the calendar having now flipped to 2021.
What are the Rangers most thankful for?
The first-overall pick in the 2020 draft.
The New York Rangers hadn't picked in the top three since 1966 when they received the second-overall pick in 2019 and drafted Kaapo Kakko. Then suddenly (a team that did get to appear in the opening round of the playoffs this year) found a way to beat the odds and win the first-overall pick in the 2020 draft in Alexis Lafreniere, giving the team two superstar youngsters who they can form their team around.
Like Kaapo, Lafreniere immediately made the team and should develop nicely over the next few years, giving that rebuild quite a boost — and probably making the franchise one of the luckiest in the league in the last couple of years.
Who are the Rangers most thankful for?
Two core players posting big numbers.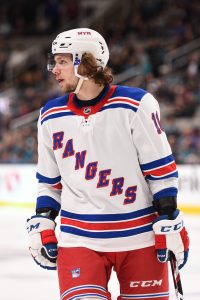 The team was able to sign Artemi Panarin last offseason and what a difference he made. Not only did Panarin put up career highs in his first year in New York — 32 goals and 95 points — the forward boosted everyone else around him as well. Mika Zibanejad had a breakout year as well, posting 41 goals and 75 points last year and showing that he was a top-line center when many were beginning to doubt he was. That core made it much easier to slowly integrate Kappo into the lineup and not needing to thrust him into the top six right away, allowing him the time he needed to earn his way there. The same will happen to Lafreniere as well this year. Having some top veterans only will make things easier for the team's youth movement.
What would the Rangers be even more thankful for?
Continued development of their youngsters.
The team got some impressive performances last year from players like Anthony DeAngelo, Igor Shesterkin, Adam Fox, Ryan Lindgren, Filip Chytil and Brett Howden in which they all made significant contributions to the team. That development, including Kakko, must continue to improve this year. The team has to hope that many of their young players can take that next step and become highly productive players this year.
On top of that, the team will have a number of new players ready to step in, including Lafreniere, K'Andre Miller and Julien Gauthier, who all need to take that next step as well.
What should be on the Rangers' wish list?
Another top-four defenseman.
Of course cap space could keep that from happening, but the team is relying quite a bit on a young defense. Jacob Trouba is solid, while Lindgren and Fox are developing, but what the Rangers really need is a reliable veteran that can help solidify the team's defense. Whether the team can find a way to pick up a player at the trade deadline (assuming they are playoff bound), the team could use more help on their blueline.
Photo courtesy of USA Today Sports Images.