We've now made it past Thanksgiving and the holiday season is right around the corner. Like the last few years, PHR will take a look at what teams are thankful for but this year comes with a bit of a change. Normally teams would have an idea of where their season was heading, coming up on the one-quarter mark with mountains of statistics to analyze. Instead, in this unprecedented year, the season hasn't even begun. We'll still take a look at what each group is excited about and what they could hope for once the calendar turns to 2021.
What are the Blue Jackets most thankful for?
Strong management and coaching.
If someone were to try and choose the best general manager/head coach tandem in the league to build a franchise around, the Blue Jackets duo of Jarmo Kekalainen and John Tortorella may be right up near the top. When Kekalainen took over in February of 2013, the Blue Jackets had experienced just a single winning season in their history. 2009 was their only time in the playoffs and they were swept out of the first round without winning a game.
In his seven full seasons running the front office, the team has put up six winning seasons and reached the playoffs five times. It's no coincidence that four of those appearances have been since Tortorella took over partway through the 2015-16 season. Time and again when the rest of the hockey world zigs, Kekalainen zags, usually to strong results. Though the duo hasn't been able to take Columbus to the promised land: "in Jarmo we trust."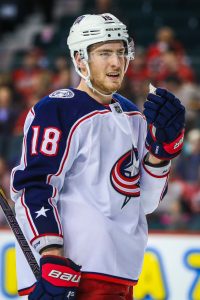 Who are the Blue Jackets most thankful for?
While acquiring Seth Jones in 2016 still may be Kekalainen's most important move, the selection of Dubois later that year may be his most impressive. After Auston Matthews and Patrik Laine were off the board, everyone was expecting the Blue Jackets to select Jesse Puljujarvi with the third selection in the NHL entry draft. Puljujarvi was a consensus top prospect that was supposed to become a premier power forward in the league and to boot, he was Finnish just like Kekalainen. When the Blue Jackets GM strode to the podium and proudly selected Dubois instead, perhaps the hockey world should have been tipped off to what was coming for the eventual Edmonton Oilers forward.
Puljujarvi has struggled and fought his way to 37 points in 139 NHL games, while Dubois has become a legitimate first-line center in Columbus. While his offensive production still lags behind Matthew Tkachuk (selected sixth) and Alex DeBrincat (39th), there's little doubt that Dubois is one of the most valuable players available from the 2016 draft and was a homerun selection for Kekalainen. The 22-year-old forward is still awaiting his next contract, but he showed exactly the type of player he could be this summer when he led Columbus with 10 points in 10 postseason games while averaging nearly 23 minutes a night.
What would the Blue Jackets be even more thankful for?
A commitment to Columbus.
Quite dramatically in the summer of 2019, the Blue Jackets were forced to say goodbye to Artemi Panarin, Sergei Bobrovsky, Matt Duchene, Ryan Dzingel, and others in free agency. Though the team is still strong and several of the deals signed by those players look troublesome, it still would have been huge for them to sell Panarin on the city of Columbus. It's not that the Hart Trophy candidate ever spoke badly of the market, but when the bright lights of New York came calling, he left.
After being eliminated from the postseason that year, Kekalainen spoke to reporters including Michael Arace of the Columbus Dispatch about what he wanted, something that some could argue he still hasn't found:
I think it's important moving forward that we're going to have guys that are proud to be Blue Jackets and proud to be living in Columbus and loving it here. That's really important — that they bleed blue, or whatever you want to call it.

Yeah. The guys that want to be here are going to be here and the guys that don't want to be here, good luck.
That commitment will be tested soon. After the 2021-22 season, Jones will be an unrestricted free agent and likely the most sought-after commodity on the market if he gets there. Max Domi, Boone Jenner, Dean Kukan, Elvis Merzlikins, and Joonas Korpisalo are all scheduled to hit the market at the same time. Zach Werenski will be an RFA. Will they decide they want to be in Columbus, or will Kekalainen be wishing more good luck?
What should be on the Blue Jackets' holiday wish list?
Another weapon.
Just over a month ago, Gustav Nyquist underwent shoulder surgery and was given a five-to-six month recovery timeline. That means he won't be available for a good chunk of this season, taking away Columbus' second-highest scorer. Sure, Oliver Bjorkstrand looks like he'll quickly take over that role (if not pass Dubois entirely) but the Blue Jackets need more at the offensive end of the rink.
Specifically, there's no reason a team that boasts powerplay quarterbacks like Jones and Werenski should be near the bottom of the league in conversion. The Blue Jackets scored on just 16.4% of their man-advantage situations last season, fifth-worst in the league and unacceptable for a team looking to contend in the playoffs. They need to find a go-to option when a penalty is put on the board and there are still some available on the open market (cough–Mike Hoffman–cough). It doesn't necessarily need to be a UFA mercenary, but something has to be added.
Photo courtesy of USA Today Sports Images