Navigating the salary cap is one of the more important tasks for any GM.  Teams that can avert total cap chaos by walking the tightrope of inking players to deals that match their value (or compensate for future value without breaking the bank) remain successful.  Those that don't see struggles and front office changes.
PHR will look at every NHL team and give a thorough look at their cap situation heading into the 2020-21 season.  This will focus more on players who are regulars on the roster versus those who may find themselves shuttling between the AHL and NHL.  All cap figures are courtesy of CapFriendly.
Calgary Flames
Current Cap Hit: $80,489,166 (under the $81.5MM Upper Limit)
Entry-Level Contracts
F Dillon Dube (one year, $778K)
D Juuso Valimaki (one year, $894K)
Potential Bonuses
Dube: $32.5K
Valimaki: $425K
Total: $457.5K
After being recalled in mid-November, Dube was up to stay with Calgary, playing in 45 regular season games as well as all ten playoff games.  While he's projected to be a full-time regular next year, it's unlikely that he'll command a significant raise on his next deal unless he's able to grab a top-six role which isn't likely at this stage of his career.  Valimaki missed all of last season while recovering from knee surgery.  As things stand, he should slot in on the third pairing but with how much development time he has lost, a bridge contract next offseason is quite likely for him.
One Year Remaining, Non-Entry-Level
F Sam Bennett ($2.55MM, RFA)
F Josh Leivo ($875K, UFA)
D Nikita Nesterov ($700K, UFA)
F Joakim Nordstrom ($700K, UFA)
G David Rittich ($2.75MM, UFA)
F Derek Ryan ($3.25MM, UFA)
F Dominik Simon ($700K, UFA)
It wasn't a good regular season at all for Bennett who looked like he was heading straight towards non-tender territory for the 2021 offseason.  Then the playoffs came where he was much better.  A full-season showing like that would have him well-positioned for a raise next offseason but if not, Calgary could still view his $2.55MM qualifier as too rich for them.  Ryan's point per game average was comparable to that of his previous two seasons which is a positive.  However, with the state of the market now, his deal has gone from decent value to a slight overpayment and considering he'll be 34 when his next contract begins, it's difficult to see him getting a raise next year.  Leivo was well on his way to a career year before a fractured kneecap derailed things and resulted in him needing to take a show-me deal.  This has the potential to be one of the better bargains from free agency and if he stays healthy and produces around a 30-35-point level, he'll be in good shape for a nice raise next year.  Simon and Nordstrom are likely to be fourth line or depth players and barring a surprise offensive uptick, both will be looking at similar amounts a year from now.
Nesterov's return to the NHL came as a bit of a surprise but it's a no-risk move for the Flames.  Offensively, he can contribute but he will need to show some defensive improvement to have an opportunity to land a more prominent contract next summer.  Rittich's chance of getting a better deal next offseason is certainly in jeopardy after the year he had and the fact he is now cemented as a backup goaltender.  Calgary may be able to look to sign him (or someone else) for a bit cheaper next year to free up a bit more wiggle room.
Two Years Remaining
F Johnny Gaudreau ($6.75MM, UFA)
D Mark Giordano ($6.75MM, UFA)
F Andrew Mangiapane ($2.425MM, RFA)
F Matthew Tkachuk ($7MM, RFA)
Gaudreau's value certainly took a dip last season but while he didn't come close to the 99-point mark again, he still was in the top 50 in scoring league-wide.  His playoff performances have underwhelmed but at 27, there's little reason to think he isn't going to be an impact player for several years to come.  Unless his output drops again, he's still looking at a pricey deal on his next contract and whether or not it's a small raise or cut will depend on his ability to approach his 2018-19 levels.  Mangiapane's first full NHL season was a strong one as he carved out a top-six role.  Assuming he can hold onto that, he'll be in line for a raise with arbitration rights two years from now.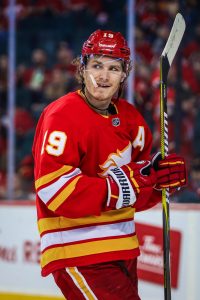 Tkachuk is going to be one of the more intriguing RFA cases of the 2022 cohort.  He's still subject to the old rules for qualifying offers which means Calgary must tender a $9MM qualifying offer.  Under the old cap environment (one that had frequent increases), that was still significant but now, it's even more important.  The Flames can take him to arbitration which could potentially lower the cost but the minimum award would be $7.65MM and chances are that Tkachuk will perform well enough to do better than that.  He also has the option to just file for arbitration himself or accept the qualifying offer; either route would walk him to UFA eligibility at 25 in the prime of his career.  Accordingly, GM Brad Treliving will almost certainly be wanting to start extension talks as soon as possible (the first official day of the 2021-22 campaign).
Giordano saw his point production decline sharply last season but the 2019 Norris Trophy winner is still a fixture on the top pairing for the Flames.  His price tag is more than reasonable but he will be hard-pressed to command a similar deal two years from now when he'll be entering his age-39 season.  He'll be eligible for bonuses in one-year deals at that time and that will probably be the route that teams will want to go with him.
Three Years Remaining
F Milan Lucic ($5.25MM, UFA)*
F Sean Monahan ($6.375MM, UFA)
*- Edmonton is retaining another $750K on Lucic's deal
Like Gaudreau, Monahan is coming off of a big drop offensively which had some wondering if he'd be moved if Treliving opted to shake up his roster.  That didn't happen and instead, he'll have an opportunity to try to re-establish himself as a fixture on the top line.  Still just 26, Monahan could be an intriguing free agent three years from now with impact centers not often making it to the open market.  Lucic, meanwhile, is viewed as having one of the worst contracts in the league.  Unfortunately for Calgary, the structure of the deal (frontloading with signing bonuses) makes it effectively buyout-proof so this is one they're probably not going to be able to get out of unless they can find another bad contract for bad contract swap.
Four Or More Years Remaining
D Rasmus Andersson ($4.55MM through 2025-26)
F Mikael Backlund ($5.35MM through 2023-24)
F Elias Lindholm ($4.85MM through 2023-24)
D Noah Hanifin ($4.95MM through 2023-24)
G Jacob Markstrom ($6MM through 2025-26)
D Chris Tanev ($4.5MM through 2023-24)
Lindholm was yet another Flame that saw his output dip sharply last season but he still managed to finish third on the team in scoring.  When Calgary acquired him, he was a player who showed some flashes but hadn't put it all together consistently but he has now become a core all-around piece on a below-market contract.  Backlund has very quietly put up between 45 and 53 points in each of the last five seasons while being a strong two-way player as well so while his contract isn't a huge bargain, the Flames are getting good bang for their buck.
Hanifin has never really blossomed into a blueliner that is a fixture on the top pairing but he remains a quality top-four option and getting one of those long-term below $5MM is a good return.  Andersson's deal caught many by surprise as he basically has only two full seasons of playing time under his belt.  If he can continue to progress offensively and lock down a spot in the top four, this could wind up being a below-market deal but there is certainly some risk as well.  Tanev's deal also came as a surprise considering last season was the first one that he managed to avoid an injury and that his stay-at-home style seems to be garnering less interest around the league.  He should step into a key role right away but if his injury troubles return, it could be a problematic deal down the road.
The term on Markstrom's deal isn't ideal for Calgary given that he'll be 36 by the end of it but at the same time, that's a good AAV for someone that has established himself as a capable starter.  After having some challenges at that position in recent years, he'll give them some stability even if the contract is a little long.
Buyouts
F Troy Brouwer ($1.5MM through 2021-22)
D Michael Stone ($1.167MM in 2020-21)
Retained Salary Transactions
None
Still To Sign
Best Value: Lindholm
Worst Value: Lucic
Looking Ahead
It has been an interesting offseason for the Flames who made some significant changes to the roster and really reshaped their back end.  They'll have enough money to get Kylington re-signed although they will be tight to the cap ceiling once they do so.  Calgary may have to shuffle Dube and Kylington to and from the minors on paper transactions to free up a bit of wiggle room for in-season movement but it's doubtful they'll be able to make any significant moves during the year.
Treliving will have a considerable amount of flexibility next offseason although several role players will need to be signed into that space.  With Tkachuk, Gaudreau, Giordano, and Mangiapane all up in 2022 though, a lot of contracts for next offseason will need to be one-year pacts to ensure that there is plenty of room to get deals worked out for those core players (or at least sign replacements) without needing to trade someone away to open up space.  There will be room to work with but it will be short-lived.
Photo courtesy of USA Today Sports Images.