Topics in this edition of the PHR Mailbag include PTO candidates, St. Louis' now-vacated captaincy, the state of the back end for the Rangers, Zdeno Chara's future, and the recently-completed 2020 NHL Entry Draft.  If your question doesn't appear here, check back for it in last week's mailbag.
lapcheung39: Which player will most likely get a contract or PTO from teams that are dealing with a depleted roster?
There are going to be a lot of teams looking for players on PTO agreements between now and training camp.  Some teams will be looking to try to fill the last roster spot or two while others may have interest in bringing some in for a potential taxi squad in case the NHL does like MLB did this past season in an effort to try to reduce the amount of shuffling with the farm teams.  On the flip side, many players will be looking for one of those in a last-ditch effort to try to catch on somewhere, especially with opportunities overseas largely dried up at the moment.  It's hard to single out a particular player who might get one as there will undoubtedly be dozens handed out but here are a few that could be in that situation among players that suited up at in least 50 NHL games last season.
Madison Bowey – Detroit opted to non-tender him this offseason to avoid the arbitration process and the fact he hasn't signed elsewhere yet is notable.  Bowey's only 25 and is a right-shot option while his price tag should be low.  Given the dearth of righties with experience out there, it's reasonable to think he should have signed already.  Since he hasn't, it seems like teams will be waiting to see if he'll accept a tryout first instead of committing guaranteed money now.
Michael Frolik – The winger had a really tough year with both Calgary and Buffalo (especially when compared to his then-$4.3MM price tag) but he's only one season removed from a 34-point campaign.  There has been overseas interest but by all accounts, Frolik wants to take another run at an NHL spot and if he's willing to take a lesser role, there should be some takers.
Tim Schaller – Another one that was overpaid on his last deal, Schaller has quietly spent most of the past four years in the NHL (241 games played in that span), mostly in a fourth line role.  If he wants to hang around and fight for a 12th or 13th forward spot on a roster, he will quite likely have to do it via the PTO route as it's hard to see him getting a guaranteed contract with quite a few players still unsigned.
Again, the PTO market is very likely going to be busier than normal and with the state of the market being what it is at the moment, it wouldn't be surprising to see a notable player or two be forced to go that route.
vincent k. mcmahon: With Alex Pietrangelo now gone, who will be the new Blues captain? I think Ryan O'Reilly should be at the top of the pecking order.
That seems like the logical choice.  Alex Steen was the other alternate captain and he's unlikely to have much of a role next season and almost certainly won't be brought back as a free agent after that so there's no point in going that route.  The injury factor would take Vladimir Tarasenko out of the equation as well even though he's been there for a while.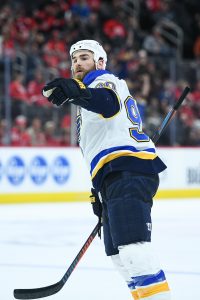 Naming a captain isn't something a team wants to do every couple of years so you either name a budding star that you're building around or a veteran that's signed for a while.  They don't really have anyone in the first category and among the veterans, it's hard to see them handing it to one of Pietrangelo's replacements in Justin Faulk or Torey Krug.  Up front, there are only three veterans signed for three years (or more) in O'Reilly, Brayden Schenn, and Oskar Sundqvist.  It's safe to rule Sundqvist out so that leaves Schenn who is signed for six more years instead of just three for O'Reilly.
Considering O'Reilly already wears the 'A', he's the front-runner for the spot.  Beyond him, Schenn is the only other one that seems somewhat likely to get that role (if they opt to name a new captain at all).
acarneglia: What's next for the Rangers rebuild?
@Sully_from: How do you see the Rangers D playing out, Trouba, Fox, DeAngelo, Ryan Lindgren, Libor Hajek, K'Andre Miller, and Nils Lundkvist are eight players for six spots not to mention Brendan Smith. Who gets traded, position changed?
Getting a long-term second center would be ideal but it's probably not going to be Ryan Strome and Filip Chytil isn't ready for that role yet.  I'd like to see him get eased into that role a bit next year to help try to see if he can fill that hole in the future so that's one thing I think they could do next season.
The other hole of note is on the left side of their back end.  As the second question notes, the strength of New York's defense both in terms of quality and quantity is right-shot defenders.  It's great to have that much depth on that side (especially given the fact it's the harder of the two sides to get quality depth for) but at some point, that needs to be spun off to fill a weakness.  If it's not a new 2C, flipping an impact righty for an impact left on the blueline is a logical next step to take for GM Jeff Gorton.
As for the current state of their back end, I don't think much of anything is going to happen unless the RD for LD trade comes up.  Lundkvist is signed with SHL Lulea for the entire season and while that presents the opportunity for him to join New York midseason potentially given the later start to the NHL season, that won't affect anything now.  Miller will likely need some time with AHL Hartford as well.  They've hedged their bets with adding veterans Jack Johnson and Anthony Bitetto who will likely serve as placeholders for the youngsters (which could include Hajek if he needs more time).  Having Smith as someone that can play on the third pairing or the wing will be handy and it wouldn't surprise me to see him shift between the two roles again.  Lindgren will get a bigger role next season and Johnson may have to play more than a nominal role until one of Miller or Hajek is ready to push him down a pairing.
bigalval: Chara signs with the Kings on a one-year deal and a coaching job when he retires?
I have to admit, when I thought of possible non-Boston landing spots for Chara, Los Angeles was not on my radar but the idea does make some sense.  There are definitely openings on their back end and having him around to work with some of their youngsters like Michael Anderson and Tobias Bjornfot would certainly be beneficial.  As those two improve, then Chara could be slid down into a lesser role which is probably more ideal for him at this stage of his career.
The question I have is that if he decides to leave Boston (and I'm only saying if to that one as it's quite possible he stays in the end), does he really want to go to a rebuilding team that doesn't seem to have an eye on making the playoffs next season?  Or would he rather go to a contender, even if it means more of a restricted role?
If this was to happen, I wonder if Chara would go in to the deal knowing that he'd be likely to be traded closer to the trade deadline where he could give the Kings a shortlist of teams he'd be willing to go to.  (If there is enough interest in him, some sort of no-trade clause would seemingly be likely.)  If that's something either side isn't open to doing, then it'd be difficult to see a path for Chara to play there next season.
backhandinbaptist: Is there a reason Noel Gunler fell out of the first round? Fantasy-wise Dobber has him in top 10, and central scouting has him as #9 among EU skaters, but Dobber did mention there were perceived (but mainly false according to them) attitude issues. Any reasons he won't turn into a top-level offensive talent as many scouts have him pegged as?
The Mistake of Giving Eugene Melnyk a Liver Transplant: Who were the biggest steals in the draft? Yes, I know we won't be able to adequately judge for years but come on it's October and there is no hockey!
There are some prospects where scouts are split on the overall upside and Gunler fits into that category.  Rankings were all over the board with him (his CSB rating when coupled with the others put him in a late 1st/early 2nd range) and while there is some offensive upside (I wouldn't go as far as calling it top-level though), the rest of his game (defense, skating, and shift-to-shift consistency) seems to be questioned.  Not having a chance to play in the World Juniors may have raised a few eyebrows as well and presented one of those 'what do they know that we don't' type of situations that can send a player dropping.  Having said that, getting him at 41 was a great pick in my books and Carolina getting him and Seth Jarvis with their top two selections was a fantastic start to their draft.
As for steals, Hendrix Lapierre at 22 qualifies if he can stay healthy.  It's a big if considering everything he went through last year but he went in looking like a top-ten talent.  Assuming he does stay healthy, that should be a good value selection for Washington and with their top centers locked up for a while, they can afford to bring him along slowly.
A little further down is Florida's selection of Ty Smilanic at 74.  He's another player that was limited by injuries but profiled to be a higher pick than that heading into the season.  He needs a fair bit of development still and going the college route will afford him the longer opportunity to do so.  If he can get back to that better level, he could be a middle-six forward which would be a nice pickup near the middle of the third round.
I'd also throw Martin Chromiak at 128 to the Kings in there.  There is a lot of uncertainly with him having only played half a year in the OHL having played in the Extraliga before that.  That wasn't a great developmental environment for him and likely caused part of his drop but he's someone that I thought was going to be off the board well before that spot.  In the fifth round, it's not even a gamble at that point but there is certainly some upside.
Photo courtesy of USA Today Sports Images.