Topics in this edition of the PHR Mailbag include Buffalo defensemen, Don Sweeney's tenure in Boston, the new voice of NBC hockey, the relative inactivity in Columbus after freeing up cap room, Mike Hoffman's fit with a rebuilding team, and Nashville's need for forward help.  If your question doesn't appear here, watch for it in next weekend's edition.
LarryJ4: What is the holdup for Buffalo moving Ristolainen or Miller? Gotta think this is what is delaying a move for a more capable goalie (Varlamov, Korpisalo, Kuemper) to pair up with Ullmark.
I have to admit, I don't see a goalie move for them coming this offseason.  There's definitely a need to upgrade on the Linus Ullmark–Carter Hutton tandem but I believe they still think that Ullmark has some untapped upside yet.  The challenge is that Hutton and his $2.75MM cap hit need to go in any trade.  If Arizona wanted to move Darcy Kuemper, part of the impetus for doing so would be considerable cap savings.  They can't get that by taking Hutton back.  That takes a trade with Columbus out of the equation as well and it's doubtful that the Islanders would move Semyon Varlamov until they see if Ilya Sorokin is indeed ready to be a starter in the NHL.  He hasn't played a second in this league yet though so the time isn't right to trade him.
Let's look at the defensemen now, beginning with Miller.  His name has been in trade speculation dating back to last year when it was clear he wasn't a great fit with Buffalo.  They didn't find a taker then when teams believed they had more flexibility than they do now.  Perhaps there's a lateral swap for another defenseman but I'd put better odds on him finding his bearings in his season year with the Sabres than landing a considerable upgrade.  At the very least, a third-pairing defenseman isn't going to be a centerpiece of a trade for a starting goalie.
Ristolainen's a bit more interesting in that he is such a polarizing player.  He has unquestionable offensive skill but while his play in his own end was better last year under Ralph Krueger, it still wasn't great.  I suspect they believe he'll improve in his second season with Krueger behind the bench so I don't think they want to move him even though there may be some teams that look at Ristolainen and think they can 'fix' his defensive issues.  But again, that would be more of a lateral swap than a move for a goalie.
Long story short, I expect Buffalo to give Ullmark a bigger portion of the workload next season and decide if he's part of their long-term plans or if they have to change things up for 2021-22 where they may want to try their hand at the free agent market to fill that spot.
FireDonny: How is it possible for a GM to strike out on SO many high first-round picks, late 1st reaches (unskilled Trent Frederic) and not be fired? Not to mention his genius plan to sign bottom roster filler at the start of free agency while others sign stars. I'm sick of Dommy Moore's, McKegg's, the ghost of Kevan Miller, etc. Smith signing not enough.
Do you think Sweeney needs to make a real move to save his job? Or did Jacobs taking a bath on some property handcuff him? They can all go but Don can't draft or trade.
VonBrewski: Is Don Sweeney the worst GM in Hockey? They supposedly have a lot more cap space than most teams. Neely says after they are eliminated that they need to get tougher and they need more scoring. They were ready to change the roster to compete for a cup.
Free agency comes and (sorry Smith, I like you as a player) *POOF* no one traded, re-signing most players, Krug gone (knew it and was ok with it) But where is the change? Where is the infusion? I have been a Bruins fan since the '70s and I swear we are back to the Harry Sinden/Mike O'Connell days….suck, suck, suck!!!
It hasn't been a particularly fun offseason for Boston, to say the least.  I like the addition of Craig Smith – he's a capable middle-six forward and $3.1MM is a nice price tag.  But it goes downhill after that with nothing being done to replace Torey Krug on the left side of their back end while Zdeno Chara is unsigned as well (though he could return).  And then there are the questions regarding the availability of Brad Marchand and David Pastrnak to start next season after their recent surgeries.  I think they have a move of note left in them (not a huge splash but an impact player being added) and they'll need to go short-term with Jake DeBrusk to make that happen and stay cap-compliant.  They'll be near the Upper Limit when all is said and done.
I haven't been a big fan of their draft strategy either going back to their three straight first-round picks in 2015.  DeBrusk is a decent player but they needed to hit on two of those at least.  And to be fair, they've only had one first-round pick in the last three years while being short on picks in general which has contributed to a weakening farm system.  I can't lay all of that on Sweeney as while general managers select the scouting staff, it's usually the scouts that call the shots on the draft picks or at least have heavy influence.  And avoiding the CHL altogether in four of their last five drafts is a bit of a strange strategy although it does afford more time to get a better feel for who to sign and who to let go.
I wouldn't call Sweeney the worst GM in hockey but I do think it's fair to suggest that he should be feeling a little pressure.  The cap levelling out sealed their fate with Krug but this is a core that's built to win now.  Once their window closes and the focus shifts to the next group of players to build around, is Sweeney the one to be calling the shots on that?  He'll need some better success in player development over the next couple of years to help make his case.  In the meantime, he needs to find a notable player to add to their roster and I think he'll accomplish that.
PensJacksCanes: The biggest free agent who is the best at his position is still unsigned. With Mike Emrick retiring will UFA John Forslund become the voice of the NHL?
First off, a tip of the hat to Emrick who had an outstanding career and as a writer, I appreciate how he incorporated so many different synonyms into his calls.  I know his phraseology for calling routine plays with some variety wasn't for everyone but between that, his overall game-calling skills, and his energy, he was one of a kind and his shoes will be tough to fill.
My first thought upon hearing the news was that Forslund makes sense.  He already had a notable role on national broadcasts and he's no longer the voice of the Hurricanes which still feels odd typing.  He's a contender if nothing else although it wouldn't shock me either if there wasn't an immediate full-time replacement.  They have a good stable of broadcasters to draw from and it's possible that they just go with those without naming a successor.
Maybe it's just me trying to think outside of the box but I don't think it's just NBC that will have a say in this.  The national TV deal in the United States is up soon and there will be more contenders for those rights than in past negotiations given the value of live sports content.  If the NHL has a certain preference for someone in the number one spot, I could see NBC going with whoever that is in the hopes of currying favor in talks for those national TV rights.
Baji Kimran: I'm a Blue Jackets fan and I can't see them acquiring Patrik Laine. They are in a position where they must take care of Pierre-Luc Dubois first and signing him may take a while. They must make sure that if any club extends Dubois an offer sheet that they are in a position to match it. Save for maybe signing Mikael Granlund if he's still available, I think they're done for the time being. I think once the Jackets are in a position to address Laine, he will be long gone. Does my assessment seem reasonable to you?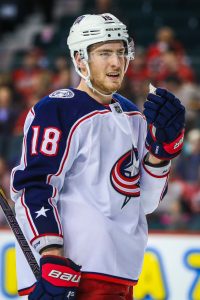 I think you're on the right track.  I know that GM Jarmo Kekalainen has suggested that part of the impetus for clearing up cap room with their recent moves was to hedge against an offer sheet for Dubois but I think that threat has come and gone.  How many teams have enough cap space left to make a real push?  Of those, how many have the budget to do so?  Do they have their own picks and a deep enough prospect pool to justify going that route?  There was a time where the possibility of an offer sheet for Dubois was plausible but I think that time has passed.  If anyone is eyeing one now, the focus should be squarely on Tampa Bay.
Depending on what Vladislav Gavrikov gets as he's also unsigned, I agree that they're basically done other than maybe one more cheap depth upgrade.  By the time Dubois and Gavrikov are signed, most of the $12.9MM in projected cap space they'll have left (per CapFriendly) will be gone.  Accordingly, I'm not sure they'll have the space to bring Granlund in without moving someone else out first which is something that's a lot easier said than done in this marketplace.
Laine with the Blue Jackets would be interesting.  He'd certainly give them a boost offensively but he and John Tortorella could be a risky match.  However, I don't think Laine is fit for them from a financial perspective.  I expect Kekalainen to try to set Dubois' deal as the ceiling for Columbus forwards.  Laine, a restricted free agent with arbitration rights next summer, is almost certainly going to come in higher than what Dubois will get.  It's hard to make that case to Dubois with Laine in the fold and if they were to acquire him after getting that contract done, it'd be a bit of an insult to their top center.  Having said all that, I'm still not certain that Laine winds up moving; I wouldn't be shocked if he's still with Winnipeg next season.
tigers22: Would the Red Wings be better off giving Mike Hoffman a one-year, $6MM deal and see what they can get at the deadline rather than trading for Tyler Johnson and a pick?
It'd be much better from Detroit's perspective.  They'd get a better half-season contribution from Hoffman than they would from Johnson and if they were willing to retain on the deal at the deadline, getting him at $3MM would be very appealing, especially when a lot of contenders will have minimal cap space.  They could land a pretty good return in that scenario.
The question, for me, is if Hoffman would be willing to sign somewhere where he knows he's going to be dealt a few months later.  He's certainly willing to take a one-year contract but I think his preference would be to sign with a team that will keep him around all year.  Hoffman would certainly get a chance to put up some good numbers in a big role with the Red Wings which might help his case a year from now but a sign and eventual trade scenario is probably not one he wants to take unless talks with other teams stall out.
Johnson's a nice player but with Tampa Bay needing a team to assume the four years remaining on his deal with a $5MM AAV in full, it would require quite the inducement to do so.  Give me the better player on a short-term deal anytime in that scenario.
@bwiz77: The Preds need a proven top-six winger to play with Duchene. Do you think that is coming via a UFA signing or trade?
I agree that there's a need but unless it's Hoffman, I'm not convinced that there's an upgrade move coming.  The other free agent forward options aren't exactly proven other than Granlund who has been ruled out of returning already.  GM David Poile has said that he wants to give his prospects a chance and I think their best-case scenario is that Eeli Tolvanen eventually steps into that role, even if there are some growing pains along the way.
Assuming Nashville is able and willing to use their full remaining cap space, the trade market may be the better way to go.  While teams looking to shed money would prefer not to move impact players to do so, that could change as we get closer to the start of next season, whenever that winds up being.  Deadlines force activity and GMs often want to wait until the last minute before pulling the trigger.
If the Predators can land Hoffman, that would fill the void, albeit for the short term since it doesn't sound like a lucrative long-term deal is on the horizon for him.  But if he goes elsewhere, patience may be key here in terms of either waiting out the trade market or hoping that a prospect steps up during the season and fills that spot from within.
Photo courtesy of USA Today Sports Images.