Topics in this edition of PHR Mailbag include Nikita Zadorov's future in Colorado, Taylor Hall's next deal, a struggling Panthers back end, the defensive situation for the Rangers, Detroit's rebuild, and the uncertainty of next season.  If your question doesn't appear here, check back in last weekend's mailbag.
M34: What's the future look like for Nikita Zadorov?
This feels like it's an almost annual question as Zadorov has seemingly been on thin ice in Colorado for a while.  Yet, each time, he winds up staying with the Avs in the same role that he has basically had since he got there – splitting time between a fourth and fifth defensive spot.  This time, it at least feels a bit different.
For starters, Ryan Graves has established himself as a good partner with Cale Makar.  Ian Cole is still signed and Bowen Byram is likely to push for a full-time spot as well.  Those are three left-shot blueliners like Zadorov.  Graves and Cole are clearly ahead of Zadorov on the depth chart and while Byram could start in the minors which would keep Zadorov's spot on the third pairing open, they probably won't want to be in a situation where Zadorov winds up starting as the seventh defender either.
The 25-year-old is owed a $3.2MM qualifying offer which is a bit pricey for someone in his role and in this marketplace.  But at the same time, it's one that they can afford to tender for this season as they have plenty of short-term cap room so I think that option is unlikely.  They're not in a spot where they have to trade Zadorov but if Byram beats him out for a spot in the lineup in training camp, it'll be a lot harder to move him then than it is now.  And one year from now with Makar and Gabriel Landeskog needing new deals, Zadorov will become a luxury that they can't afford.  Accordingly, between that and a relatively soft UFA crop of left-shot defenders, the time is right for Colorado to try to move him out and I wouldn't be surprised to see him somewhere else when the puck drops on 2020-21.
aloop: It's highly doubtful that Hall winds up in Arizona, with the internal cap + the Yotes current cap issues. Do you think Hall takes a lower one year salary to join a contender in hopes of a deep playoff run and winning a cup? Or does he sign a longer contract with a team on the rise in hopes that they can make the playoffs consistently and win the Cup during the duration of his contract?
A top free agent (and Hall is the top forward available) rarely signs a short-term contract so I'd put the odds on that happening as fairly low.  But there certainly is a case to be made that Hall could go that route, especially with his comments about how a winning environment will be quite important to him.  If it was to happen though, I could see him signing with a team like Colorado with a higher AAV than he'd get on a long-term deal as there has to be some sort of trade-off for foregoing the job security that a long-term contract would provide.
It's worth noting that Hall's value has taken a hit lately as well.  He's only two years removed from his Hart Trophy in 2017-18 but those two seasons have been underwhelming and the change of scenery from New Jersey to Arizona didn't exactly give him a boost either.
Let's say he does the one-year deal with a contender and he winds up in the 50-60 point range again.  Now, Hall enters the 2021 market heading into his age-30 year with three straight seasons of fringe front line production.  The salary cap will still probably be $81.5MM and more teams will be in cap trouble than there are now.  The earnings potential in that situation will be quite a bit lower than it is now so there would certainly be some risk by going that route.  On the other hand, a stronger season with a contender could restore some value so there is a potential benefit to that approach as well.
In the end, it's hard to pass up the type of security that a long-term deal can provide.  Hall can probably get a max-term deal next month at a rate that's still a lot higher than the $6MM he had as a cap hit for the past seven years, even in this marketplace.  Maybe he takes a bit less than top dollar to land in a more competitive environment but that's about the only 'cut' he'll take in free agency.
The Mistake of Giving Eugene Melnyk a Liver Transplant: What is up with Florida's defense; on paper it seems like they should be at least average. Is this a problem where each individual part does not fit well together or are there more factors at play?
I've wondered that myself for a while now and look no further than the recently-traded Mike Matheson.  At one point, he looked like a long-term fixture on their second pairing but he wound up being used on the wing at times this season and was even healthy scratched to the point where they had to trade him in a swap of cap dumps.
It's hardly just him either.  Aaron Ekblad is a solid blueliner but hasn't ascended to that true number one defenseman role that his draft status (first overall in 2014) suggested he'd become.  He's a top-pairing player but in an ideal situation, he's more of a number two than a number one.  Keith Yandle remains strong offensively but his play in his own end has always been shaky while Anton Stralman made some sense as someone that could try to stabilize things but that didn't exactly happen.  The parts are there but it feels like adding one good complementary player could make a huge difference.
Of course, they're hardly the only team that would want to do something like that this offseason and amidst rumors that the team is trying to cut payroll, acquiring that particular piece could be tricky for new GM Bill Zito.  But if the Panthers want to get out of the middle zone where they're not good enough yet to contend, they're going to need to find a way to get that done.
pitmanrich: How do you see Jacques Martin doing as an assistant coach for the defense on the Rangers? Lindy Ruff got a lot of stick but most of their talented d-men are young offensive players plus Staal and Smith's best days are long gone.  Do they need to sign a veteran stay at home d-man to help suppress the number of shots they give up which surely played a part in Lundqvist's dramatic loss of form over the last 18 months?
When it comes to assistant coaches, I don't think they move the needle all that much unless there's a drastic system change that accompanies it.  Ruff's departure came from him leaving to take the New Jersey job and not as an overhaul of New York's coaching staff.  David Quinn is still calling the shots so their system probably isn't going to change enough for Martin to have any significant effect on them one way or the other.
Are the Rangers ready to push themselves back into legitimate playoff contention now?  That's the question that needs to be answered to answer the second part of your query.  If they think their time is now, the answer is yes, they should be looking to add a veteran that can shore up their top four.  Staal is better in a limited role and Smith is a possible buyout candidate to free up a bit of cap space this offseason.  Getting someone capable of logging 20 or more minutes a night on the left side would be a huge boost to their playoff chances.
But if the answer is no and they think they're still a year away with top youngsters Igor Shesterkin, Kaapo Kakko, and Alexis Lafreniere (it's pretty safe to slot him in here even though he won't be a Ranger for another week and a half) needing some more development before contention, then I wouldn't add a veteran defender.  Use next season to get a better read on Ryan Lindgren's upside as well as K'Andre Miller, Yegor Rekov, and Libor Hajek.  Over the long haul, they'd be better off for it.
CoachWall: Do the Rangers trade high on Anthony DeAngelo? He will cost some big bucks and is blocking younger players. They have so much young talent on defense, they could turn him into a number two center.
Last offseason, the Rangers held all the cards with DeAngelo and basically forced him into taking just above his qualifying offer.  A 53-point season was quite a response and with salary arbitration eligibility now, he has put himself in a great situation to land a pricey contract that New York may have difficulty fitting into their current salary structure.  Trading high would make some sense but I'm not sure the market for him is going to be all that strong.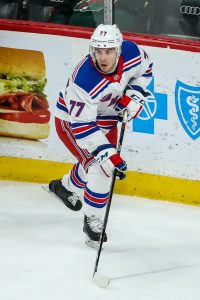 Was his season a sign of things to come or a situation where everything broke his way and his production will dip closer to his 30-point year in 2018-19?  That may give some teams some pause.  He's also someone that two other teams had already given up on him (Tampa Bay and Arizona) which will have some teams wondering what happened.  That's not to say that a deal won't happen and there will be some interest but his market might be as robust as it might seem.  At the very least, DeAngelo's fate will probably have to be decided after Minnesota makes as a decision on Mathew Dumba.  With the longer track record and his ability to play a bit higher in the lineup than DeAngelo, he will be the prime target for teams looking to upgrade the right side of their defense.
I'm also not certain that he's blocking anyone at the moment.  While the Rangers have Miller, Rekov, and Hajek that could make a push for playing time next season, they're all left-shot defenders so DeAngelo's presence shouldn't necessarily affect them too much.  Yes, Nils Lundkvist is in the system as well but he's staying there for the upcoming season.  Once he signs, then DeAngelo may be blocking him (with Jacob Trouba and Adam Fox being the other righties) but we're at least a year away from that happening.
There isn't a pressing need to move DeAngelo but if they can use him to fill their second center spot, it would probably be a deal worth making for GM Jeff Gorton.
tigers22: Would a trade of Montreal's #1 draft pick to Detroit for Anthony Mantha work for both teams? Give Montreal another scorer and Detroit another draft pick for the rebuild.
I like the deal from Montreal's perspective but I don't see a great case from Detroit's point of view unless Mantha's asking price is way too high.  The Canadiens briefly held the ninth-overall pick but that's no longer the case.  Instead, they're picking 16th having upset Pittsburgh in the Qualifying Round.
Mantha's free agent case is a bit of a tricky one considering he has missed a lot of time due to injury over the last two seasons.  He has been quite productive when healthy but making a long-term commitment to someone that has missed a fair bit of time lately does carry some risk.  And while the 26-year-old produced like a top liner this season, his numbers have been closer to that of a second liner.
So let's put Mantha in a 45-60 point range to allow for a bit of improvement still if he stays healthy (he played at a 72-point pace this season so the top end may even be a bit low).  Is Detroit going to get someone better than that with the 16th pick?  Chances are that a player or two picked after that will get to that level but the odds of getting a top-six forward in the middle of the first round aren't great.  Now if you're Detroit, you're looking at a talent downgrade which isn't ideal.
Mantha's still young enough to be part of Detroit's core group when they come out of this rebuilding phase so he's someone they should be building around, not sending away for a lottery ticket that will be a long away from getting to Mantha's level.
pitmanrich: The NHL has done an excellent job in completing this season but if no fans are allowed back, could next season be cancelled? Some smaller teams need money from gate receipts to survive more than larger fan base teams like Montreal, New York etc and if it was what would happen with contracts presume they would be pushed but players will still need paying.
The short-term viability of teams shouldn't be in question.  Based on Gary Bettman's press conference last weekend, it's possible that next season starts without fans but the expectation is that some will be permitted to attend as the year progresses.  It's also worth noting that the emphasis remains on an 82-game season which would allow them to maximize television revenues both on their national and regional contracts while getting them to the point where their new national deal can be reached.  Expectations are that the new deal will be a fair bit higher than the current one which will funnel some more money into the system before long.  So will Seattle and their expansion fees.
That isn't to say that things are going to be fine next year.  Every team is going to feel some financial pain and as you note, some more than others.  But there is a 10% salary deferral in place for next season to help smooth out some of the short-term financial issues and quite a few teams (including those in the smaller markets) are expected to scale back their player payroll while many teams have laid off or furloughed staff to save on costs.  It's not a viable strategy long term but they should be able to survive and avoid suspending operations which would inevitably create a battle between the NHL and the NHLPA with the former wanting to toll contracts and the latter either seeking a dispersal draft or nullifying the contracts to make the players free agents.  Fortunately, it's a scenario that should be avoided.
pawtucket: Is there any possibility that players are paid less due to no fans? Kind of a 'well, we can't pay you because we have less money and if you say no, then we cancel the season and nobody gets paid"
This question reminds me of the challenges that MLB faced when trying to negotiate the start of their season but it wouldn't be the same situation here.  Players receive 50% of league revenues as part of the CBA (though that number could vary slightly as caps on escrow come into play).  If the season winds up being reduced in terms of the number of games, there will be a similar proration of salaries.  There's also a 20% escrow rate for 2020-21 to ensure that the players don't wind up with the majority of the money.
Cancelling the season doesn't do either side a lot of good.  While it's true that they derive a large part of their revenues from gate receipts, there are still sponsorship and TV agreements so it's not as if they'd be entirely revenue-less if they did play without fans.  They want to get to that next national US television deal as well.  It's by no means an ideal scenario but playing without fans is the lesser of two evils when the alternative is not playing at all.  But waiting things out a little longer to try to get some fans at some point as the NHL appears to be doing is a good idea.
Photo courtesy of USA Today Sports Images.