Topics in this edition of the PHR Mailbag include Winnipeg's upcoming offseason, underachieving veterans in Philadelphia, Steven Stamkos' future in Tampa Bay, what's next for Tuukka Rask, big game shopping for Colorado, Vancouver's free agents, and the consistent inconsistency of officiating.  If your question doesn't appear here, watch for it in next weekend's edition.
Dougster: What do you see the Winnipeg Jets doing?
I don't think they're going to do a whole lot.  I know that seeing Patrik Laine and Nikolaj Ehlers in trade speculation has some thinking that GM Kevin Cheveldayoff is going to make some big changes to his roster but that goes against his general philosophy.  Since going to Winnipeg, slow and steady has been the mantra with trying to add a key rental when the time is right.  I can't see that changing and with Laine's contract expiring next offseason, they're probably going to try to limit their multi-year commitments.
So with that in mind, I think their top priority will be trying to add some center insurance.  Bryan Little's future is murky at best and while Blake Wheeler can shift to the middle, doing so takes him off their top line.  Andrew Copp and Adam Lowry have shown flashes of being ready for a bigger role but they'd feel a lot better with someone more proven in there.  A rental player makes a lot of sense here and I wouldn't be surprised if they inquired about Paul Stastny.  He's familiar with Winnipeg's system and had some success there before while Vegas will likely need to clear money if they extend Robin Lehner.  If they add a veteran and Little is able to play after all, too much center depth is a 'problem' that every team would like to have.
If they're going to add anyone on a multi-year deal, it's probably on the back end.  While Neal Pionk had a strong first season, he was effectively the only impact replacement for Jacob Trouba, Ben Chiarot, Tyler Myers, and Dustin Byfuglien.  The Jets patched things together this season but some more stability there would go a long way.
Beyond that, I think they'll try to clear Mathieu Perreault's deal (perhaps as salary ballast in a trade for one of the above elements) but with many other teams wanting to clear money, that's far from a guarantee.  They'll need to sign a new backup goalie (there are plenty of pure backups available in free agency) and fill out the bottom of their forward group.  I think they can do that without taking a core player away and that's how Cheveldayoff will likely try to play it.
ripaceventura30: What is a realistic return for Shayne Gostisbehere and who might be interested in turning his career back around? Is JVR a buyout candidate or do the Flyers hang onto him for one more year and hope he gets back to his scoring ways/gets dangled as an expansion draft piece?
Gostisbehere's case is a tough one.  Moving a high-priced player in this current marketplace is going to be tricky.  Moving a high-priced player (Gostisbehere has a $4.5MM AAV) with three years left on his deal that couldn't crack their regular lineup down the stretch and in the playoffs is going to be much tougher.  There is definitely offensive upside and his mobility is a plus as more teams look to have their defenders join the rush so this isn't a situation where no one would want him.  But the return Chuck Fletcher would probably have to settle for would be underwhelming.  A second-round pick and a depth defender (to offset some salary) would be my guess at a best-case scenario and their cap situation is going to make it difficult to try to hold onto him in the hopes that he rebuilds his value next season.  I could see New Jersey and Detroit being among the teams with interest, ones with vacancies on the back end and enough cap room to take on what's currently a bad contract without too much concern.
I don't see Philadelphia buying out James van Riemsdyk.  He hasn't lived up to his contract but he still has 46 goals over his two seasons which isn't terrible by any stretch either.  A buyout would cost them over $2.77MM for two seasons, then over $4.77MM in 2022-23 before dropping to $1.778MM for three years after that.  Can they sign a 25-goal winger for the difference between his buyout cost and his $7MM cap hit?  I know they want to free up some money but that'd be a tough way to do it.  At this point, they either trade him with significant retention or, more likely, hold onto him and hope he rebuilds his value.  If he doesn't, he'll be left unprotected next summer.
@warrenchris: Where will Stamkos be playing next year?
It's well-known that Tampa Bay has to cut some significant salary for next season and whoever they want to move is going to have some form of trade protection.  While players like Alex Killorn, Yanni Gourde, and Tyler Johnson have been the speculative casualties, I suppose it's possible that they could look at how they've performed without Stamkos and try to move him instead.  Anthony Cirelli would step into a bigger role down the middle behind Brayden Point and they'd probably still be contenders.
But from a value standpoint, there probably isn't a worse time to try to move him.  Moving expensive contracts is going to be tough this offseason given the current landscape and he's signed at an $8.5MM cap hit for four more years.  The mystery surrounding this injury that has kept him out for the entire postseason doesn't help either.  Original indications were that he was to have been back by now but he's not progressing as well as anyone would have hoped.  That's a major red flag for other teams.  If you're going to commit to a pricey player, you at least want to know that he's healthy and that there's no danger of recurrence down the road.  He's now skating with the team at least but that's not the same as game action.
In a situation where they simply have to move some players out, nothing can be ruled out entirely.  But even though they've done well without him, it's hard to imagine Stamkos being anywhere other than Tampa Bay next season.
sovietcanuckistanian: is Rask done in Beantown? Publicly, team/players have come out in support, but you get the feeling there is some angst/animosity from some people partly feeling that he might have bailed. I mean he's still a top-5 goalie (I think), but his cap hit is a bit high. Do you think he gets moved or do they just run out the Halak/Rask tandem again and let their contracts run out? Thanks in advance.
I wouldn't be surprised if some in the organization would like to see him moved despite their public proclamations to the contrary but doing so would be trickier than it might seem.  For starters, he has a 15-team no-trade list which takes half of the league out of the equation right there.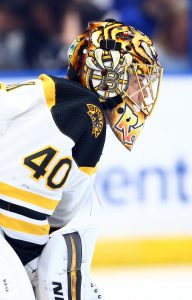 Let's look at Rask's numbers from the past two seasons.  And I'm not talking about his sterling GAA and SV% from 2019-20 but rather his games played totals.  This season, he played in 41 regular season games before the pandemic hit.  The year before that, he played in 46 contests.  That's not a lot of appearances for a starting goalie, especially one that has a $7MM price tag.  The tandem works for Boston with Jaroslav Halak because he's someone that's considered an above-average backup.  Not many other teams with a potential vacancy between the pipes are in that situation and of those, how many have $7MM to spend?  2020-21 feels like it's going to have a lot of back-to-backs with the NHL wanting to play 82 games even with a delayed start so I don't think there would be a huge market for his services.
Let's look at the other side for a minute.  Who would replace Rask?  It's not as if there are a lot of starters available in free agency nor are there legitimate number ones available on the trade market.  They could flip Rask for Marc-Andre Fleury to change things up for the sake of change but I don't think that makes them a better team and they're in win-now mode.  Unless they can land a legitimate starter that's going to be around for a few years (such as Jacob Markstrom in free agency), they're probably best off sticking with a tandem that they know works for them.
Eric Lord: Do you think the Colorado Avalanche will make a run at Alex Pietrangelo? They really struggled defensively against Dallas after Johnson went down in Game One. They have the cap space and he would provide them with an experienced, top pair defenseman that could lead them to a Cup.
In terms of a fit, Pietrangelo to Colorado makes a ton of sense and he'd undoubtedly vault them into contenders.  But while you mention that they have the cap space, it's only in the short term and that's going to limit them in this pursuit.
Let's jump ahead a year to the 2021 offseason.  They currently have $40.45MM in commitments to eight players which is manageable.  But Gabriel Landeskog needs a new deal that will check in considerably higher than his $5.571MM cap hit.  Cale Makar's contract is up and at this point, you can probably add a zero to the end of his current $880K price tag.  Philipp Grubauer's deal is up which means they'll need a starting goalie as well.  Can they afford to do those three things, sign Pietrangelo, and fill out the rest of the roster under a cap that's probably going to be around the $81.5MM it is now?  I don't think they can.
If Pietrangelo is willing to sign a one-year deal at an inflated price tag (think more than $10MM) to go to a contender and then go for a long-term contract in 2021, Colorado has a chance.  In that scenario, I'd probably make them the contender for his services.  But that's a lot of risk on Pietrangelo's end as an injury could cost him millions.  Even in a deflated cap environment, he should be able to command a max-term, top-dollar contract next month; he's that talented of a blueliner and those rarely hit the open market.  He'd fit in great with Colorado but I don't think they can fit him in beyond 2020-21 without taking away another core piece first.
pawtucket: The Canucks have a ton of FA and RFAs and a bit of a limit on cap space. Who stays and who goes:
Markstrom
Toffoli
Tanev
Virtanen
Motte
Let's quickly tackle these one at a time.
Jacob Markstrom – A month ago, I'd have put him re-signing as a near-lock but the way Thatcher Demko played in the playoffs makes me a little less certain.  But while the likelihood (if not near-certainty) of losing one of them to Seattle a year from now looms large, so too does a compressed schedule for next season.  They'd have a much better chance of getting back to the playoffs with both netminders instead of Demko and a less-talented backup.  I still think he stays.
Tyler Toffoli – This one comes down to how much they're willing to unload to get out of Loui Eriksson's contract (which carries a $6MM AAV but little money owed).  GM Jim Benning has said he doesn't want to move more future assets but if it's the difference between keeping or losing Toffoli, the argument of doing so becomes much more defensible.  Toffoli is a good fit there and I think they find a way to get it done even though it means they'll have to make some cap-clearing moves to do it once you add in Markstrom's next deal.
Chris Tanev – He managed to stay healthy which is notable but he's still hitting the market at the wrong time where players of his style aren't as in-demand as they once were.  I'm sure they'd like to keep him but it would have to be at a notable pay cut and even at that, they may have to cut bait with Troy Stecher as well to afford him with the other agreements I'm hypothesizing.  I think he moves on.
Jake Virtanen – He showed signs of improvement during the season but when it mattered the most in the playoffs, he wasn't getting much ice time.  His skill and size will be intriguing to teams and it wouldn't shock me if he's included in a cap-shedding deal.  I think he's gone.
Tyler Motte – He did well in the playoffs but he lacks enough of a consistent track record for salary arbitration to be much of a concern.  He'll get more than the $975K he made this season but it won't be too high that they'll have to move him.  Motte stays.
@GaryGmuck19: When are the refs going be accountable for their lack of calls, or bad calls?
There's only so much that can be done.  If officials call everything, there will be people saying too many penalties are being called, disrupting the flow of the game and turning games into glorified power play exhibitions.  If they let all but the most egregious stuff go, players are getting away with too much and injury risk increases.
It's hard to set a uniform standard either.  Holding and interference occur virtually on every shift if you apply the rulebook to the letter.  Put a random non-obvious interference play in front of ten referees and you'll get a wide range of opinions on whether or not it is/isn't or should/shouldn't be a penalty.  No matter what, there is a lot of subjectivity that goes into officiating and with that, you're going to get some that call too much and some too few.  If you pause for a moment, you can probably think of a few officials that fall into each of those categories.
There's only so much that can be done with accountability as well.  There is the NHLOA to contend with so outright dismissals are few in far between which is the same in the other major sports as well.  The NHL does have some evaluation criteria that help determine playoff assignments so there's that at least.
As for bad calls, it's possible that the NHL one day expands the list of challengeable plays to include bad calls or blatant ones that were missed.  That won't sit well with the officials who will be forced to evaluate and/or possible adjust their original call but that may be one avenue that eventually gets explored.  Beyond that, however, expect the time-honored tradition of referee criticism to live on.
Photo courtesy of USA Today Sports Images.