As teams are eliminated from the playoffs, it means that the offseason has arrived for several more squads.  Having covered the teams that weren't a part of the NHL's return and the ones ousted in the Qualifying Round, we shift our focus to the ones that were eliminated in the official first round.  Next up is a look at Calgary.
It has certainly been a disappointing last year and a half for the Flames.  After a quick exit at the hands of Colorado in the 2019 playoffs, GM Brad Treliving didn't shake things up too much and instead just tweaked a few veteran players.  Things weren't much better this season.  Bill Peters resigned following reports of abusive behaviour in the past and the team played a bit better when assistant Geoff Ward took over in an interim role (and was promoted to the full-time spot just yesterday).  However, it didn't yield much in the way of playoff success; although they beat Winnipeg in the Qualifying Round, they were taken out by Dallas soon after.  This time around, bigger changes are expected meaning there is a lot at stake for Calgary this offseason.
Determine The Size Of The Forward Shakeup
When a team bows out quicker than expected once, it's understandable if a GM decides to give that core group another chance if he believes that they can turn it around.  When it happens a second time in as many years as is the case here, patience isn't going to be as justifiable.  The decision to give Ward the permanent head coaching position takes one of Treliving's potential cards out of play which means the changes are going to have to come from their personnel.
Two of their top offensive players in center Sean Monahan and winger Johnny Gaudreau are coming off of quiet regular seasons.  After putting up 99 points a year ago, Gaudreau's output dropped to just 58 while Monahan went from 82 to 48.  Yes, missing the final dozen games due to the pandemic skews the numbers a little but it was still a big letdown nonetheless.  Things weren't much better in the playoffs either.  Gaudreau had seven points in 10 games but all but one came with the man advantage.  The ratio was only slightly better for Monahan who had five of his eight points on the power play.  Gaudreau has two years left and Monahan has three.  Treliving will need to decide if he's willing to shake up the core with one of them potentially being moved or if he'll dip a little deeper into his roster.
If he opts for the latter, Mark Jankowski is a likely trade candidate following a dreadful seven points in 56 games while Derek Ryan could be expendable in his walk year.  But moving those two players isn't going to move the needle very much.  How much confidence does Treliving have in his forward group?  We're going to find out soon enough.
Find A Starting Goalie
With David Rittich coming off of a nice rookie season, the decision to go out and add Cam Talbot in free agency made sense for Calgary.  Talbot was someone that was coming off of a tough year but had shown himself to be capable of playing more than a typical backup.  He'd bring a bit of upside while being an insurance policy for the inexperienced Rittich.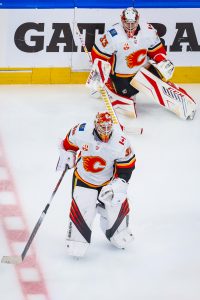 The results were mixed.  Talbot played a bit less than expected but put up his best numbers in several years.  That was the good news.  The bad news was that Rittich took a big step back.  It was telling that Talbot made every postseason start as well.
Talbot now hits the open market as one of the more intriguing goalies out there.  There aren't going to be many starting opportunities available but he is well-positioned to land at least a stronger platoon role than what he had this year.  Rittich, meanwhile, is signed for another year at $2.75MM before being eligible for unrestricted free agency himself in 2021.
At this point, it's hard to envision either of the two goalies being considered for the starting spot next season.  These next few weeks figure to feature a lot of movement between the pipes between trades and free agency.  With their prospects not being ready for prime time duty just yet, the Flames need to add a more proven starter ahead of Rittich if they want to head into next season feeling more confident about their chances.
Reshape The Defense
The back end has been a staple of the Flames for a while now but changes are on the horizon.  No fewer than five veteran defenders are set to hit the open market next month in T.J. Brodie, Travis Hamonic, Derek Forbort, Erik Gustafsson, and Michael Stone.  With more than $64MM in commitments already for next season to just 14 players, it's unlikely that they'll be able to bring back more than one of Brodie or Hamonic while Forbort and Gustafsson will likely find bigger roles if they go elsewhere.
As things stand, just three veterans are under contract for next season in Mark Giordano, Noah Hanifin, and Rasmus Andersson (whose six-year extension is set to come into effect).  Juuso Valimaki is also signed and on his entry-level deal but he missed all of this season after tearing his ACL last summer while training.  He's likely going to be on the team but counting on him to have a big role would be risky considering how much time he missed.  Oliver Kylington is a restricted free agent and should be back as well but he is more of a depth option at this point as is Alexander Yelesin who enters the final year of his deal.  College free agency signing Connor Mackey is worth keeping an eye on but it's unlikely he'd step into an impact role right away either.
This presents an opportunity for the Flames to reshape things a bit.  It wouldn't be surprising to see them try to funnel a bit of their previous spending either into adding a more prominent goalie or some more firepower up front.  If they can't bring back one of Brodie or Hamonic, they'll likely have to try to add a new rearguard or two.  Depth defenders are available in free agency but if they want a top-four option, they'll likely have to turn to the trade market and if it's an impact defenseman that they want to add, it'll take more than a depth forward or two to get one.  Changes appear to be on the way for Calgary's defensive group.
Photo courtesy of USA Today Sports Images.