After last week's mailbag focused on the Rangers, topics in this edition include postseason contenders, the Hurricanes, playoff overtime, Ottawa's cap space, the captaincy in St. Louis,  Detroit's willingness to leverage their cap room, the short-term future of the NHL's signature in-season events, and free agency.
DarkSide830: Cup favorite as things now stand?
Whoever comes out of the West.  I have concerns about each team in the East – Boston for their goaltending with Tuukka Rask gone, Philadelphia for their struggles against Montreal, the Islanders for their lack of firepower, and Tampa Bay for how things went last year.  Don't get me wrong, they're all strong teams but I don't think they match up as well against the top two teams in the West in Vegas and Colorado.
The Golden Knights don't have many weaknesses.  Robin Lehner and Marc-Andre Fleury are a solid goaltending tandem, their back end was very quietly bolstered at the trade deadline with Alec Martinez.  They still don't have that elite scorer but they have multiple lines that are strong offensive threats at all times.  That was a recipe for success just two years ago and they're better now than they were then so they should get by Vancouver this round.
As for the Avalanche, their goalies (Philipp Grubauer and Pavel Francouz) aren't as well-known but are solid while they also have a strong back end.  They have the top-end firepower while Nazem Kadri has been quite sharp so far to deepen their attack.  Dallas might be able to slow them down for a bit like Arizona did but as they did against the Coyotes, their offense will come around and take over.
That would set up a very interesting Western Conference Final with the winner being my pick for the Stanley Cup favorite.  Right now, I'd give a slim edge to Vegas but both would be justifiable contenders.
mikedickinson: The Canes now pick 13th thanks to the Patrick Marleau trade. Do they trade that for an established guy? Gotta figure Justin Williams will retire and will need to be replaced.
I don't see them trading that pick.  They've already moved their own first-round pick this season to pick up Brady Skjei at the trade deadline and he's an established player.  If they still had both picks, I'd think that one would be in play but I suspect the Skjei trade was done knowing that they'd have another first-rounder at their disposal to use at the draft table.  (They probably didn't think it'd be as early as 13th though.)
If Williams retires (a reasonable expectation), they don't have to get a top forward to replace him.  Instead, they can look to the open market and go bargain shopping.  The 30-35-point players that bounce between the second and third lines could be squeezed out as teams look to sign/keep their top players and fill out of the rest of their roster with cheaper options.  That could push the price tag of those depth wingers down and present a chance for Carolina to nab one at a reasonable rate and get a replacement for Williams at a reasonable price.  Failing that, Ryan Dzingel would get a chance to earn back his full-time spot in the lineup.
crosseyedlemon: Could anything be more idiotic than having teams play 3 or more OT periods in early playoff rounds? One OT period followed by a shootout should be the format for every round with the exception of the championship finals.
I understand where this is coming from given how crazy the Tampa Bay-Columbus game was and how it postponed Carolina-Boston.  If there was ever a year to do such a proposal, it was this one given the constraints of only using one arena per conference.  It wouldn't have been a popular choice but it would have been understandable.
Personally speaking, I don't ever want to see a shootout in the playoffs.  I could do without them in the regular season, to be honest.  A quick skills competition should not be dictating the outcome of a game, especially when the stakes are higher in the playoffs.  If teams have to drag it out for multiple overtimes, it's their own fault for not scoring earlier.  From a fairness perspective, it's the same teams that are punished; it's not like it hurts one more than the other.
I should mention that I enjoy the games that drag on and on.  As a baseball game gets deeper and deeper into extra innings, I'm hooked.  If a basketball game gets to multiple OT's, sign me up.  They occur rarely enough that they're special when they happen.  That's to be celebrated, not legislated out of the game by bringing the shootout into the playoffs.
JDGoat: Does Ottawa use their cap space to bring in other teams RFA's or do they just look to bring in bad contracts with assets attached? What could some targets be for these scenarios?
I don't see them targeting restricted free agents via offer sheet or trade unless they're getting someone that they think can be a part of their long-term core.  They know their crop of young players and prospects are going to get expensive fairly quickly so adding another potentially expensive player to the mix for the long haul may not be the best move.  They need to see how the likes of Erik Brannstrom, Josh Norris, and company pan out and they're a couple of years away from getting a legitimate read on those players.
I think the better target for the Sens is transition players.  Adding a veteran or two that can work with their young core in the short term and can be eventually flipped is probably the better way to go.  The prospects that are on the cusp get some more time with AHL Belleville (assuming the AHL gets up and running) and the veterans, while likely overpaid, can still contribute.
Loui Eriksson in Vancouver is a logical target.  His salary is lower than his cap hit (which is notable given their payroll parameters) and the Canucks will be motivated sellers.  He's not worth his $6MM AAV but he can still kill penalties and chip in a bit offensively, especially if he gets a bit more playing time.  If Anaheim needs to part with David Backes ($4.5MM with Boston retaining $1.5MM) to free up money, he'd give them some extra grit and would only be a one-year commitment.
Of course, the intention here is that the assets to take on those contracts is the key to the trade, not the veterans themselves.  If Ottawa can pick up a key pick or prospect for doing so and then potentially flip the veteran down the road for a small something, that would be a good use of their cap room.
vincent k. mcmahon: If Petro doesn't resign with the Blues who do see being the next captain? Or do you think they would roll with 3 assistant captains?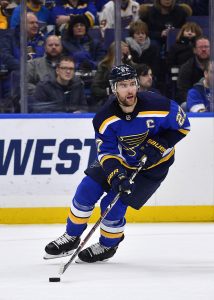 It's certainly going to be difficult for St. Louis to re-sign Alex Pietrangelo.  Yes, the flattening of the salary cap may ultimately limit the number of suitors that can go after him in free agency but it's also going to make it even harder for the Blues to free up the cap space to sign him.  I expect there will be mutual interest in getting something done but they will have to part with a couple of regulars to do so.  With a lot of teams looking to shed salary, it may be tough to get value for whoever they part with.  While it doesn't seem possible on the surface, I have a hunch they'll find a way to get something done which would make the question moot.
However, if Pietrangelo does move on, Ryan O'Reilly makes sense as a logical replacement.  Looking at their other two alternates, Vladimir Tarasenko's future seems to be in question with his recurring shoulder issues while Alex Steen is a candidate to be one of the veterans getting moved out to free up cap space.  Meanwhile, O'Reilly still has three years left on his deal and has fit in seamlessly over his two years with St. Louis.  I think they'd be comfortable bestowing the 'C' on him if they wind up having to make a captaincy change.
@michiganroman: if Yzerman trades cap space for assets who are the most likely cap hits coming back and what assets most probably coming back with the cap hit?
The two I listed for Ottawa earlier would certainly come in play but after talking about St. Louis' cap situation, let's bring them into the mix.  Goaltender Jake Allen and his $4.35MM price tag seems too expensive if they have eyes on keeping Pietrangelo.  If GM Steve Yzerman doesn't want to dip into the UFA market to find a partner for Jonathan Bernier between the pipes, Detroit would be a logical landing spot for him.
I could also see them look to add a defenseman via this route.  But instead of looking to take on picks and prospects (the likely currency to take a bad contract), I think Yzerman's preference would be a buy-low situation where you're getting a better player but simply parting with less in return than would normally be expected.  Shayne Gostisbehere in Philadelphia is a potential trade target in that scenario to give them an offensive boost.  If they do look to take on a bad contract with other assets, Jake Gardiner in Carolina makes some sense.  He's already on the fringes of the roster but he'd have a regular role with the Red Wings while they'd add something for taking his $4.05MM AAV on.
@tankbro6: Next year's NHL All-Star Game in Sunrise, Florida, the Winter Classic in Minnesota and the Stadium Series in North Carolina will likely be postponed?
It certainly seems like it.  The All-Star Game seems like a logical casualty of starting the 2020-21 season much later than usual, especially if fans aren't allowed into arenas with any sort of significant presence.  That's an even for fans and corporate sponsors and if you can't have the players close to them, holding the event isn't going to accomplish much.
As for the outdoor events, part of the allure is having such a large crowd at a hockey game.  It's possible that some fans will be allowed to the point where the turnout would be somewhat near what a regular game would be.  But the atmosphere would be much different while there would be a lot of extra costs getting taken on without anywhere near the type of revenue that they'd normally expect.
These are signature events for the NHL.  If they can't derive the full benefit and put on the best show possible, it's better to not have them at all than have a watered-down version.
yooperfly: Which of these UFA/RFAs do you expect to be with their current team next year?
1) Anthony Cirelli
2) Sam Reinhart
3) Taylor Hall
4) Max Domi
5) Tyler Toffoli
Let's look at each one quickly.
Tampa Bay needs to cut a lot of salary to re-sign their notable RFA's including Cirelli and Mikhail Sergachev.  Trading Cirelli while his value is quite high would be justifiable but with Steven Stamkos starting to slow down, having Cirelli as an in-house option that could move to the second line (and Stamkos to the right wing more frequently) is the path I think they'd prefer to take.  I think he stays.
With Reinhart, new Sabres GM Kevyn Adams will need to decide if he's a part of their long-term core.  I don't think he has lived up to expectations relative to his draft status (second overall in 2014) but he's a legitimate top-six forward at a minimum and has shown flashes of being more than that.  That's worth keeping around so I'd have him staying as well.
As for Hall, there's no doubt that Arizona wants to keep him but can they afford to?  That question has multiple meanings as well.  Cap space is limited and from a budgetary perspective, they've never been a high-spending team and it's not as if they have any extra playoff revenue that could have tipped the scales.  If Hall is looking for one last big deal, I think he'll get more money and a team that has a better chance of winning elsewhere so let's put him as moving on.
A year ago, Domi looked like a part of Montreal's future core.  He was going to be a top-six center and that was something they sorely needed.  Now that Nick Suzuki and Jesperi Kotkaniemi took a step forward this postseason and the presence of Phillip Danault, Domi's likely a winger, a position he struggled at.  At a time where centers aren't easy to trade for, it may be the right time to move him to fill an area of weakness.  I could see him moving.
Toffoli was a nice fit in Vancouver during the regular season but an injury has limited him to one playoff appearance.  If the Canucks can keep going without him, it's going to hurt Toffoli's case to stay.  The Canucks may already have to try to shed some salary before even thinking of re-signing him.  I think they'd like to keep him for the right price but ultimately, he moves on.
Photo courtesy of USA Today Sports Images.