Our latest call for questions for the PHR Mailbag featured plenty of questions about the New York Rangers.  They were quickly eliminated by Carolina in the Qualifying Round although they wound up with quite the consolation prize.  With that in mind, the Rangers get the focus of this edition of the mailbag with any non-New York questions being tackled next weekend.
pitmanrich: With the number one pick, the Rangers look set at left wing for the next few years.  Do they look to accelerate the rebuild next season by trading for a 1st line d-man to play with Trouba and a quality center to play on the 2nd line if Strome leaves or wait 12 months until Hank's contract is up and the salary cap is looking better for them and then go for it?
The Rangers seem to be falling over themselves to say that getting the top selection isn't going to do anything in terms of changing their rebuilding timeline.  It's the right call to make too as with as many youngsters as they have, throwing them to the wolves with a win-now expectation is risky.
They also simply don't have the cap space to attempt those moves right now.  As things stand, New York is going to be hard-pressed to simply retain their roster that finished up the season with Ryan Strome and Anthony DeAngelo headlining a notable group of restricted free agents.
On top of that, Alexis Lafreniere (assuming he's the top pick as expected) is also going to complicate their cap situation.  Yes, he'll have his base salary capped at $925K but he's a lock to get a max bonus contract which features up to $850K in 'A' bonuses that are certainly achievable plus another $2MM in 'B' bonuses.  Yes, the bonus overages can be rolled over to the following year but that would only delay the cap challenges.  GM Jeff Gorton may want to leave himself some financial wiggle room to at least keep some of those bonuses in 2020-21 which means even if he wanted to splurge and spend to fill their vacancies, he couldn't.  Their roster upgrades in the short term will have to come from internal improvement.
acarneglia: With the Rangers winning the Draft Lottery, what does the near- and long-term future look like for the team?
As I noted above, this shouldn't have much of an impact in the short term as they don't have the cap space to fill their bigger roles while keeping the rest of the roster intact.  Yes, adding Lafreniere will help while a full season from Igor Shesterkin should certainly improve their record as well so New York will be better but they're not going to go from a bubble team to a contender right away.
Their long-term prospects are certainly promising though.  Lafreniere and Kaapo Kakko give them two players that should be high-end snipers and both will be around for a while.  Artemi Panarin will be around for a while yet he's certainly no slouch offensively either.  They should be able to have the firepower to contend for a while although they will need to shore up their back end over the next few years which should represent their window with their young stars still under team control.
MZ311: Now that the Rangers have locked up the #1 pick, do they take Lafreniere, trade the pick, or take the top center on the board?
If Lafreniere wasn't in a tier of his own in this draft class, I could at least entertain the idea of going with Quinton Byfield.  But there is a sizable gap between the two and when you're dealing with top-end talent, passing up on one for a better positional fit is the type of decision that could come back to haunt them down the road.  Get the best player and then work out the fit afterwards.
As for the idea of trading the pick, I wouldn't say no outright to that.  Lafreniere isn't a generational talent by any stretch, he just projects to be a high-scoring winger (which is still quite good).  He's someone that every team would want in the right fit and if there's a team willing to part with a young center with a front line ceiling to get him, then it's something that would need to be considered.  Otherwise, they should make the safe and obvious play and select Lafreniere.
met man: What are the chances that Lundqvist hangs up his skates? Love the guy, but can't see him happy being the #3 goalie on the Rangers.
I can think of $5.5MM reasons why Henrik Lundqvist won't retire.  I'm sure he's not thrilled about his role down the stretch and where he likely sits on the depth chart but that's a lot of money (a $1MM signing bonus and $4.5MM of salary) to leave on the table willingly.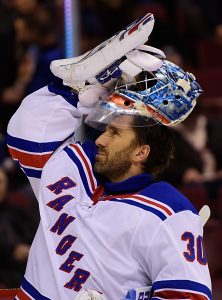 If he's thinking that he only wants to play for the Rangers in his NHL career, there are two more realistic options at play.  One is that he's bought out, resulting in a $5.5MM cap hit for 2020-21 ($3MM in savings) and $1.5MM in 2021-22.  He gets most of the money that's owed to him and then he retires or opts to go play overseas if the itch to play is still there.  The other is that they find some sort of lingering issue that makes him eligible for LTIR.  He stays on the books but New York could spend over the cap by up to his $8.5MM AAV, alleviating their cap concerns.  There is a significant downside to that approach though as any achieved bonuses from Lafreniere, Kakko, or Shesterkin, would roll over to 2021-22.  Shesterkin's on a max-bonus deal (Lafreniere will be too) and Kakko is just below that so that's a big risk to take, especially with other youngsters such as Adam Fox likely to hit some of their lower ones as well.
I wouldn't be surprised if Lundqvist's time with the Rangers has come to an end but I would be surprised if he's the one that initiates the separation by calling it a career and leaving that much money on the table.
CoachWall: If Henrik decides to stay, what might Georgie bring back in a trade?
The goalie trade market is always tough to predict.  For starters, it often seems to be underwhelming although this offseason presents a whole new set of salary cap challenges which may make more cap-strapped teams desperate.  While Alexandar Georgiev is a restricted free agent with arbitration eligibility, he's not going to be getting number one money.  A one-year or two-year bridge deal is the likely outcome and that's going to be affordable for most teams.
Georgiev's trade value is ultimately going to be decided by whether or not there are teams that think he's a future starter in this league.  There are games where he looks like he will be but others where he has struggled considerably.
I see some parallels to another Ranger goalie who was in that situation a while ago and that's Cam Talbot.  He was stuck behind a long-term starter (Lundqvist) and had some flashes of dominance and others where he didn't look so good.  He ultimately went for second and third-round picks and I'd peg a baseline return around there unless there are several teams that view him as a starter of the future.  If they stick with Lundqvist as Shesterkin's backup, I think they'd prefer the picks or a prospect to avoid adding any more salary to the books.  It may not be an overwhelming return but let's face it, goalies rarely bring back a big package in a trade.
Eaton Harass: Who should the Rangers be targeting for a 2nd line center?
That's certainly a void they'd like to have filled by a more proven option but I don't think their best-case scenario sees them making a move to get one.  It seems fair to infer that Strome is not the long-term solution at that position but spending big on an upgrade may not be the best idea considering their cap situation and the fact that Mika Zibanejad is only a couple of years away from UFA eligibility where he'll be in line for a huge raise on his $5.35MM price tag if continues to play like he did this year.  They'll have to spend big on him and their wingers so a more cost-effective second center will be needed.
They may have that already in Filip Chytil.  His performance the last couple of seasons has been a bit underwhelming but he has produced in the minors.  The 20-year-old also hasn't had a lot of ice time in the top six either.  Strome's career year had a lot to do with that but from a development perspective, they'd be wise to try to give Chytil a bigger role next season to better assess if he can hold his own as a capable second option or if they'll eventually have to go outside the organization to fill that role and so much can change between now and next offseason to speculate on who could be feasible targets.
Impact top-six centers are hard to get and when you have limited money to spend on that spot, they're even harder to acquire.  In a perfect world, they're targeting Chytil to be the guy behind Zibanejad and skipping the trade route and free agent market altogether.
Photo courtesy of USA Today Sports Images.