Topics in this edition of the PHR Mailbag include the Chicago-Edmonton series, Jack Eichel's future in Buffalo, forecasting the television picture for the NHL's Return to Play, and Lindy Ruff's hiring in New Jersey.  If your question doesn't appear here, watch for it in next week's mailbag.
Mark L: When play stopped, the Oilers offense was looking very strong while the Blackhawks defense was a mess. Because of the long suspension of play, Chicago will have Calvin de Haan back for sure and could have Brent Seabrook back as well.
They also have some younger, talented players who won't have played a gruelling campaign before jumping into a playoff. If Corey Crawford can stay healthy and in net, what are the chances this is a more competitive series, perhaps one Chicago can steal, than it looks to be at first glance?
With teams being off for as long as they have been, every series has a chance to be more competitive than it may seem on paper.  Good teams can come out of the gate slow in the regular season and this is a longer layoff than a typical summer so there are bound to be some surprises along the way.
It's interesting that you mention Crawford as I think goaltending will be a huge part of this series but it's Edmonton's goaltending that could very well dictate the outcome.  When he's on his game, Mikko Koskinen can be a real difference-maker.  On the flip side, when he's off, he's really off.  If he's not sharp out of the gate, that's one area that Chicago can exploit.  Mike Smith is a capable backup that can steady things in that instance but he's probably not going to steal games at this point of his career.
Crawford's top level isn't as good as Koskinen's but the inconsistency isn't as sharp either (which is good as turning to Malcolm Subban wouldn't be ideal given the year he had).  If Chicago can get the better goaltending, they'll have a decent chance in this series unless Connor McDavid and Leon Draisaitl steal the show and with how they performed during the regular season, they can win games on their own even if Crawford outperforms Koskinen.
Getting de Haan back will certainly help defensively and on the penalty kill but I don't know if they'd want to risk putting Seabrook back in.  He's just starting to skate now after being off since mid-December and he was struggling before being taken out.  Even if Seabrook does play, it's hard to see him getting more than a spot on the third pairing which will limit his chances of making any sort of tangible impact in this series.
Baji Kimran: Do you think Buffalo is considering moving Jack Eichel? If so, what would they want in return, High-end talent that is already in the NHL or a slew of draft picks (#1's, #2's)? Finally, if they were open to moving Eichel, don't you think the team that wins the Alexis Lafreniere sweepstakes would be smart to try to acquire Eichel?
Eichel's comments back in May where he indicated that he is "fed up with losing" certainly raised some eyebrows around the league and evidently caught the attention of Sabres ownership as they decided to change course with the firing of Jason Botterill as GM with Kevyn Adams taking over as his replacement.  I think Adams' mandate is now to change things up while still building around Eichel, not moving him out though.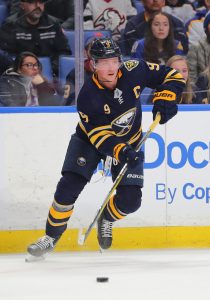 With all due respect to Adams who has clearly done enough to impress ownership to give him the nod, this will be his first crack at being a part of management.  Having a raw rookie in the GM role is risky enough let alone asking him to try to find the right trade for your franchise player, disgruntled as he may be at the moment.  It's not a good time to move him, especially with his AAV of $10MM being near the top of the league at a time where teams are going to be in tough for cap space.
But for the sake of discussion, let's say Adams was considering it.  Moving him for another established top talent doesn't really move the needle much – now you'd have a different top player with a supporting cast that still needs some work.  So about the only way moving Eichel would make some sense is if Buffalo decided to do yet another rebuild with the target return being two or three core assets (top draft pick, top prospects, or young NHL players with top-half potential) plus some veteran salary ballast similar to what Patrik Berglund and Vladimir Sobotka were in the Ryan O'Reilly trade with St. Louis.  That doesn't seem like a particularly appealing route for the Sabres to take at the moment so I'd be very surprised if Eichel is on the move.
M34: Are all the remaining games going to be nationally televised?
This is something that is being discussed now that the ratification is done with a schedule being set and an answer is expected in the very near future.  So with the risk of this being proven incorrect in a hurry, here is my prediction.
Exhibition games, the play-in round, and the round-robin games for the top four teams in each conference will be shown regionally with national networks being allowed to convert a handful to the wider coverage level.  The league has gone out of its way to call these games non-playoff contests and I suspect part of the reason is that they want to use this for inventory for regional sports networks to make up for some of the lost games as a result of the effective cancellation of the rest of the regular season.  (Of course, the stats are counting as playoff stats which goes against their long-stated assertion that these aren't playoff games but let's play along with the league here anyway.)
I also wouldn't be shocked if some RSNs will get the ability to show games in the first round to also help make up the lost game inventory.  I could also see those games getting national coverage and while that seems somewhat redundant, it wouldn't be that hard to do.  A world feed will be produced with individual networks doing their own graphics.  Accordingly, it would be easy enough for NBC (in the United States) or Sportsnet (in Canada) to have their own commentators doing the game nationally while the RSN has the same video feed but with the local broadcast team.  It's a bit of a compromise and there has been plenty of that lately with the CBA MOU and Return to Play protocols getting finalized.
MoneyBallJustWorks: Thoughts on the Lindy Ruff signing by NJ and where do you think some of the more prominent names could end up going?
I was a bit surprised by the hire as I figured he'd be behind some of the more prominent names but I don't mind it.  Ruff is not the long-term coach that's going to steer New Jersey out of their rebuild, into contention, and onto a Stanley Cup championship.  Instead, he's what I call a 'transitional coach'.
Ruff's reputation is that he gets the best offensively out of teams although the defensive play leaves something to be desired.  But right now, that's okay.  I'd rather have that than the opposite even though that would normally be the smarter route for a team in their situation.
The strong point of this roster is their offense.  They have a pair of top picks in Nico Hischier and Jack Hughes who have plenty of skill but have been hit or miss at times in their early NHL careers.  Their top priority in a coaching search should have been finding someone who is best equipped to help these two develop.  Ruff should be able to help do that.
Are they going to struggle defensively?  Sure.  But that was going to be the case no matter who they installed as head coach unless they went to a pure trapping system and tried to win games 2-1.  That wouldn't have been ideal for their two hopeful franchise cornerstones though.  The Devils have some talent on their back end but some of those defenders are more offensive-minded than defensive-minded so a change to a more up-tempo style may benefit them as well.
A few years from now, Hughes and Hischier have established themselves as offensive stars in an ideal world and the focus can then shift towards really shoring up the back end.  (By then, they'll also hope to have their goaltending situation figured out as either Mackenzie Blackwood has established himself as a starter or someone else will be in that role.)  By then, they should be back in the mix for a playoff spot and will probably have made it once or twice.  That will be the time to look for the longer-term coaching option but by then, Ruff should have helped steer the franchise in the right direction.
It's difficult to forecast where some of the other prominent names will end up as right now, there aren't any vacancies.  With cash flows being much more limited in the short term, it's quite possible that there aren't any openings for coaches like Gerard Gallant, Mike Babcock, and Peter Laviolette to pursue until sometime in 2021.
Photo courtesy of USA Today Sports Images.