As things stand, the NHL is planning to have games resume at some point over the coming weeks.  Assuming the regular season continues, there will be plenty of things to watch for over the stretch run.  Over the coming weeks, PHR will examine the top stretch run storylines for each team.  We wrap up our look at the Central Division with Chicago.
It has been another disappointing season for the Blackhawks who sit at the bottom of the division with their only hope of a playoff spot being an expanded field.  For the most part, their veterans have underachieved which has to be a bit concerning to a team that has several key veteran players on long-term deals.  However, one of their few veterans not on a long-term pact is one of their top storylines for the stretch run.
Bridge Or Long-Term?
The Blackhawks have limited cap space to work with as they have more than $73MM in commitments already for next season.  Despite that, center Dylan Strome and Dominik Kubalik are a pair of youngsters that will be vying for a long-term pact if the team can free up some extra funds over the offseason.  How they fare down the stretch may ultimately help GM Stan Bowman which one to try to sign to something other than a bridge deal if the cap room is there.
Strome hasn't been as productive as he was last season, his first with Chicago but that wasn't entirely unexpected.  After going from being a middling player in Arizona to nearly a point-per-game player, this season was going to fall somewhere in between that.  The end result hasn't been half bad as he has picked up a dozen goals and 26 assists in 58 games.  He now has 116 games in a Blackhawks uniform but is that enough to get a long-term deal?  If the regular season plays out in full, another 12 games could actually help sway things.
Kubalik has been one of the bigger pleasant surprises in the league this season, jumping in with 30 goals in his rookie campaign.  Of course, he's not as young as most rookies are as he'll be 25 at the start of next season.  That has him two years away from unrestricted free agency and arbitration-eligible already.  A bridge deal walks him to UFA eligibility but with only 68 NHL games as a track record, that's not much to go off of.  Like Strome, playing out the final dozen games may wind up helping (or hurting) his chances of a long-term pact.
Crawford's Future
When the Blackhawks signed Robin Lehner to a one-year deal in the summer, it felt like a potential sign that they had decided that Corey Crawford's days as their full-time starter were over.  But Crawford slightly outperformed Lehner in a virtual platoon situation and Lehner was eventually dealt to Vegas at the trade deadline.  Does that mean that Crawford is again the goalie of the future?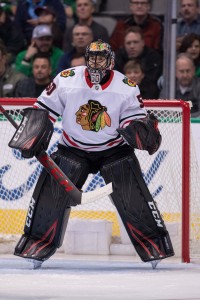 That's what he's certainly hoping for but it's far from a given that he has done enough to show it.  He has had difficulty staying healthy in recent years and he's 35.  There aren't a lot of legitimate starters at that age still out there.
But let's look back at their cap situation.  With Strome and Kubalik to re-sign on top of their current commitments, they can't afford to be shopping at the top end of the market in free agency.  They'll need to go with a more affordable option which could very well be Crawford.  Before the pandemic, it certainly seemed like a short-term contract extension was quite possible and a good finish to the year could help his chances of getting the strong side of the platoon next year.
Reverse Standings Watch
What do teams do when they're out of contention?  They keep looking at the standings but instead of looking up, they look down.
As things currently sit, Chicago is ahead of eight teams in the overall standings but half of the teams behind them are within five points.  That margin is certainly erasable if the NHL plays out a full 82-game schedule and it's notable that two of their remaining 12 contests are against teams in that group just behind them.
It's a given that players like Kirby Dach, Adam Boqvist, and Nicolas Beaudin will get more playing time down the stretch and for Chicago fans, that will certainly be something to watch for.  How they perform will go a long way towards determining whether the Blackhawks stay where they are or fall back a bit and improve their odds at the Draft Lottery (whenever it happens to be rescheduled for following its postponement earlier this week).
Photo courtesy of USA Today Sports Images.