With the trade deadline now less than a month away, we will be taking a closer look at the situation for each team over the coming weeks.  Where do they stand, what do they need to do, and what assets do they have to fill those needs?  Next up is a look at the Vancouver Canucks.
There were many who felt that the Vancouver Canucks still needed another year or two to complete their rebuild, but general manager Jim Benning has moved the team ahead in the last couple of offseasons, adding several significant player additions to go with their nucleus of youth and it has worked out quite well. Benning took a big chance this offseason, trading away their first-round pick to Tampa Bay to acquire winger J.T. Miller, who has helped lead Vancouver to the top of the Pacific Division and the team so far, despite plenty of action right behind them, don't look like they are fading any time soon. That could make this team an interesting one to watch at the trade deadline.
Record
27-20-7, third in the Pacific Division.
Deadline Status
Buyer
Deadline Cap Space
$1.10MM in a full-season cap hit (using LTIR), 0/3 used salary cap retention slots, 47/50 contracts per CapFriendly
Upcoming Draft Picks
2020: VAN 2nd, VAN 3rd, VAN 4th, VAN 5th, VAN 6th, ANH 7th
2021: VAN 1st*, VAN 2nd, VAN 3rd, VAN 4th, VAN 5th, VAN 6th, VAN 7th
* Vancouver traded their 2020 first-round pick to Tampa Bay, conditional if they make the playoffs. If the Canucks don't make the playoffs in 2019-20, then the team's 2019-20 first-round pick transfers to the 2020-21 draft.
Trade Chips
This isn't a team that has much to offer with a team full of recently brought-in veterans and plenty of youth. Throw in the fact that one of their first-round picks in the next two years is heading to Tampa Bay, the team lacks the assets to acquire a big-name player. Benning might also be unwilling to part with any more draft picks after moving that first-rounder for Miller.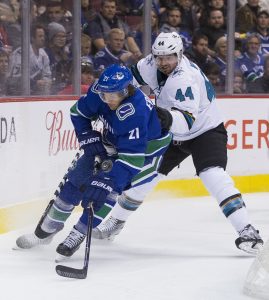 However, one player Benning will likely attempt to move would be the contract of Loui Eriksson and his $6MM contract. While no one would be particularly interested in a player of that caliber, it could be a coup if Benning could unload that contract, which still has two more years remaining on it. That could clear some much-needed cap room.
There aren't many obvious options for Vancouver. The team could also consider moving defenseman Chris Tanev or Troy Stecher, both who will be hitting unrestricted free agency next season, but again, why trade them when the team is trying to make the playoffs now. The team also have a number of young players who are close to being able to join Vancouver in the next year or two, including Nils Hoglander, Jett Woo, Olli Juolevi, or Tyler Madden to name a few, but again, why would Benning move those young players just for a rental player?
Five Players To Watch For: F Loui Eriksson, D Olli Juolevi, F Tim Schaller, D Troy Stecher, D Chris Tanev
Team Needs
1) Top-Six Forward: The Canucks recently got back Brandon Sutter and hope to get Micheal Ferland back soon too, but the team's second line right now consists of Bo Horvat, Tanner Pearson and Eriksson. That line isn't likely to get much done for a playoff team, although it's very likely the Canucks are doing everything they can to showcase Eriksson and the team still has Brock Boeser, the team could use one more goal scorer. Regardless, one more scorer such as a Pavel Buchnevich, Kyle Palmieri or a player of that magnitude would give Vancouver quite a bit of strength on their top two lines.
2) Cap Space: Again, with just $1.1MM in deadline cap space, the Canucks don't have much room to maneuver, so even if the team can acquire a piece to their team that fits with their team chemistry, they will have to send back a contract of equal value to get it down. So any way the team can free up some cap space is crucial.
Photo courtesy of USA Today Sports Images.