With the trade deadline now less than a month away, we will be taking a closer look at the situation for each team over the coming weeks.  Where do they stand, what do they need to do, and what assets do they have to fill those needs?  Next up is a look at the Ottawa Senators.
It's been a improved season for the Ottawa Senators. New head coach D.J. Smith seems to be having some success and the franchise finally seems to be heading in an upwards trajectory. That doesn't mean the team is winning that much, however, as they have the 29th best record, but no longer are they the worst in the NHL. However, the rebuild continues and while many of their prospects are developing nicely, the team still has plenty of assets they could move to continue their full rebuild.
Record
18-26-11, seventh in the Atlantic Division
Deadline Status
Seller
Deadline Cap Space
$26.13MM in a full-season cap hit (using LTIR), 0/3 used salary cap retention slots, 48/50 contracts per CapFriendly
Upcoming Draft Picks
2020: OTT 1st, SJ 1st, OTT 2nd, CLB 2nd, DAL 2nd, OTT 3rd, OTT 4th, TB 5th, SJ 6th, STL 6th, OTT 7th
2021: OTT 1st, OTT 2nd, CLB 2nd, SJ 2nd, OTT 3rd, OTT 6th, OTT 7th
Trade Chips
The most coveted player is center Jean-Gabriel Pageau, who has had a breakout year, scoring a career-high 21 goals already and not letting up. The 27-year-old is highly coveted and while it might make sense to lock up the center as a piece of the team's future, recent reports suggest that there has been little to no negotiations between the two sides so far, suggesting that a trade is highly likely. In total, Pageau has 21 goals, 34 points, 102 hits and a 52.8 face-off percentage. He also is quite affordable at $3.1MM, but will hit unrestricted free agency and hasn't indicated that he would be willing to sign an extension with another team upon a trade, meaning he could just be a rental option for a playoff team.
The team also has other intriguing options as the Senators have quite a few pending unrestricted free agents. While it's likely they will re-sign some of them, there are a number of players like Vladislav Namestnikov and Tyler Ennis that could attract some attention.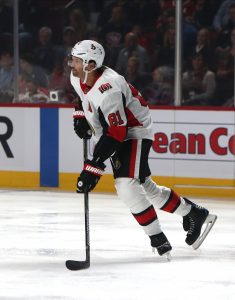 If teams are interested in defense, the Senators have a few options as well with veteran Ron Hainsey standing at the top of the list. Hainsey has been a solid top-four option on Ottawa's defense since signing with them this summer on a one-year deal. The Senators have quite a few young defensemen looking for playing time. Therefore it would make sense for Ottawa to move out Hainsey, who averages 20:07 ATOI at $3.5MM. While he doesn't provide a significant amount of offense (one goal, 11 points), he provides solid defense, including a plus-four rating and 75 blocks. Throw in Dylan DeMelo and Mark Borowiecki as potential trade targets as well.
Five Players To Watch For: D Mark Borowiecki, D Dylan DeMelo, D Ron Hainsey, F Vladislav Namestnikov, F Jean-Gabriel Pageau
Team Needs
1) Draft Picks: You don't have to look farther than the draft chart above to see that the Senators are already loaded with picks, but the more you have, the more successful you will be. The team already is armed with two potential lottery picks for 2020, loaded with draft talent, and have three second-rounders after that. The team has another three second-round picks for the 2021 draft. So, adding more could be the key to this team's long-term future.
2) NHL-Ready Youth: The team is already loaded with prospects, although many of them have struggled to make the transition from the minors to the NHL. However, especially with the Senators looking to move on from several players, the team could use some more prospects who are either already in the NHL or have started to make that transition which could give the team some buffer room so they can avoid throwing their prospects into a situation they may not be ready for yet.
Photo courtesy of USA Today Sports Images.