Topics in this edition of the mailbag include Buffalo's struggles, Nashville's coaching change, what's next in Montreal, Kyle Palmieri's future in New Jersey, who Detroit shouldn't be trying to move, recall rules, and Colorado's sluggish start after the holiday break.  If your question doesn't appear here, watch for it in next week's mailbag.
Dukes45: Fans clamoring for anything positive in Buffalo and hearing Botterill actively seeking trades. Anything, please, anything? How warm is seat getting under Botterill?
sabres3277: Do you think the Sabres have any chance at the playoffs?? If not, who should they deal at the deadline to get ready for next year once again???
There doesn't seem to be much to report on the trade front for Buffalo, at least for now.  Even after trading Marco Scandella for Montreal in what was essentially a three-way deal that saw them land Michael Frolik, they still have a surplus of defenders and a need for forwards.  In the immediate term, that's still something Botterill is looking to do.
The challenge here is that Bogosian doesn't have a lot of suitors and there aren't a lot of similar forwards on expiring contracts that have a similar level of trade value.  The pricier rentals up front (Chris Kreider, Tyler Toffoli, even Mikael Granlund potentially) happen to be some of the better trade chips out there and as a result, the asking price is going to be a lot higher than Bogosian and given their current situation, that's not a justifiable price to pay.  For me, Colin Miller is the better trade chip among their right-shot options.  They'd be selling low but should still be able to get back close to what they got for him if not a similarly-valued forward.
As for their playoff hopes, they're better than they were a few weeks ago with Montreal falling out of it.  However, I don't think they're cracking the top three in the division and I like Florida's chances of staying ahead of them.  I also don't expect the Atlantic to get both Wild Card spots.  So while their chances are better, they're still not good.  Selling makes sense.
Those two defensemen should be considered as trade chips and I'd put Jake McCabe (one of the few lefties on the team) there as well.  Is he part of the long-term future?  If not, his value may be at its best now.  I don't think there's a great market for Evan Rodrigues or Jimmy Vesey gave their performances but taking what they can get isn't a bad idea.  I think Zemgus Girgensons would be someone that would generate a fair bit of interest from teams looking to add center depth and/or size to their bottom six.  There aren't any Grade A trade chips but they could land a handful of later draft picks at the very least.
Let's go back to the first question and look at Botterill's future.  It's certainly reasonable to suspect that he could be in jeopardy if they ultimately miss the playoffs again.  He didn't fare well in his big trade of Ryan O'Reilly nor does the Jeff Skinner contract look good.  He's already on his second head coach.  Most of the time, there are only so many big moves that can be made without achieving the desired results before ownership changes the ones making the moves.  Botterill seems to be getting pretty close to that (though I do think they have the right coach in place now).
pitmanrich:  What does Nashville see in John Hynes? Done little in NJ apart from one season when Taylor Hall was outstanding. I understand Nashville wanting a different voice behind the bench but it seems like an odd move.
Part of the change is simply to get that different type of coach behind the bench.  Peter Laviolette was a strict systems coach and Hynes isn't as much of one.  Laviolette is stricter, Hynes is a bit more of a players' coach.  Of the recent coaching changes, a lot have been towards getting rid of the former and bringing in the latter.  Of the coaches that were let go this season, only Hynes really qualifies in that more progressive category.
GM David Poile also is one who rarely likes to make coaching changes so I think the fact that he was able to hire someone with experience who's only 44 also was appealing.
Hynes' tenure with New Jersey wasn't the greatest but at the same time, he didn't exactly have the most talented of teams at his disposal and their goalie went from being a franchise piece to someone that's toiling in the minors.  It's hard to pin all of that on Hynes.  He had a good track record of development with AHL Wilkes-Barre/Scranton which certainly came into play as well.
This hire surprised me a bit as well but Poile is choosing what he thinks will be the best long-term solution over bringing in someone who might be able to get a short-term boost before the voice and system goes stale.  Time will tell if it's the right call.
goosr: Is this the year Marc Bergevin finally make a good trade instead of 4th liners or washed up players?
While Bergevin has certainly made his fair share of depth acquisitions, he also has traded for Shea Weber, Max Domi, Tomas Tatar, and Jonathan Drouin since the 2016 offseason.  That's a fair bit of changeover in the core and some of those deals have worked out better than originally expected.  With Montreal rapidly dropping in the standings, it seems unlikely that they'll turn around and acquire a big-name player as that addition alone probably wouldn't change their fortunes enough to make a difference.  With their pending UFAs being basically depth players, expect to see some more small moves in the coming weeks.
wu tang killa beez: With the Habs already out of a playoff spot in early January, is Bergevin gonna be fired if they miss the playoffs once again this year? I do not see them getting back into the playoff portrait will all the injuries and they should be sellers at the deadline (Petry, Tatar?)
I don't think a GM change is coming if they're not in a playoff spot this season.  There has been a fundamental change in philosophy towards more of a slow-scale build over the past couple of years, one that places a bigger emphasis on drafting and development.  Getting ownership to agree to that likely bought him some extra time.
For a while, it appeared as if the 2021 offseason was going to be the big change in direction as the Canadiens have been structuring their contracts so that a lot are ending at the same time.  That was the point where they'd choose which core pieces would be staying and which would be going.  Jeff Petry and Tomas Tatar are among that group which certainly has them in the mix to move if Bergevin decides to take a bigger step back now.  Petry would have the better value, especially since Tatar failed as a rental with Vegas back in 2018 which could make some teams hesitant to bring him in.  Knowing that they're hosting the draft, I think their bigger moves will wait until then unless a team wants to pay a significant price to get a second playoff run out of a player.
DVail1979: As a Devils fan and a big fan of Kyle Palmieri … how much longer can I expect him to be in New Jersey … if he's dealt where can I expect him to go and what kind of return might I see?
Palmieri has another year on his deal left at this one at $4.65MM so I don't expect his name to come up too much in trade talks this season.  They're going to want to take a run at extending him and that's going to have to wait until the summer until the window to do so opens up.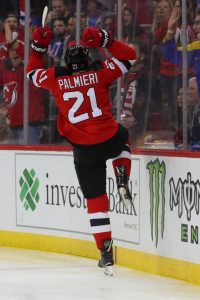 Unlike Taylor Hall, I think there's a pretty good chance Palmieri sticks around.  He's not going to be someone that commands top dollar on the open market as 50-55 point players aren't landing rich contracts.  He'll also be 30 by then.  If the Devils went to him with a six-year offer around a $6.5MM-$7MM AAV, that might be enough to keep him around without breaking the bank or messing up their cap structure.
If they were to move him over the next few weeks, a first-round pick would be all but a given.  A B-level prospect and a lower-level one or comparable draft pick would likely be in there as well as they'd want to be compensated for the extra year that he's under contract.  Then there would be a mid-priced contract coming back or New Jersey would be retaining part of Palmieri's deal as a lot of buyers are tight to the Upper Limit.  But I wouldn't count on that happening though.  I think he'll stick around.
tigers22: With the Red Wings this bad wouldn't it be something to look at by trading Larkin, Mantha, and AA for as many prospects and picks they can?
It all depends on how long you want the rebuild to be.  If GM Steve Yzerman commits to dealing Dylan Larkin and Anthony Mantha in particular, he's likely extending what is already becoming a relatively long rebuilding process.  Larkin has three years left on his deal after this one and is their franchise player.  If things are going well by the end of that contract, it's certainly reasonable to think he'd want to stay.
In Mantha's case, he's a restricted free agent this summer with arbitration rights.  If he signals that he wants to go year-to-year to get to the open market, then trading him makes more sense.  Until that happens though, they should be planning for him to be part of the veteran core down the road.
Andreas Athanasiou's case is different.  He's not having a good year and isn't quite at the same level that the other two are.  It's far from a given that he's a part of their future plans so in that sense, a trade makes sense.  However, with just five goals and a -35 rating, offers aren't going to be great.  Do you sell low now or hope he improves down the stretch and boosts his trade value?  It's not an easy call either way.
Teams that blow it all up and go all in on youth tend to struggle without a capable veteran supporting cast.  Yzerman's smart enough to realize that he'll need some productive veterans to help shoulder the load.  They have that in Larkin and Mantha so unless a team wants to overpay significantly in terms of assets, they're better off keeping those two around.
Not my fault: With so many teams falling out of playoff spots and looking towards next year and recent draft picks to improve their teams, what are the various options on call ups? What are the differences for players from the WHL vs QMJHL, etc? Next season, can those players go to the AHL if they get a sneak peek this year or are they limited to minors or NHL only? I've heard various answers.
For all CHL players under NHL contracts, once they're assigned to their junior team, there are only two circumstances in which they can be recalled.  If a team has an emergency injury situation, they can call the player up.  The only other one is the end of the junior teams' season (including playoffs).  At that time, the player can be recalled to the NHL or assigned to the minors as the age limit in the NHL-CHL agreement doesn't apply once a junior season has ended.  It would be in play the following season though regardless of how many games they play in the NHL, AHL, or ECHL unless they turn 20 by December 31st of the current calendar year.  The age rule applies regardless of pro experience so whether or not someone gets a few weeks of AHL action in late March/early April has no bearing on their junior situation for 2020-21.
I'll quickly touch on the recall situation from the minors as well.  Right now, players can be recalled as long as the team is in both cap and roster compliance.  That roster restriction is lifted after the trade deadline but there are only four non-emergency recalls allowed by the NHL team until the end of their affiliates' season.  Only players on an AHL roster after the trade deadline are eligible to play there down the stretch which is why teams often use some of those recalls on 'paper transactions' to send someone down to retain AHL playoff eligibility and then bring them back to play in the NHL down the stretch.  How to utilize those recalls can be particularly tricky for teams that are out of the race that want to give their prospects some NHL time but want to keep them eligible to play when the regular season ends.
mikeyziggy: With Colorado losing 5 of 7 coming out of the Christmas break, what do you see them doing to shore up the team heading into the second half and playoffs?
This sluggish start after the break shouldn't affect them too much.  They're still comfortably in a playoff spot and GM Joe Sakic's desire to see his full team intact continues to wait as they're down a couple of regulars up front at the moment.  This stretch won't escalate any trade talks.
Having said that, there is one area I suspect they're trying to shore up.  Adding a top-four defenseman would be huge but even if that fails, a capable third pairing player would certainly help.  Nikita Zadorov has been hit or miss, Ryan Graves is still unproven, and Mark Barberio is more of a depth player.  Erik Johnson has a lengthy injury history and Cale Makar is in his rookie season and is going to soon surpass his games played total from a year ago.  There is a need to add.
Philipp Grubauer's recent struggles are worth keeping an eye on.  If they continue, that could put them in the market for some insurance at the very least.  Starting goalies don't often get dealt at this time of year but if this keeps up for another month, they'll have to at least kick the tires.  Pavel Francouz has played quite well but given his inexperience, they're probably not going to be comfortable turning to him to play big minutes down the stretch and in the postseason.
Photo courtesy of USA Today Sports Images.