2019 has been a very busy year throughout the hockey world.  There have been several big trades and free agent signings (including a record-setting contract), plenty of changes behind the bench, and much more.  Over the coming days, PHR will take a look back at the top stories from around the game on a month-by-month basis.  We begin with a look back at January.
Extension For Hynes: While the Devils were struggling considerably relative to their 2018 postseason appearance, GM Ray Shero saw fit to give John Hynes a contract extension.  The hope was that a return to health for Taylor Hall (who was out for the season by then) and some aggressive offseason movement could help get them back in the right direction under Hynes' guidance.  They did make some summer splashes, added the top pick in Jack Hughes, and Hall did return.  However, that didn't result in a step in the right direction as New Jersey struggled out of the gate once again, causing Shero to make a coaching change fairly quickly even though Hynes still had most of this extension remaining on his deal.
Nash Retires: Several teams had been keeping tabs on veteran winger Rick Nash.  He opted not to sign over the offseason due to lingering concussion issues but the hope was that he could be an impact addition down the stretch.  However, the continuing concussion symptoms ultimately forced Nash, the number one pick back in 2002, to retire.  His career ended with 437 goals and 805 points in 1,060 regular season games between the Blue Jackets, Rangers, and Bruins.  Nash is currently the all-time leader in games played, goals, assists, and points for Columbus.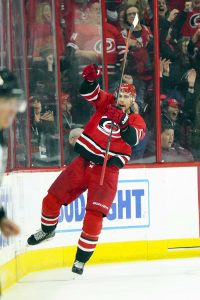 Rask For Niederreiter: In one of the more curious trades from last season, the Wild parted with winger Nino Niederreiter, trading him to Carolina for center Victor Rask.  Both players had underachieved and the hope was that a change of scenery would work for both.  The deal has worked better than expected for the Hurricanes.  Niederreiter has 48 points in 73 games since the trade which is solid production for a second liner.  Rask, meanwhile, has been a frequent healthy scratch with Minnesota and has just a dozen points in 51 games in a Wild uniform.  While Minnesota saved $1.25MM in cap space with the swap, they certainly took the loss in terms of on-ice performance.
Chiarelli Fired: Just days after curiously signing goaltender Mikko Koskinen to a three-year extension, the Oilers fired embattled GM Peter Chiarelli.  He was responsible for several questionable trades including the swap that sent Hall to New Jersey as well as Jordan Eberle to the Islanders; the follow-up swaps resulted in the net return being Sam Gagner, a player who had cleared waivers last season.  His big free agent acquisition in Milan Lucic didn't work out as intended either.  Keith Gretzky took over the reins for the rest of the season before Ken Holland was brought in during the offseason.
Muzzin To Toronto: While most of the big deadline deals were made in February, the Maple Leafs got an early start, acquiring defenseman Jake Muzzin from Los Angeles in exchange for a 2019 first-round pick (Tobias Bjornfot) plus prospects Carl Grundstrom and Sean Durzi.  Muzzin made an immediate impact with his new team, stabilizing their back end which is something that has continued into this season as Muzzin wasn't a rental acquisition.  Meanwhile, Bjornfot showed some promise early this season while Grundstrom has spent time with the Kings to give them plenty to be optimistic about when it comes to what they got in the deal.
Photo courtesy of USA Today Sports Images.