The Carolina Hurricanes have made another huge trade to change up their core group of forwards, this time sending Victor Rask to the Minnesota Wild in exchange for Nino Niederreiter. Both teams have struggled to find a ton of offense from their groups over the last few seasons, leading them to try and shake things up with a move like this.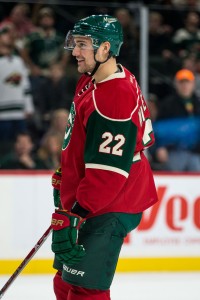 At first blush, the deal seems to be a huge win for the Hurricanes given Rask's incredible struggles this season. The 25-year old center has just six points in 26 games since returning from a freak hand injury in late November and has at times been relegated to fourth-line minutes in Carolina. That's obviously not Rask's ceiling, as he has twice previously recorded at least 45 points, but he wasn't getting it done for the Hurricanes under Rod Brind'Amour and needed a fresh start elsewhere.
That'll come in Minnesota where it's unclear if Rask will stay in the middle of the ice. Charlie Coyle has been playing at the center position and finding great success, though he has plenty of experience on the wing where there is now a vacancy. Wild GM Paul Fenton had been clear that there were changes coming in Minnesota, and Niederreiter was one of the obvious candidates to be moved.
In fact, the bruising winger played just 9:31 in his final game for Minnesota after being dropped to the fourth line almost immediately after starting the game. Ironically he scored in those limited minutes and was successful in the shootout win to notch two points for the Wild over the Los Angeles Kings Tuesday night. That goal was just Niederreiter's sixth even-strength tally of the season, a huge problem for a player who has made a living recording 20-goal seasons in the past. That sort of production is exactly what the Hurricanes are looking for, and Carolina GM Don Waddell called him a "proven goal-scorer" in the accompanying press release.
We wrote back in November how the Hurricanes needed help up front scoring goals, and that's exactly what they'll hope to accomplish with this addition. Niederreiter also fits right into the possession style that Carolina loves to employ, and is one of the better two-way wingers in the league. Still, the contract swap represents a $1.25MM increase for the Hurricanes through 2021-22 while Niederreiter immediately becomes the team's highest-paid forward with Jordan Staal on injured reserve. He'll be asked to do a lot in Carolina, and could even find himself on the top line in short order.
Photo courtesy of USA Today Sports Images