As the holiday season approaches, PHR will take a look at what teams are thankful for as the season heads past the one-quarter mark. There also might be a few things your team would like down the road. We'll examine what's gone well in the early going and what could improve as the season rolls on for the Anaheim Ducks.
What are the Ducks most thankful for?
A developing young core with a coach (Dallas Eakins) who has a track record for player development.  While Anaheim has a reputation for being an older group, they have seven players on entry-level deals that have played at least eight games this season (center Sam Steel, wingers Troy Terry, Maxime Comtois and Max Jones, and defensemen Jacob Larsson, Brendan Guhle, and Josh Mahura).  In a season where many don't expect them to be contending for a playoff spot, the fact that they have this many youngsters already making some sort of an impact can only bode well for their future.  Those players are all under team control for at least four more years and the majority of them will likely form a big part of their core group when they get back into playoff contention.
With Steel as well as recent first-round picks Trevor Zegras and Isac Lundestrom, Anaheim appears to be well-positioned down the middle for the long haul.  Impact center depth is difficult to accumulate and this is one of the stronger young groups around the league.
Who are the Ducks most thankful for?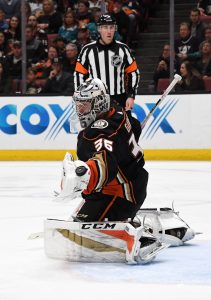 For most of last season, goaltender John Gibson was the only thing standing between them and the basement to the point where he was a serious Vezina Trophy contender until he struggled down the stretch.  He's a consensus top-ten goalie in the league and with salaries for top netminders quickly going up, Anaheim won't have to worry about that for a long time.  Gibson is locked up on a team-friendly eight-year deal with a $6.4MM cap hit.  A franchise goalie can be hard to get but Anaheim has theirs in Gibson and he isn't going anywhere anytime soon.
What would the Ducks be even more thankful for?
More scoring.  The team was dead last in the goals scored department last season which meant they had nowhere to go but up.  The hope was that Eakins, a more offence-minded coach than his predecessor in Randy Carlyle, would help things and while they're doing a little better in that regard, they're still in the bottom ten in the league in goals scored and are averaging just 2.7 per game.  That should improve as some of their youngsters get more comfortable with playing at the NHL level but they'll need more from the likes of Nick Ritchie (three goals) and Ondrej Kase (two goals) as well.
What should be on the Ducks' Holiday Wish List?
While getting some more scoring help is never a bad way to go, adding an impact defender should be at the top of GM Bob Murray's to-do list.  There was a time where Anaheim was ripe with impact blueliners but that depth has taken a hit with the departures of Sami Vatanen, Shea Theodore, Brandon Montour, and Marcus Pettersson in recent years.  Yes, there is some hope in the system but right now, they're pretty thin on the back end, a problem that's exacerbated with the injury to Josh Manson.  Murray has added veteran depth in the form of Michael Del Zotto and Erik Gudbranson but a more impactful piece will need to be added.
Photo courtesy of USA Today Sports Images.