With pretty much every team now past the first quarter of their season, activity should start to pick up around the league.  There were a few headlines off the ice over the past seven days which are highlighted in our top stories of the week.
Schneider Clears Waivers: Last year was a tough one for Devils goalie Cory Schneider although he picked up his play down the stretch and had a good showing at the World Championships which led to some renewed optimism heading into this season.  However, things have not gone well as anyone would have hoped as he posted a 4.59 GAA and a .852 SV% in six games this season.  New Jersey (or any team) isn't going to win games with that type of performance so he was placed on waivers and cleared.  The majority of his $6MM cap hit will remain on their books for this season and if he doesn't show considerable signs of improvement in the minors, Schneider will be a likely buyout candidate this summer.
Three For Hathaway: Capitals winger Garnet Hathaway received a three-game suspension for a spitting incident against Anaheim defenseman Erik Gudbranson.  The ruling was handed down by the Commissioner instead of the Department of Player Safety and Hathaway opted not to appeal.  The suspension created quite a challenge for Washington when it came to roster construction with injuries to forwards Carl Hagelin, Nicklas Backstrom, and Nic Dowd.  Hagelin, who was originally classified as day-to-day, wound up being transferred to LTIR in order for them to call up enough players to ice a full roster.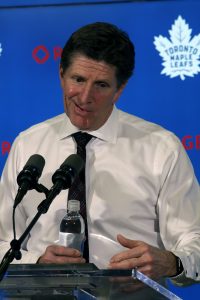 Babcock Fired: The start of the season has not gone well for Toronto.  They were believed to be a contender but found themselves on the outside looking in at the postseason at the one-quarter mark of the season.  With their cap situation making it difficult for any trade of note to be made, the team opted to make a change behind the bench as they fired Mike Babcock, replacing him with Sheldon Keefe, the head coach of the AHL Marlies.  Babcock was in his fifth season with the team after setting a new benchmark for coaching contracts when he signed an eight-year, $50MM deal.  He's set to make $5.875MM each season as part of the contract (it wasn't as frontloaded as originally believed) so if another team looks to hire him, it's certainly possible that Toronto will still be on the hook for part of his salary even if he coaches elsewhere.
Brouwer To St. Louis: The Blues have been hit hard by the injury bug up front with three regulars out long-term.  With cap space at a premium, St. Louis turned to the free agent market to try to find some help.  They brought in veteran wingers Troy Brouwer and Jamie McGinn on tryout deals and Brouwer did enough to earn a job as he signed a one-year, $750K (pro-rated) contract while McGinn was released to pursue other opportunities.  This is his second stint with the Blues as he spent the 2015-16 season with them before signing with Calgary in free agency on a contract that was bought out.  He has not yet been able to suit up for the team, however, as he still is in the process of securing a work visa.
Grievance For Byfuglien: The strange Dustin Byfuglien saga took another turn as the NHLPA filed a formal grievance on his suspension from the Jets.  The veteran blueliner didn't report to training camp and was suspended without pay.  At one point, it was believed that he was considering retirement but as it turns out, he was dealing with an ankle injury, one that he ultimately had surgery on but did not consult with team doctors before undergoing the procedure.  There's no timetable yet in place for when this will be heard by an independent arbitrator.
Photo courtesy of USA Today Sports Images.