Topics in this edition of the PHR Mailbag include Henrik Lundqvist's future in New York, what's next for the Rangers, piecing together a Kyle Turris trade, the Ilya Kovalchuk situation with the Kings, and what the Islanders should be looking to add by the trade deadline.
met man: Seems to me that the Rangers have a decision to make in regards to goaltending. What is your take on Lundqvist's future? The 2 Russian kids have played great (Georgiev with NYR and Shesterkin with Hartford), I hope they don't trade one of the kids.
It won't just be the Rangers that have a say in Lundqvist's future.  The veteran has a no-move clause, one that he's believed to have invoked a couple of years ago when they were considering looking into moving him at the trade deadline.  It's certainly possible that they'll approach things in a similar manner in February and see if he's willing to be dealt now.  If so, that would solve the logjam but if he says no, I have a hard time thinking they'd try to force him out either.  While his salary for next season ($1MM signing bonus and $4.5MM in salary) is lower than his AAV, it's still certainly high enough that he's not going to want to walk away from it.
New York's still in a pretty good situation.  Alexandar Georgiev and Igor Shesterkin appear to be a pretty good goaltending tandem of the not-too-distant future.  Georgiev's a restricted free agent this summer but his NHL track record isn't substantial enough that he's going to break the bank on his next deal which will probably be a short-term pact.  Lundqvist is still going to have enough playing time to help keep Georgiev's AAV low so they're fine in that regard.  Knowing that he'll have the inside track to take over as the starter (or at least the 1A role in a platoon) should be enough to keep Georgiev content next season as well in another timeshare situation.
Shesterkin's case is a little trickier but still pretty favorable.  He's signed through 2020-21 on his entry-level deal so when his deal runs out, Lundqvist's contract will also be up so there's his full-time NHL spot (unless Lundqvist decides at 39 that he wants to keep playing in New York, a scenario that seems unlikely at this point knowing that the Rangers will probably be wanting to move on).  Yes, the European Assignment Clause is a factor but it shouldn't make or break things.  If Lundqvist is still around next season, it's possible (if not probable) that Shesterkin would rather go back to the KHL for the year but he'll know his NHL spot will be there for 2021-22.
The Rangers don't have to do much of anything when it comes to their goaltending.  They'll have to re-sign Georgiev in the summer but that's the only guaranteed decision they'll need to make.  If Lundqvist decides he wants to finish out his career somewhere else and try to chase a championship, they'll probably try to accommodate that request but if not, they can easily let things play out and then set up the Georgiev-Shesterkin tandem for 2021-22 and beyond.
acarneglia: What's the next move for the Rangers?
Short-term, I don't expect much of anything on the trade front from them.  They will want to find out what Chris Kreider's price to get an early extension done and we're probably a couple of months away from really getting a sense of what that's going to ultimately cost and whether or not the Rangers are willing to pay that.
I think they'd like to move out Marc Staal but I also think they've wanted to do so for a couple of years now so I wouldn't count on that actually happening.  Ryan Lindgren and Libor Hajek have had their good and bad moments on the back end but if they're still in evaluation mode for their youngsters, clearing a spot for both to play regularly would be ideal.
I wonder if Jesper Fast could be someone that's on the move before too long.  He's a pending UFA and it's far from a guarantee that he's in New York's plans long-term.  As Kaapo Kakko eventually pushes for more playing time, it may very well come at Fast's expense which would hurt his trade value.  Accordingly, moving him sooner than later may be the wise move.  Having said that though, even that move is probably a while away.
JDGoat: What would a potential Kyle Turris trade look like?
It all depends on Nashville's appetite towards taking another long-term overpriced contract back.  Strictly from a financial perspective, one of those needs to be included in the deal as even a low-spending team with cap space isn't going to want to absorb $6MM for this season and four more years after that.  If a team strikes out in free agency next summer, maybe it's an option then but not now.  The quality of the player on that bad contract coming the other way would ultimately shape the rest of the deal.
If it's a swap of underachieving top-six forwards, probably not a whole lot has to be done from there.  (I'd prefer a defenseman from Nashville's standpoint but there aren't many, if any, feasible blueline candidates that could be included.)  If the Predators are taking the weaker player back, then a pick or prospect balances out the deal.  It seems rather simplistic but teams aren't going to be actively pursuing him which makes any potential trade rather formulaic.
To be honest, I don't think there's a big appetite to move him.  I know his name is out there and because of the contract they'll listen to any potential options but Turris is still serviceable as a top-six player if injuries arise.  Whoever they'd get back for him probably won't have quite the upside he does.  Nashville's a win-now team so they're not going to want to take a talent downgrade unless they're freeing up a lot of cap room (which probably won't happen).  Getting out of that contract makes sense in theory but in reality, it may not be all that practical.
Winter in Colorado: Do you think Kovalchuk is tradable after his Dec 15 signing bonus is paid by LA?
This question (which was posed a couple of weeks ago) is certainly an interesting one now with everything that has happened over the last few days.  Kovalchuk's tradability after his bonus is paid is one of the big talking points around the league now.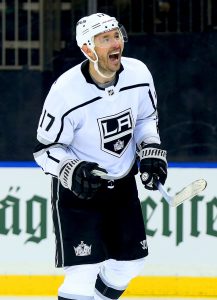 At the very least, having the bonus paid will help his trade value, as limited as it is.  The Kings can't score and they've benched someone that's tied for fourth on the team in scoring.  If that doesn't raise a bunch of red flags to any potential suitors, I don't know what will.
Nonetheless, there are a couple of scenarios where I think he could go.  The first is the usual swap of bad contracts but the key will be finding one that has two years remaining at a similar price tag to Kovalchuk as the Kings won't want a longer bad deal on the books.
The other is Ottawa eating the cap hit.  That one particularly becomes palatable if Kovalchuk decides to 'retire' from the NHL once again; as he's on a 35-plus contract, that cap hit remains through next season.  At this point, it certainly feels like Kovalchuk will wait for the bonus to be paid before doing anything and it wouldn't surprise me if he was to step away after that and head for the KHL once more.  The Senators could take on the cap hit without paying out any money and likely get some other assets for doing so while Los Angeles would get some needed cap flexibility.  It's not an exciting move but it's doable.
WalterNYR: It's early but do you see the Islanders doing something at the deadline? Someone like Hoffman to help the offense would be nice.
If they continue to hold a top-three spot in the Metropolitan Division, they'll likely be looking to add.  GM Lou Lamoriello hasn't shied away from adding to his teams in the past and the rental market is a good place to look at the deadline.
You've certainly identified the right type of player that they should be looking for, someone that can provide them with some secondary scoring.  The Islanders are very strong defensively but are in the bottom third of the league in goals scored.  Mike Hoffman from Florida would be a very good fit but I'm not sure the Panthers will be sellers at the deadline.  They're currently in a top-three spot in the Atlantic but even if they slide out of that, they'll still be battling for a Wild Card seed.
It's interesting – some of the better rentals play for rivals (Kreider with the Rangers and Taylor Hall with the Devils) so they're probably out of the equation as well.  Tyler Toffoli's name has been out there and the Kings will likely move him by the deadline as a pending free agent.   Beyond him, it'll be a waiting game for a while to see which teams eventually slip out of the playoff race and start to sell but adding more production up front should be a priority for Lamoriello in the coming months.
Photo courtesy of USA Today Sports Images.