The Los Angeles Kings have decided that Ilya Kovalchuk will not be playing for them, at least not for the next while. Elliotte Friedman of Sportsnet is reporting that the team informed Kovalchuk he will not be in the lineup "for the foreseeable future," though he is still allowed to practice with the team. Friedman does not expound or speculate on why the veteran forward has been removed.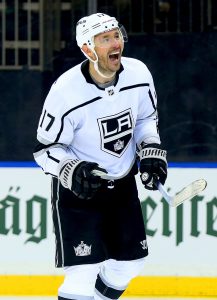 Kovalchuk, 36, signed a three-year $18.75MM contract in the summer of 2018 after playing five seasons in the KHL. The enigmatic forward had "retired" from the NHL previously, but decided to return after his exclusive rights with the New Jersey Devils expired. Things haven't gone swimmingly in Los Angeles however, as Kovalchuk was a healthy scratch at times last season and recorded just 34 points in 64 games.
This season under a new coaching staff led by Todd McLellan—the third head coach since Kovalchuk's arrival—he had seen even less ice time than a year ago, averaging just over 15 minutes a night. Kovalchuk has provided nine points in 17 games (which actually put him third among all Kings' forwards), but still isn't that impact player he had been before his years in Russia.
Though details are thin, this will obviously lead to plenty of speculation about a potential trade. Currently, Kovalchuk has a full no-movement clause (which also means he can't be sent to the minor leagues) and could basically choose his destination out of any suitors. Whether there will be much interest at this point is unclear, though teams have expressed some in the past.
At last season's trade deadline, Pierre LeBrun of The Athletic wrote that Kovalchuk was "definitely available" and that he would waive his clause if the right fit presented itself. One important thing to note is that if Kovalchuk decided to retire again, the Kings would still carry his full $6.25MM cap hit because his contract was signed after his 35th birthday. After December 15th when his next bonus payment is due, more than $13.8MM of his contract will have already been paid out in signing bonuses and salary.
Photo courtesy of USA Today Sports Images