Navigating the salary cap is one of the more important tasks for any GM. Teams that can avert total cap chaos by walking the tightrope of inking players to deals that match their value (or compensate for future value without breaking the bank) remain successful. Those that don't see struggles and front office changes.
PHR will look at every NHL team and give a thorough look at their cap situation heading into the 2019-20 season. This will focus more on those players who are integral parts of the roster versus those who may find themselves shuttling between the AHL and NHL. All cap figures are courtesy of CapFriendly.
Washington Capitals
Current Cap Hit: $82,864,294 (over the $81.5MM Upper Limit)
Entry-Level Contracts
G Ilya Samsonov (two years, $925K)
F Jonas Siegenthaler (one year, $714K)
Potential Bonuses
Samsonov: $550K
Siegenthaler: $83K
The one failing of the Washington Capitals and their dominance of their run over the years has been their inability, lately, to develop young talent that can step in. Again there are few players on entry-level contracts who can help ease the Capitals' salary cap. However, the team believes that they might be close to bringing in their top prospect in Samsonov. The talented Russian goaltender finally arrived in North America last season and had mixed results in his first year in the AHL. However, Samsonov is likely to get a long look in training camp this season and even if he doesn't make the team, he's due to make his NHL debut at some point this season. After all, the Capitals must figure out quickly whether they have their future No. 1 netminder.
Siegenthaler finally looks ready to step into a permanent role on the Capitals' blueline. The 22-year-old showed promise last year in 26 regular season games and even saw some playoff action with four games last season. The defensive defenseman is a perfect addition to a defense that is still dealing with injuries.
One Year Remaining, Non-Entry-Level
F Nicklas Backstrom ($6.7MM, UFA)
G Braden Holtby ($6.1MM, UFA)
D Radko Gudas ($2.35MM, UFA)
D Christian Djoos ($1.25MM, RFA)
F Chandler Stephenson ($1.05MM, RFA)
F Travis Boyd ($800K, RFA)
F Brendan Leipsic ($700K, RFA)
Washington will have a big decision to make next offseason as they have two of their core pieces who will become unrestricted free agents and with serious cap issue for several years coming, the team will almost assuredly have to make a tough decision and are likely to lose at least one of them for nothing next summer. Neither is likely to be traded considering the team is strong enough to compete for a Stanley Cup, but the team just can't afford both. The most likely scenario is the team finds a way to retain Backstrom, but will be forced to let Holtby go, considering that top goaltenders have been cashing in and the Capitals likely won't have the money to keep him around. Of course much could change, but considering that Washington does have a top goaltending prospect who is almost ready for the NHL, losing Holtby might be an easier blow to take than losing Backstrom.
The remaining group will have to prove their worth. The most interesting player could be Gudas, who is considered a likeable locker room guy, but the Capitals will have to wait and see how well the veteran blueliner fits in with their defense and what the cost of retaining him in the future will be.
Two Years Remaining
F Alex Ovechkin ($9.54MM, UFA)
F Jakub Vrana ($3.35MM, RFA)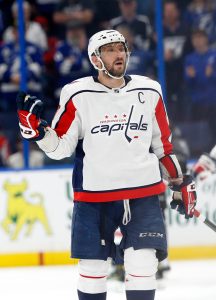 While it's hard to imagine a Capitals team without their star in Ovechkin seems highly unlikely, Washington will have to see whether they can convince their star to re-sign. He'll be 36 years old by the time he signs his next contract, which means he has quite a few options and while re-signing with Washington is the most likely possibility, the veteran has a number of options which could include returning to Russia to finish his career. Signing with Washington also could hinge on how the Capitals will look in two years. If the team looks like an aging team that has little real chance at winning a title, Ovechkin could also look elsewhere in the NHL for a last chance for a Stanley Cup. The Athletic's Jesse Granger suggested a while back that Ovechkin might be a good fit with Vegas in a couple of years, suggesting that his relationship with George McPhee could be enough to bring him over there.
The team needs Vrana to continue his development. A player who struggled and was a big question mark at this time a season ago, Vrana answered a lot of questions last year with a 24-goal, 47-point season. If he can continue that success and be a consistent top-six player, the team will likely have hand him a long-term deal in two years.
Three Years Remaining
D Michal Kempny ($2.5MM, UFA)
G Pheonix Copley ($1.1MM, UFA)
F Nic Dowd ($750K, UFA)
The team lacks many major contracts here, but if Kempny continues to prove to be a solid defensive presence on Washington's blueline, the team may have to hand out a significant contract. While the defender will be out for the start of the season and remains an unknown after a season-ending hamstring injury, he has proven to be quite reliable since the Capitals acquired him back at the trade deadline in 2018. Copley, who posted solid numbers as a full-time back-up goalie, likely will hold down his job, but will be challenged by Samsonov, who the team hopes will be their goalie of the future.
Four Or More Years Remaining
D John Carlson ($8MM through 2025-26)
F Evgeny Kuznetsov ($7.8MM through 2024-25)
F T.J. Oshie ($5.75MM through 2024-25)
F Tom Wilson ($5.17MM through 2023-24)
D Dmitry Orlov ($5.1MM through 2022-23)
F Lars Eller ($3.5MM through 2022-23)
F Carl Hagelin ($2.75MM through 2022-23)
F Richard Panik ($2.75MM through 2022-23)
D Nick Jensen ($2.5MM through 2022-23)
F Garnet Hathaway ($1.5MM through 2022-23)
The bulk of the team's contracts are here with plenty of money being dedicated to the team between the next four to seven years. Many of these players will likely not be worth the money they are paying for them by that time and much will depend on whether Washington can supplement the team with young, cheap talent. However, the core of the team comes down to Carlson, Kuznetsov, Oshie and Wilson, all of which are currently key to the team's status as threats to capture another Stanley Cup in the next few years. Carlson, who hits 30 at midseason, put up another phenomenal numbers last year, scoring 13 goals and a career-high 70 points. Kuznetsov had a slight down year, but could be a candidate for a big bounce-back season. Oshie continues to put up solid numbers, 25 goals last season, but will turn 33 during the season and will be 39 before his contract expires, which could go bad quickly. Wilson's contract doesn't look nearly as bad, especially after posting career highs in goals (22) and points (40).
Orlov saw his goal-scoring numbers drop, but he still has been a key figure on the team's defense. Although he saw his ATOI drop by a minute in a half, the team still believes that Orlov is a top-pairing defender. The team hopes that Jensen might provide the same value at a much cheaper price. Jensen, acquired from Detroit and immediately extended for four years, gives Washington even more depth on the team's blueline. He only averaged 17 minutes in his 20 games with Washington, but he could return to the 20 minutes he was averaging when he was with the Red Wings.
Washington has started to put more effort into bringing in cheaper players, who they think can contribute to the team long-term such as Hagelin and Panik, who were both locked up as the team believes both can contribute as middle-six players for a number of years.
Buyouts
None
Retained Salary Transactions
None
Still To Sign
None
Best Value: Wilson
Worst Value: Oshie
Looking Ahead
The Capitals are a team that have made it clear years ago that they were going for it. They succeeded finally, winning a Stanley Cup after the 2017-18 season. However, they looked just as formidable last year, despite a first-round exit in a grueling seven-game series against the Carolina Hurricanes. However, expectations continue to be high that this veteran laden club can continue to be one of the top teams in the Eastern Conference. With a number of their players already in their 30's, the question will end up being how long can they keep this up? The team is capped out and will be for years to come, so they could lose quite a bit of talent over the next few years and with one of the weakest group of prospects in the league, the team will have to be quite clever with the cap to keep the team relevant.
Photo courtesy of USA Today Sports Images.