Navigating the salary cap is one of the more important tasks for any GM. Teams that can avert total cap chaos by walking the tightrope of inking players to deals that match their value (or compensate for future value without breaking the bank) remain successful. Those that don't see struggles and front office changes.
PHR will look at every NHL team and give a thorough look at their cap situation heading into the 2019-20 season. This will focus more on those players who are integral parts of the roster versus those who may find themselves shuttling between the AHL and NHL. All cap figures are courtesy of CapFriendly.
Pittsburgh Penguins
Current Cap Hit: $81,657,500 (over the $81.5MM Upper Limit)
Entry-Level Contracts
F Dominik Kahun (one year, $925K)
Potential Bonuses
Kahun: $2.85MM
Kahun drew enough interest last summer as a free agent that Chicago ultimately signed him to a contract that first-overall picks get.  While he didn't come close to reaching that level, he fared pretty well as far as undrafted free agents go as he slotted into a top-six role with the Blackhawks before long.  That good showing helped attract some interest from Pittsburgh as the key piece coming the other way in the Olli Maatta trade.  Barring a big offensive breakout, a short-term deal is likely coming his way but it could be closer to the $2MM range next summer.
One Year Remaining, Non-Entry-Level
F Alex Galchenyuk ($4.9MM, UFA)
F Jared McCann ($1.25MM, RFA)
G Matt Murray ($3.75MM, RFA)
D Juuso Riikola ($850K, RFA)
D Justin Schultz ($5.5MM, UFA)
F Dominik Simon ($750K, RFA)
It has not been a good couple of years for Galchenyuk.  After taking what basically amounted to a second bridge deal, he fell out of favor in Montreal a year later and they sent him to Arizona.  His production dipped with the Coyotes last season and they too parted ways with him, making him the centerpiece of the Phil Kessel trade.  There's certainly cause for optimism that the 25-year-old can rebound in Pittsburgh's top six and he'll need to do so if he wants to cash in with a richer deal next summer.  McCann fared well after a midseason trade and he looks like he could be part of the long-term plans.  He'll be arbitration-eligible next summer and should easily double his current price tag at the very least.  Simon has moved up and down the lineup but figures to be more of a depth piece this season.  His price tag should remain somewhat low although a small raise should be in order.
When healthy, Schultz has been a big part of Pittsburgh's back end.  However, he has missed 72 games over the last two seasons which is certainly going to affect his value.  While he may not get back to the 50-point mark, he's a capable offensive defender so there will be some interest but unless he plays a full season, his next contract may wind up coming in a little bit cheaper than this one.  Riikola held his own in a depth role last year and should once again in that type of situation in 2019-20.  That's a spot that they'll be looking to fill on the cheap so either he'll take a similar contract a year from now or he'll be replaced with someone who will.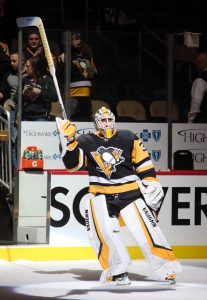 Murray is Pittsburgh's biggest priority to get re-signed.  While he isn't necessarily a true franchise player between the pipes, he's still a quality netminder and despite the fact he already has over 200 career NHL appearances under his belt (regular season and playoffs), he's only 25 so there's still room for further improvement.  Accordingly, he's going to be commanding a sizable raise, especially with his arbitration eligibility.  He's not going to find himself among the top-paid goalies in the league but it's quite possible that he gets into that next tier in the $6MM or more range.  That's something GM Jim Rutherford will be factoring in when it comes to any other movement they look to make.
Two Years Remaining
F Zach Aston-Reese ($1MM, RFA)
F Nick Bjugstad ($4.1MM, UFA)
F Teddy Blueger ($750K, RFA)
D Erik Gudbranson ($4MM, UFA)
D Chad Ruhwedel ($700K, UFA)
Bjugstad was the bigger name coming Pittsburgh's way in their midseason swap with Florida but he didn't make the type of impact they were hoping for.  His size is an asset as is his ability to play center and the right wing but he has battled injury issues of his own in recent years while his production hasn't quite lived up to his salary.  Continuing down that path will result in a pay cut down the road.  Aston-Reese provided the Penguins with some nice production from the bottom six in his half-season worth of games which earned him a small raise this summer.  This is another roster spot they'll need to fill with a low-salaried player two years from now so Aston-Reese will need to move up the depth chart or risk being deemed too pricey.  Bleuger has been productive in the minors but never got an NHL look before last season.  He should be able to lock down a regular spot on the roster now but once again, this is a roster spot they'll need to fill at a similar price tag down the road.
Gudbranson was brought in as some injury insurance last season and while he has taken some criticism for his play relative to his contract, he did stabilize their third pairing.  That's a high price tag for someone in that role but it's reasonable to suggest that they feel better about this contract than what the numbers might suggest.  Ruhwedel is a capable depth piece and his willingness to play for the league minimum helped secure him a multi-year deal.  He won't get much more than that the next time he's eligible for free agency though.
Three Years Remaining
G Casey DeSmith ($1.25MM, UFA)
D Kris Letang ($7.25MM, UFA)
F Evgeni Malkin ($9.5MM, UFA)
F Bryan Rust ($3.5MM, UFA)
Malkin has averaged more than a point per game in eight straight years.  Very few players can say that.  Unfortunately for him and the Penguins though, he's good for a significant injury almost annually; he has managed to play in 70 games just once over the past six years.  That is limiting the return on what would be a reasonable contract for someone whose output extrapolates to around the 90-point range with regularity.  He'll be 36 for his next contract which makes it hard to believe he'll get this type of money again.  Rust has had some success in the last couple of years but has also had some quiet stretches as well.  Between that and a lack of cap flexibility, he has been a speculative trade candidate for a while and isn't likely to get that type of contract again unless he can produce with more consistency.
Letang is a legitimate top-pairing defender and while his defensive play can provide some opportunities for opponents, he makes more than enough plays at the other end to make up for it.  Like quite a few others on this list already though, staying healthy is a major concern.  He'll be 35 at his next contract and while he should be able to get a multi-year pact despite the injury issues, it probably will be at a cheaper rate.
DeSmith's first full NHL season was a successful one.  He pushed Murray for playing time and didn't look out of place when called upon to take over when Murray was injured.  That helped him earn some job security in what could be classified as a below-market deal for backups relative to what others have got in recent years.  If he does get to free agency three years from now, doubling his current AAV is certainly a possibility at the very least.
Four Or More Years Remaining
F Sidney Crosby ($8.7MM through 2024-25)
D Brian Dumoulin ($4.1MM through 2022-23)
F Jake Guentzel ($6MM through 2023-24)
D Jack Johnson ($3.25MM through 2022-23)
F Patric Hornqvist ($5.3MM through 2022-23)
F Brandon Tanev ($3.5MM through 2024-25)
Crosby continues to be one of the elite players in the league.  The potential is there for the end of his contract to sting a little bit as he's now 32 but they've received plenty of surplus value on it already.  If he decides to play beyond his current deal though, he may not be able to get his number as a cap hit for a third straight contract.  Guentzel's contract looks like a bargain already following a 40-goal season.  Lots can change between now and the end of his deal but he's looking like a candidate for a big raise down the road.  Hornqvist's contract could be a problem before too long.  His style of play is starting to catch up with him and his production dipped last year.  At this point, he could be considered a possible buyout candidate a couple of years from now.  Tanev had a great season in Winnipeg and managed to draw enough interest to get a shocking six-year deal in July.  Clearly, Rutherford thinks he'll fit in quite well but there's definitely some risk here.
Dumoulin has largely flown under the radar but has emerged as a reliable top-four blueliner.  His contract seemed pricey at the beginning but is now pretty good value.  Johnson somehow managed to get five years on his deal last summer which drew the ire of many.  The cap hit isn't massive which helps a little bit but given his role, it's still a little expensive.
Buyouts
None
Retained Salary Transactions
None
Still To Sign
Pettersson fared quite well after being acquired from Anaheim and figures to be a part of their plans for a while.  Both sides want to get a multi-year deal done but his agent has stated they won't agree to a deal until the Penguins make a trade to free up some cap space for him.
Best Value: Guentzel
Worst Value: Hornqvist
Looking Ahead
A trade likely needs to be made to fit Pettersson in and even with that, they'll still be up against the cap this season.  Murray's raise will add another big-ticket deal to their books while they'll probably want to keep Galchenyuk and Schultz as well.  Further down the road, there are some expensive contracts that aren't particularly team-friendly.  The Penguins have navigated being tight to the cap for a while now and that's not going to change anytime soon.
Photo courtesy of USA Today Sports Images.