Navigating the salary cap is one of the more important tasks for any GM. Teams that can avert total cap chaos by walking the tightrope of inking players to deals that match their value (or compensate for future value without breaking the bank) remain successful. Those that don't see struggles and front office changes.
PHR will look at every NHL team and give a thorough look at their cap situation heading into the 2019-20 season. This will focus more on those players who are integral parts of the roster versus those who may find themselves shuttling between the AHL and NHL. All cap figures are courtesy of CapFriendly.
Columbus Blue Jackets
Current Cap Hit: $65,734,082 (under the $81.5MM Upper Limit)
Entry-Level Contracts
F Pierre-Luc Dubois (one year, $894K)
F Alexandre Texier (two years, $898K)
Potential Bonuses:
Dubois: $2.5MM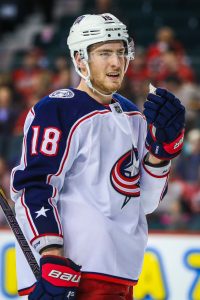 Dubois was a surprise selection at third overall three years ago and GM Jarmo Kekalainen should be praised for the decision to take him over the consensus selection in Jesse Puljujarvi.  He followed up a strong rookie season with an improved sophomore campaign and with Matt Duchene gone, Dubois should have the inside track on the number one center role on a full-time basis.  He'll be wanting to keep tabs on the current class of restricted free agents as it's quite possible that Dubois will be among the headliners in next year's group if they can't agree on an early extension which could potentially exceed the $8MM mark if he builds on his 2018-19 performance.
Texier joined the team late in the season and worked his way into a regular role for the most part in the playoffs.  That should give him the inside track at a roster spot.  The Blue Jackets like his upside but he'll need more run at the NHL level before they get a sense of what his second contract could be.
One Year Remaining, Non-Entry-Level
F Josh Anderson ($1.85MM, RFA)
F Markus Hannikainen ($750K, UFA)
G Joonas Korpisalo ($1.15MM, RFA)
D Dean Kukan ($725K, RFA)
G Elvis Merzlikins ($874K, RFA)
Anderson's three-year bridge deal was a way to see if he could establish himself as a top-six player first before committing that type of money to him.  Mission accomplished.  He broke out with a 27-goal season that also saw him surpass the 200-hit mark and has established himself as a quality power forward.  A similar performance could see him triple his current money on his next deal.  Hannikainen is a capable depth option but he won't get much more than his current rate a year from now unless he has a breakout year offensively.  As for Kukan, he's also in a spot where he can't expect much of a raise unless he can work his way into a regular role.
Their goaltending is going to be interesting to watch.  The team hopes that Korpisalo can continue to progress and grab a hold of the number one role but he's only once played in 30 NHL games in a single season.  Meanwhile, Merzlikins has yet to play in the NHL.  This could wind up being a platoon for a couple of years but in 2020-21, it will be a fair bit more expensive than it is now.
Two Years Remaining
F Oliver Bjorkstrand ($2.5MM, RFA)
F Brandon Dubinsky ($5.85MM, UFA)
F Nick Foligno ($5.5MM, UFA)
D Ryan Murray ($4.6MM, UFA)
F Riley Nash ($2.75MM, UFA)
D David Savard ($4.25MM, UFA)
Foligno hasn't been able to come close to his career year back in 2014-15 which is when his current deal was signed.  They're paying him like a top-six player but he has produced more like a third liner in recent years.  That's still more than what they've been getting from Dubinsky who has spent a lot of time on the fourth line and hasn't fared well.  While Foligno will be taking a pay cut on his next deal, there may not be another one for Dubinsky.
Nash was brought in to give the Blue Jackets some extra depth down the middle.  He still gives them that but he came up well short of the production that landed him that deal; he had just three goals last season.  That's not a great return either.  Bjorkstrand is on an Anderson-like bridge contract to see if he can become a consistent top-six producer.  Year one went well and if he continues on that path, he could push for a sizable raise next time around.
Savard hasn't come close to matching his 35-point output from 2014-15 but has nonetheless established himself as a capable top-four defender most nights.  His current deal is pretty close to the going rate for players with a track record of success in that role.  When healthy, Murray is certainly worth his contract.  But staying healthy isn't something he has been able to do over the years.  If he shows some signs of durability over the next couple of years, a big contract would be on the horizon but if not, he'll be hard-pressed to match his current deal.
Three Years Remaining
D Scott Harrington ($1.633MM, UFA)
F Boone Jenner ($4.75MM, UFA)
D Seth Jones ($5.4MM, UFA)
D Markus Nutivaara ($2.7MM, UFA)
Jenner has yet to come close to his 30-goal output from 2015-16; he hasn't even reached 20 since then.  However, he remains a capable third liner with the ability to hold his own when pressed into top six duty.  They need more production from him and he will need to provide that if he wants to get a bigger contract three summers from now.
Jones is on quite the bargain contract.  He has established himself as a capable number one defender and is doing so at a price tag that is several million below what comparable players have been getting.  With the way the market is going, he could have a shot at doubling his AAV on his next deal.  Nutivaara is more of an option on the third pairing but while his cap hit may be a bit high for someone in that role, they have more than enough cap space to carry it.  Harrington has been more of a depth player throughout his career which makes this contract they gave him a bit puzzling but again, they have the cap space to make it a non-issue.
Four Or More Years Remaining
F Cam Atkinson ($5.875MM through 2024-25)
F Gustav Nyquist ($5.5MM through 2022-23)
F Alexander Wennberg ($4.9MM through 2022-23)
Atkinson is coming off a career year that saw him post 41 goals.  He doesn't get a lot of fanfare but he has become a legitimate front-line winger at a rate that's well below market value.  Nyquist was their lone big splash this offseason.  While he won't replace Artemi Panarin's production, he's coming off a career year offensively and should see plenty of ice time with the Blue Jackets.  Wennberg's deal once looked like a bargain but has been a disaster.  He scored just twice in 75 games last season despite averaging over 15 minutes a night.  Instead of being a long-term fixture for the franchise, this is looking more like a long-term anchor.
Buyouts
F Scott Hartnell ($1.25MM through 2020-21)
D Fedor Tyutin ($1.458MM in 2019-20)
Retained Salary Transactions
None
Still To Sign
Part of the reason that the Blue Jackets have this much cap space is that Werenski's deal isn't done.  He sits atop the class of RFA blueliners this summer and is among the group that's seemingly waiting for someone else to sign first.  He's easily going to surpass Jones to sit atop their back end in terms of AAV if a deal with any sort of notable term gets signed.  Not having him signed to start the season would certainly be a huge blow.
Best Value: Jones
Worst Value: Dubinsky
Looking Ahead
While their outlook for 2019-20 in general isn't particularly strong, the Blue Jackets at least have plenty of salary cap flexibility both for the upcoming season and the foreseeable future.  They could opt to use some of that cap space to take on an unwanted contract or two to add some additional assets for the upcoming season. Even with Werenski and Dubois set to be in line for major second contracts, they should still have enough room to make a run at some prominent free agents in the summers to come.
Photo courtesy of USA Today Sports Images.