It is now just over three weeks until the Columbus Blue Jackets will gather for their 2019 training camp, meaning Zach Werenski is running out of time if he still wants to have a deal done before it begins. Werenski is one of three restricted free agent defensemen being grouped in a tier above the rest alongside Charlie McAvoy of the Boston Bruins and Ivan Provorov of the Philadelphia Flyers. Today, Brian Hedger of the Columbus Dispatch tweets that the market is stalled waiting on either Werenski or Provorov to sign and adds in what the Blue Jackets' defenseman is looking for.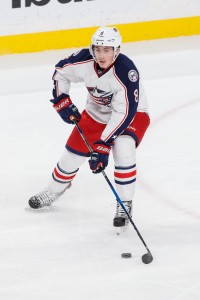 Werenski is apparently working towards a three-year deal with a cap hit that will "begin with a five" according to Hedger, though he doesn't know when something will actually be made official.
A three-year bridge deal would be an interesting outcome for both Werenski and the other two high-profile defensemen. The 22-year old has already completed three full seasons in the NHL meaning that contract would take him just a year away from unrestricted free agency and give him full arbitration rights. That could potentially put Columbus in a tricky situation with Werenski able to file for arbitration and walk himself right into the UFA market.
The team also has to worry about Werenski's running mate Seth Jones, who has three years left on his deal and will need a massive contract extension at some point. Jones is already a perennial Norris Trophy contender, meaning buying him out of unrestricted free agency will likely make him one of the richest defensemen in the league. Having Werenski's deal end the same summer might not be the most desirable outcome.
Still, keeping it to just three years and a ~$5MM cap hit would give the Blue Jackets a good window to try and contend for a Stanley Cup. Having that duo under contract for something around $11MM—Jones currently makes $5.4MM per season—gives them a leg up on almost any other team in the league.
A bridge deal would also affect McAvoy and Provorov, who may be looking for long-term deals with substantially higher salaries. Indeed, Hedger has heard of a $10MM average annual value ask from Provorov's camp, though immediately downplayed the likelihood of it actually happening. A bridge deal for Werenski might not set the market in the way that the other two are hoping for.
In any case, the Blue Jackets are running out of time to get their young stud defenseman under contract if he's not going to miss any of training camp. Something will have to change soon if these restricted free agents are going to be there on day one.
Photo courtesy of USA Today Sports Images