The Nashville Predators have traded P.K. Subban to the New Jersey Devils. The Predators will receive Steven Santini, Jeremy Davies, the Devils' second-round pick in 2019 and second-round pick in 2020. Nashville will not retain any of Subban's contract, which still has three years remaining at a $9MM cap hit.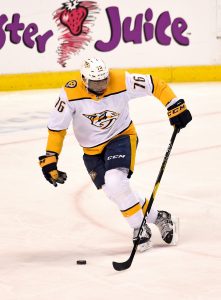 The Predators had been rumored for weeks to be looking for a way to clear cap space in order to go after some key free agents and sign Roman Josi to a long-term extension, and Subban was the prime target thanks to his hefty price tag. With Dante Fabbro ready to take on a bigger role in the NHL and the presence of Mattias Ekholm and Ryan Ellis still on the roster, the Predators likely felt as though they could lose Subban off the blue line without taking a major step backwards.
Still, this isn't the package that many were expecting if the team did find a taker for his contract. Just a few years ago Subban was traded straight up for another Norris-caliber defenseman in Shea Weber, and has now been flipped for relatively underwhelming future assets.
Santini, 24, was picked in the second round in 2013 but has still yet to establish himself as a full-time NHL player, suiting up for 114 games over parts of four seasons. Last year he recorded four points in 39 games for the Devils, and is actually signed for two more seasons at a $1.42MM cap hit. It will be interesting to see where he fits into the plan in Nashville, or if he's flipped to create some additional room.
Davies, 22, just finished his third season at Northeastern University and signed a two-year entry-level contract with the Devils in April. Though he fell all the way to the seventh round in the 2016 draft, the former USHL standout fit in well at the college level and recorded big point totals in each of his three years. The 5'11" defenseman will likely head to the minor leagues to prove he can bring that kind of offensive production at the professional level, and could be the key to the return for the Predators moving forward.
Nashville will select 34th overall in this year's draft now, but the biggest return in this deal for them will be the cap space. Matt Duchene will once again be linked to the team in free agency, as GM David Poile has pursued him for years and now has a chance. Still, with some uncertainty to where the salary cap ceiling will eventually land it may take some more work for Nashville to be in a position to land one of the top names while keeping enough room for a Josi raise.
Greg Wyshynski of ESPN was first to report that Subban was headed to New Jersey.
Photo courtesy of USA Today Sports Images