The activity has started to pick up as the offseason is in full swing.  With the NHL Entry Draft now complete, the focus will soon turn to free agency as teams now know the salary cap for next season.  However, this past week had several notable trades mixed in among some key re-signings.
Subban Traded To Devils: The Predators have had a big four on the back end for a while now but as those players needed new deals and Roman Josi's next contract on the horizon, eventually something had to give.  That came to fruition as Nashville dealt P.K. Subban to New Jersey in a cost clearing move, receiving depth defender Steven Santini, prospect Jeremy Davies, plus two second-round picks in return.  The Devils also take on the remainder of Subban's contract which carries an AAV of $9MM for three more years.  Nashville now has some money to spend up front in free agency and some more money for Josi a year from now while New Jersey adds an impact defender at what amounts to a pretty low acquisition cost as they put their cap space to good use.
Flyers Sign Hayes: Philadelphia didn't exactly hide their intentions when they flipped a fifth-round draft pick to Winnipeg for the negotiating rights to Kevin Hayes.  They targeted him as their number two center and were rewarded for the efforts when the two sides agreed to a seven-year, $50MM contract.  Hayes is coming off of a career season split between the Rangers and Jets but it was his only campaign where he had at least 50 points.  At this price point, that's going to be the minimum expectation for him now.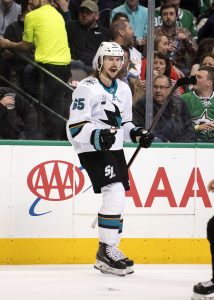 Karlsson Re-Signs: The top defenseman is off the market before he even got there.  The Sharks re-signed defenseman Erik Karlsson to an eight-year, $92MM contract.  The deal is the richest for a defenseman in NHL history and also contains considerable bonuses, lockout protection, and a full no-move clause.  While the 29-year-old dealt with injury issues down the stretch, he's still one of the more dynamic defensemen in the league.  The contract also ensures that San Jose will have two of the most prolific offensive threats from the back end in the fold for a long time to come as Brent Burns is signed for six more years.  San Jose will now turn their focus up front with veterans Joe Pavelski and Joe Thornton as well as impressive young winger Timo Meier are among those still in need of new deals.
Rangers Acquire Trouba: With Karlsson off the market, the Rangers wasted little time with their backup plan as they acquired defenseman Jacob Trouba from Winnipeg in exchange for the Jets' previously-acquired first-round pick (20th overall) and blueliner Neal Pionk.  Trouba should immediately slot in as New York's top defenseman and assuming they can get a long-term deal done, that will be another building block in place as they look to emerge from their rebuilding process.  Meanwhile, the Jets probably aren't done trimming down the roster just yet as they look to free up enough money to re-sign RFA wingers Patrik Laine and Kyle Connor as well as take a run at bringing back pending UFA defenseman Tyler Myers.
More Draft Trades: While the first round saw nothing in terms of player movement, the second day saw more activity as Subban's swap wasn't the only trade of note.  Toronto paid a conditional 2020 first-round pick (top-ten protected) to get Carolina to take on the final year (and $6.25MM cap hit) of Patrick Marleau's contract.  The Hurricanes are expected to eventually buy out that contract but as a 35+ deal, they will assume the full AAV on their 2019-20 salary cap.  Meanwhile, the host Canucks got into the fun as well, shipping first and third-round picks to Tampa Bay for J.T. Miller.  The first-rounder is lottery-protected for two years.
Photo courtesy of USA Today Sports Images.