Topics in this edition of the PHR Mailbag include the offseason for the Rangers, the upcoming UFA market, Minnesota's big contracts, Toronto's defense corps, Detroit's contract situation, young blueliners that could be primed to make an NHL impact, and the upcoming draft class.
This is the second half of the mailbag from questions submitted earlier this month.  The first half of the mailbag can be found here.
met man: How active do you think the Rangers will be in free agency? Will they buy out any contracts?
pitmanrich: How do you see the Rangers defense pairings next season; they carried eight this year but with the additions of Fox and Hajek and possibly Lindgren ready to suit up some will have to go. All the other teams will know this and it will weaken any trade attempts.
acarneglia: Will Lundqvist waive his NTC? If so where's a likely destination? Florida? Edmonton? Carolina?
There were several New York questions in our most recent call for questions so let's tackle them together.
I expect the Rangers will be active on the open market but not just in terms of top players like defenseman Erik Karlsson who they've already been linked to.  Yes, they have the cap room to make some big moves but I think they'll also be going after players that I like to call buffer guys.  These are players that will take a short-term contract and basically hold down a spot until a younger player is ready to come up on a full-time basis.  At that time, the veteran gets traded.  If they sign a couple of those players, they'll allow some of their prospects to develop in the minors some more and give themselves some trade chips at the same time.
On the buyout front, there are players that are candidates (Brendan Smith comes to mind) but it's not like they're hurting for cap room.  Unless they have several big signings planned, they'd be better off riding out the bad contracts they have instead of taking some short-term savings knowing that they'll be adding to their costs down the road when they're coming out of the rebuild and some of their younger players will need new deals.
Looking at their current back end, I think Brady Skjei and Kevin Shattenkirk reprise their pairing from the end of the season (unless Shattenkirk is traded).  Marc Staal is still probably going to be in a top-four role and I think Neal Pionk will slot in alongside him.  Then it gets interesting.  Adam Fox is probably going to be on the roster as is Anthony DeAngelo.  Both are right-shot players so they probably won't make up a pairing; instead, one will serve as the seventh defender.  I'm not sure Yegor Rykov is ready for that role just yet and I think Ryan Lindgren and Libor Hajek need more development time as well.  I think that third pairing left spot will be filled in free agency by one of those buffer players.
As for Lundqvist, I know his comments earlier in the summer about not necessarily finishing up in New York are out there but he has kiboshed a trade already.  Knowing that they're closer to getting back into contention in the next couple of years, I don't think he has the desire to change his stance on that.
pawtucket: There are a lot of good FA goalies (Varlamov, Bobrovsky, Lehner, Mrazek, Talbot). Where do they all end up?
I don't think we're going to see the musical chairs for goalies that we've seen in recent years.  In particular, I think Robin Lehner will be inclined to stay with the Islanders and Petr Mrazek should get a new deal from the Hurricanes.
Sergei Bobrovsky is by far the best goalie available but there aren't a ton of teams looking for a number one, especially at the price point he'll be seeking.  Florida has been a speculative suitor for a while now and they're probably the best fit for him so let's put him there.  I know Columbus is open to going with an unproven duo between the pipes for next season but someone like Semyon Varlamov on a short-term deal makes a lot of sense for them.  They get some short-term security, he gets a chance to prove that he can still be a starter.
I really liked the Cam Talbot acquisition for the Flyers and figured he'd be a great fit with Carter Hart.  Then he barely played down the stretch which makes me question how much he'll want to stay there.  Assuming Mike Smith doesn't re-sign in Calgary, I could see the Flames looking for someone that can play more than typical backup minutes and Talbot would fit that bill.  Lots will change in the next month but those would be my current predictions.
sovietcanuckistanian: What/whom do you think will be the biggest overpay in terms of AAV/length of free agent contract and where might they be going?
My money is on Duchene. While not a terrible player he is not anyone's idea of a team's alpha dog, but might actually get paid like one.
Matt Duchene will certainly be a candidate in terms of AAV, at the very least.  He's not a true franchise forward but he's coming off of a strong postseason and plays a premium position.  He's going to get a pricey contract but he'll be capped at a seven-year term unless he re-signs in Columbus before July 1st.  He's only 28 so that term shouldn't be crippling.
My choice is Winnipeg defenseman Tyler Myers.  The market for right-shot defensemen is basically Karlsson and then him.  Anyone who strikes out on Karlsson will probably be looking at Myers, who has played big minutes in the past.  However, his effectiveness has waned in recent years and he's someone that probably ideally slots in as a fourth or fifth defender.  He's going to get a lot more money than someone in that role should get.  I could see the Flyers and Devils as landing spots – they have the cap space to pay up and fairly thin depth on the right side.
Bdd1967: How hard would it be salary cap wise for Minnesota to dump Parise and Suter or work out deals to get them off the roster? Those two suck up so much cash it makes it impossible to surround them with enough talent to win. It's getting really, really old…mediocrity is the standard with this club.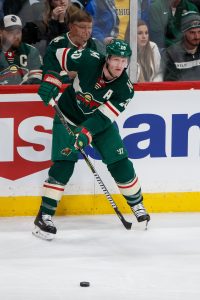 There's a significant difference in market value between the two.  If GM Paul Fenton was to say that Ryan Suter is available, he'd have five phone calls before he has time to get a coffee.  Suter's deal is expensive for sure but he's still a legitimate top pairing defender.  Very few of those are typically available in any offseason and those that are will get long-term deals at a higher price tag than Suter.  He's also quite durable having only missed nine regular season games over seven years with the franchise.  Yes, the fact that he's 34 and has six years left is concerning but he still has several above average years left in him which would be enough to make teams pay a significant price to get him.
The same case probably can't be made for Zach Parise.  His injury history is a concern and even though he had a nice bounce-back season in 2018-19, there are going to be questions about his potential level of productivity moving forward.  He produced like a top liner this season but before that, he was more of a second-liner.  A $7.5MM price tag for one of those (for six years) doesn't have a ton of value.  Still, I think Fenton could get out of the deal without needing much of a sweetener – he'd just have to take a big (but shorter-term) contract in return.  If they have eyes on trying to get back to the postseason next year though, a move like that wouldn't help.
ThePriceWasRight: With another failed playoff, do you see the Leafs finally sacrificing some of their young forwards for defensive depth? Everyone loves the kids coming up but no way they are comfortable come playoff time with two, maybe three rookies on that back end.
If there was ever a time to do that, this would be it.  It's unlikely Jake Gardiner and Ron Hainsey will be back while Travis Dermott won't be ready to start the season.  As a result, they'll be starting the season with Morgan Rielly, Jake Muzzin, Nikita Zaitsev, and three mediocre and/or unproven options.  There are some prospects on the horizon but a buffer player or two would help.
Toronto has several prospect forwards that they could deal from but I could see them moving one of Kasperi Kapanen or Andreas Johnsson to fill that void rather than a prospect who would likely only yield a prospect in return.  Given their cap situation, it's unlikely that they'll be able to retain both wingers and with the way both performed, they could fetch a pretty good young (cost-effective) defender.  With some of the youngsters on the horizon (adding a seemingly NHL-ready Ilya Mikheyev certainly helps), they can promote from within to fill the gap.
I wouldn't be shocked to see the Maple Leafs look for a veteran free agent in the $1MM range.  While they wouldn't land a top-four player for that price, there are usually some reasonable third pairing players that will slip through the cracks and take a bargain deal.  If they can do that and flip Kapanen or Johnsson for another rearguard, they'll be in reasonable shape in terms of depth to start the season.  Give their youngsters like Rasmus Sandin and Timothy Liljegren a bit more development time in the minors and their depth for next postseason should be pretty good as well.
tigers22: What will Yzerman look to do in terms of either moving out some of these bad contracts or possibly using some of their cap space to take on a bad contract while adding picks?
I don't expect new GM Steve Yzerman to start looking to add an incentive to get out of a bad contract, not yet at least.  They're still squarely in a rebuilding/retooling phase so they don't really have to free up cap space right away.  The more prudent approach at this point is to hold onto the likes of Frans Nielsen, Justin Abdelkader, and Darren Helm and hope that one of them can restore some value.
If they're going to utilize some of that space to take on someone else's bad contract, it'd have to be someone on an expiring contract.  With Anthony Mantha and Andreas Athanasiou both in need of new contracts after 2019-20 (not to mention almost their entire blueline having expiring contracts at that time), they're not going to want any extra money on the books when they have that much to do one offseason from now.
Mark Black: Are there any defense prospects (either ranked outside of the 2019 top ten or a non-first rounder from any previous draft) or a defenseman toiling outside the NHL who could feasibly step into a team's top four next season?
At the start of the season, probably not.  While forwards can jump into a top-six role fairly quickly, it's a much steeper learning curve for defensemen.  The ones that could make that jump are recent first-round picks (someone like Erik Brannstrom comes to mind) so that doesn't meet your criteria.
However, there are a few players that I could see getting into a top-four spot as the year goes along.  Colorado's Conor Timmins (a second-round pick) was expected to push for a roster spot in 2018-19 but was felled by concussion trouble.  With his offensive upside, it's certainly possible that he can make it and move up the lineup as the season progresses.  Phillipe Myers (an undrafted free agent in Philadelphia) didn't look out of place down the stretch and will make a case for a regular spot in training camp.  He was a fast riser in junior and his second AHL season was better than his first.  There's a good chance he'll be able to move up as the season progresses.
For more of an under the radar candidate, I'll toss out Dmitri Samorukov (Edmonton, 84th overall in 2017).  He took off in the second half with OHL Guelph and that has carried over into the postseason where he has simply been dominant.  Considering the defensive questions the Oilers have, he could get a shot pretty quickly and if he plays as he has over the past couple of months, his ice time will go up quickly.
met man: Compared to recent years, how deep in talent is the upcoming draft?
I'm hesitant to really start comparing this draft classes to those of a few years ago but compared to 2018, by a lot of accounts, the depth appears to be pretty good, particularly in terms of defensemen towards the back half of the first round.  General managers and scouting directors have commented on how there are going to be quite a few quality players left on the board by the time the second round comes around, something that scouts weren't quite as enthusiastic about last year.  That could make for a more robust trade market on the second day of the draft.
At the top, the fact that there being two elite talents in Jack Hughes and Kaapo Kakko is something we don't see in every draft.  I am, however, a little intrigued with the potential volatility beyond those two selections which is a lot like last year.  There's some depth to that second class of players but no one has really laid claim to that third spot just yet.  It's hard to put a lot of stock into the Draft Combine but that may wind up being something that could really help or hurt players currently in that three-to-ten range.
Photo courtesy of USA Today Sports Images.