Topics in this edition of the mailbag include Erik Karlsson and the Sharks, the postseason format, P.K. Subban's future in Nashville, Houston's chances of landing an NHL team, Washington's free agents, and Micheal Ferland's future in Carolina.  If your question wasn't answered here, it will be covered next weekend.
JDGoat: What's the likelihood of Karlsson re-signing in SJ?
SFGiantsFan28: Is there a way that the Sharks can re-sign Karlsson, Pavelski and Thornton considering their limited cap space? What will that mean for RFAs Timo Meier and Kevin Labanc? Does Nyquist even get an offer from SJ?
pitmanrich: Sharks vs Bruins final Game 7 overtime,  Jumbo Joe Thornton scores the winner against the team that drafted him with his last touch before retirement. Written in the stars???
Lots of San Jose questions here so let's tackle them together to kick things off.
With regards to Karlsson, I thought the likelihood of him signing an extension after the trade deadline was pretty high but clearly, that hasn't happened.  His injury issues raise a bit of a red flag as well but not to the extent where they're going to be scared off.  I'd still peg it as much more likely than not that they'll re-sign him.  GM Doug Wilson made the trade with the belief that they could make the money work while creating a dynamic back end.  Karlsson's injuries don't really change either of those factors.
On top of that, I think they can re-sign him and Joe Pavelski without too much issue despite the limited cap room.  Joe Thornton can sign a bonus-laden deal with a low base salary and while many players wouldn't do that, his offer to take less money when they were trying to keep Patrick Marleau tells me he may be willing to consider a high-bonus contract which would allow San Jose to potentially defer those costs to 2020-21 when the cap should go up a bit again.
To do that, they will probably need to trim from their back end.  Brenden Dillon ($3.27MM) and Justin Braun ($3.85MM) will be on expiring contracts and they could safely move one of them out to free up a bit of money.  Swapping Aaron Dell ($1.9MM) for a cheaper backup is also something I could see them doing.
When it comes to the restricted free agents, I suspect Labanc will wind up on a bridge contract which will also save a bit of money in the short-term relative to what a long-term pact would cost.  I think they'll try to go long-term with Meier but if Thornton sticks around, they may have to go with a bridge deal there as well.  If so, a one-year contract may be the best way to go.  It's hard to envision Gustav Nyquist sticking around – I'm sure they'd love to keep him but he's well below Karlsson and Pavelski on the list of priorities.  One of them would need to go elsewhere to really free up a spot for Nyquist.
As for the Thornton game-winner scenario, that'd be one way for him to ride off into the sunset.  He'd probably call it a career if that was to happen which is the only prediction I'm making with that one.
PQW: Is there any talk, anywhere about changing the playoff format somehow to allow an extra team or two into the playoffs? With Vegas and now Seattle joining, it's a shame that a team like the Habs (not a fan) at what, 14 games over .500 didn't make the show.
There is certainly an appetite from a few owners to expand the playoffs.  The addition of Seattle to bring the alignment back to even (eight teams in each division) would seem like a good time to make changes and a mini Wild Card play-in series (or single game) would be an option.
However, the nays outweigh the yeas when it comes to the Board of Governors.  Gary Bettman is also against the idea of postseason expansion.  Considering a two-thirds majority would be needed to make that change, I wouldn't count on it happening anytime soon.
That said, I could see a change to the format happening down the road.  There is some interest from owners in going back to the old format of 1-8, 2-7, etc. and the one-year extension to the current format means that change could happen sooner than later.  Alternatively, they could scrap the Wild Card altogether once Seattle makes it and make it just the top four teams from each division.  There could be changes coming sooner than later but it probably won't be expanding the postseason field.
ThePriceWasRight: What happens in Nashville? Sounds like Subban is on the table as a trade candidate and am wondering what team you see as a fit and what a trade could look like.
I think P.K. Subban's time in Nashville is probably over.  This is a team that needs to reallocate some of their cap spending up front and at a $9MM AAV, Subban's deal is on the expensive side.  They also know that Roman Josi will soon be up for a raise and it's unlikely that he or Ryan Ellis will move and Mattias Ekholm is on a team-friendly pact.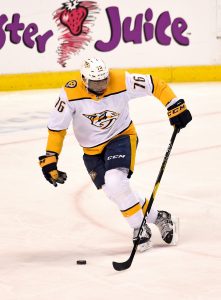 There are lots of potential fits but it depends on what GM David Poile is looking to accomplish.  Is he looking for a top-end forward in return?  Or is he okay with taking a futures-based package with an eye on turning around and spending that money on the UFA market?  If it's the latter, that's going to limit the options to teams with a lot of salary cap space.  I'm inclined to think that they'll look for something in between – there will be an NHL piece coming back that makes a few million but the impetus of a trade will be to open up cap flexibility (and more playing time for Dante Fabbro).
In terms of teams that could be a fit, I wonder about Vancouver.  Yes, Jim Benning recently cautioned about spending big this summer but a top pairing defender is something they've been coveting for a while.  We also know he had interest in Subban in the past as he was fined for tampering for comments he made about Subban's availability in 2016.  I wouldn't be surprised to see New Jersey make a pitch – defense has been a big need for a while and they've had trouble attracting prominent players in free agency.  If Buffalo winds up moving Rasmus Ristolainen which has been speculated going back to the trade deadline, I could see them being involved here as well.
@RWMichaels92779: What's the reality of having a team in Houston?
Tilman Fertitta is the owner of the NBA's Houston Rockets and there are varying reports when it comes to his willingness to be involved with an NHL team which would share the Toyota Center as a tenant.  If he's not interested in having an NHL squad as a tenant (regardless of his ownership stake in the team), it won't happen as building a new facility for a potential Houston hockey team doesn't make any sense.
I also don't see expansion happening anytime soon.  That means that their only chance is relocation.  If they can share the arena with the Rockets, this would be one of the better options to move a team to as they'd have a place to play and are in a good TV market.
Having said that, I don't think relocation is on the agenda anytime soon.  While the Coyotes' arena situation still doesn't appear to be close to a resolution, they've held on this far and Bettman has stated numerous times in the past that the priority is keeping them in Arizona.  He also recently stated that relocation isn't an option for Ottawa.  There aren't really other teams that have been speculated to be candidates to move.
I think that there will be a team in Houston one day.  But it may take many, many years for that day to arrive.
2012orioles: Which of the Capitals free agents are most likely to be re-signed?
Andre Burakovsky is still an intriguing case.  He's a capable player but a $3.25MM qualifying offer (and arbitration eligibility) makes it a tougher call.  If nothing's done by the end of the draft, I think they'll non-tender him and then try to bring him back at a lesser rate but as a 24-year-old with some success under his belt, he'd have plenty of interest.  Dmitrij Jaskin ($1.1MM) is also a non-tender candidate as they could bring in someone at the league minimum and save a few bucks there.
Jakub Vrana, another RFA, will be their top priority and the type of contract he signs could dictate what they do with their UFAs.  If it's a long-term (more expensive contract), they may not be able to afford to bring any of their notable free agents back but if it's a bridge deal, they may be able to keep one.
Brett Connolly seems to be the popular choice as to who may stay but I could see him looking for a larger role elsewhere after a career season.  So if any of their UFAs stick around, I think it's Carl Hagelin.  Yes, he'll need to take a big pay cut but he's going to have to do that no matter where he goes.  He fit in well with the team after being acquired and was a big help on their penalty kill.  I know that scoring depth in the bottom six is needed but I think they'll target some minor league scorers on cheap deals with the hopes that one will produce.  I doubt Devante Smith-Pelly is offered a new deal and they'll probably move on from Brooks Orpik as well.
mikedickinson: Ferland was set up for a nice payday, but he's so darn injury prone. Think he comes back to the Canes on a good deal now or will someone still overpay?
I'm not sure his market has been negatively affected all that much.  He usually misses time to injury each year so getting hurt in the postseason is basically par for the course at this point.  There aren't many power forwards with a bit of an offensive touch out there in free agency and of the ones that are, he's the youngest with the most upside.  That means someone's still going to overpay.
With that said, I think the odds of him staying are increasing.  The better the Hurricanes do in the playoffs, the better case they can make that they're a team on the rise.  He could stay there and have a top-six role for a while and it's generally tougher to leave a winning environment than a losing one.  It also should make a compelling case to owner Tom Dundon to spend more to keep this group together.  I wouldn't call him staying a sure-fire outcome at this point but I'd have the odds of it happening a lot higher now than I would have after the trade deadline.
Photo courtesy of USA Today Sports Images.