With the postseason down to just three teams, many squads are well into their offseason planning.  What storylines lie ahead around the league in what is shaping up to be a likely busy NHL offseason?  Next up in our Offseason Keys series is a look at the Florida Panthers.
While Florida missed the playoffs last season, they were a popular pick to take a step forward in 2018-19.  Not only were they coming off a strong finish the year before, they also added some help offensively in Mike Hoffman over the summer in one of the stranger moves of the offseason that saw him get dealt twice in mere hours.  Between that and another year of development of a promising young core, things were supposed to be looking up.  It didn't quite work that way.  While Florida had minimal issues scoring, keeping the puck out of the net proved to be too insurmountable of a challenge and the end result was a 10-point drop in the standings and a quick coaching change at the end of the season to bring in Joel Quenneville.  With that move taken care of, here are the on-ice keys to Florida's offseason.
Add A Core Defenseman
Between Aaron Ekblad, Keith Yandle, and Mike Matheson, the Panthers have some serviceable pieces on their back end.  While Ekblad may not become the true number one that his draft billing would suggest, he's a capable two-way player.  Yandle remains one of the better offensive threats on the blueline while Matheson has shown flashes of potential as well.
Beyond that, the depth gets thin quite quickly.  Mark Pysyk is miscast in a top-four role while youngsters Mackenzie Weeger, Josh Brown, and Ian McCoshen are all depth players.  That will need to change if they want to turn things around.
They have been linked to Artemi Panarin given his history with Quenneville but they would be better off finding another legitimate top-four blueliner.  Unfortunately, there aren't many of those available in free agency so they may have to go the trade route to get one.  If Florida wants to get back into the playoffs, they'll need more from their back end than their top three can provide.
Find A Starting Goalie
Everyone knew that this moment was coming eventually.  At the age of 40, Roberto Luongo has shown signs of breaking down and isn't a legitimate starting goalie anymore.  James Reimer was brought in to provide some stability as someone that could play a lot more than a typical starter.  However, he too has had injury issues and when he has played, he was no better than Luongo.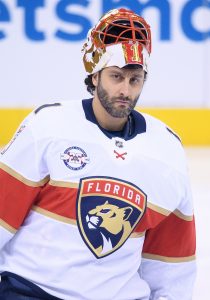 Both goalies are signed for multiple years still.  Luongo has three years at $4.533MM (with Vancouver paying another $800K) and Reimer checks in at $3.4MM for two more seasons.  That's a fair bit of money tied into their goalies.
However, they don't have a choice anymore.  A new number one goalie is a must-get this summer, even if it means they wind up spending more on that position than any other team.  There isn't much hope in the system – Sam Montembeault could be a future backup but not a starter – so they can't afford to wait it out.  The Panthers are clearly not rebuilding and are in win-now mode and a tandem of Luongo and Reimer won't get them there.
Sergei Bobrovsky is by far the best goalie in free agency and given Florida's cap space, he could very well be the perfect fit for them.  If that doesn't happen though, they'll need a Plan B in place.  Is that Semyon Varlamov or another lower-tier starter?  Or do they try to trade for a young goalie in the hopes that he'll develop quickly?  There will be plenty of questions over the next six weeks until July 1st comes around and they find out who their next starter will be.
Extension Talks
Hoffman wound up being a great addition.  He fit in quite well with Florida's high-end attack and responded with a career year, posting 36 goals and 34 assists.  He will be entering the final year of his contract in 2019-20 and will be looking for a sizable raise on his current $5.1875MM AAV.  The same can be said for winger Evgenii Dadonov.  His three-year, $12MM deal was viewed as a big gamble given how he fared in his first NHL stint but he has more than lived up to his contract and put up a 70-point campaign of his own this past season.
The good news for Florida is that their other core forwards are all locked up through at least 2021-22 so there aren't some other big-ticket contracts coming due in the next little while.  Depending on how much they opt to spend in free agency (they have plenty of cap room but have been a budget team the last couple of years), they should be able to keep at least one of them around if not both.  If they can get new deals done for these two and shore up the goaltending situation at the very least, it could be a very quick turnaround for the Panthers heading into 2019-20.
Photo courtesy of USA Today Sports Images.