The Winnipeg Jets were knocked out of the playoffs last night by an impressive St. Louis Blues group, and now must face the harsh reality of another season wasted. The Jets will not be happy with just making the playoffs in a season where many had them as a Stanley Cup contender, and will have plenty of questions surrounding the organization as the offseason begins.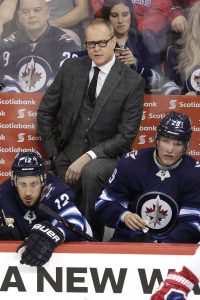 Is Paul Maurice the right man for the job?
There's no doubt that Paul Maurice is a good coach. The Jets' head man has been behind NHL benches for most of his professional life, first taking the reins of the Hartford Whalers in 1995 when he was just 29 years old. His 695 wins put him seventh all-time among NHL coaches, behind only Joel Quenneville and Barry Trotz among those active. He's ahead of names like Mike Babcock, John Tortorella and Claude Julien.
For all his regular season success though, Maurice has plenty of failure on his resume too. His teams have finished below .500 in a full season six times, and his overall record in the playoffs is 36-44. The team found some success last season as they made it all the way to the Western Conference Final, but that was just the third time in his entire NHL career that Maurice had made it past the second round of the playoffs. Now with another disappointing exit, the coaching seat in Winnipeg is sure to feel warm over the next few weeks and months.
How much are they willing to commit to Laine, Connor and Trouba?
Patrik Laine, Kyle Connor and Jacob Trouba are all set to become restricted free agents this summer, and should all command huge dollar figures and term. Each one of them is a potential star at his position, but each also comes with some real red flags. Trouba's are perhaps the easiest to see after his previous tough negotiations and hesitancy to commit long-term to the Jets. The 25-year old defenseman has wanted to be "the guy" on the right side, a position that the Jets are deep at with Dustin Byfuglien and Tyler Myers among others.
Laine has had his ups and downs all season, going through drastic slumps while also still showing why he is a potential superstar. While he hit the 30-goal threshold for the third time in his three-year career, he also had his lowest point total (50) and was a -24 on the year. His negotiation will be particularly interesting to see if the two sides even want to ink a long-term deal after such a disappointing year.
Connor meanwhile led all Jets forwards in scoring during the playoffs and has developed into a key cog on offense. The biggest question surrounding his negotiation will be as a direct comparison to Laine. Doesn't the 22-year old former Michigan star deserve more money after the year he just completed? How will the Jets afford to pay both of them, while also watching an extension kick in for Blake Wheeler raising his cap hit to $8.25MM. Is that too much money to spend on the wings?
What about the unrestricted free agents?
If those three RFAs weren't enough, the Jets also have some important unrestricted free agents to worry about, starting with Myers. The hulking defenseman is set to hit the open market in July and could arguably be the best blue line option available, depending on how things go with Erik Karlsson. While he had another strong season for the team, if they are looking to shake things up perhaps they decide not to bring him back and instead install one of their younger defensemen like Sami Niku on a full-time basis.
There is also Kevin Hayes, whose upcoming free agency leads to another question about the Jets. How are they going to fill that second line center role, after using rentals in each of the last two years? Hayes was acquired for a first-round pick this season after the team spent the same on Paul Stastny the year before, only to see both fail to bring them a Stanley Cup. Bryan Little is still under contract for five more years at a $5.29MM cap hit, but GM Kevin Cheveldayoff has obviously not been content with him in the middle of the second unit.