The Pittsburgh Penguins were swept out of the first round of the playoffs by the New York Islanders, opening the door to plenty of questions surrounding the roster composition moving forward. The team made a few big trades during the season to change the look of their group, sending out names like Derick Brassard, Riley Sheahan, Daniel Sprong, Carl Hagelin and Tanner Pearson at various times. While that ended up with a deep group of defense with plenty of talent, it also now may lead to more deals having to be made this summer.
Speaking with Jason Mackey of the Pittsburgh Post-Gazette, Penguins GM Jim Rutherford admitted that the team will likely have to trade a defenseman this summer. In fact, Rutherford told Mackey:
"But it will be difficult to keep all of our defensemen and keep them happy. I'm sure with the amount of teams who are looking for defensemen, we'll have to move at least one." 
That may not come as a surprise, given the state of the blue line right now. Six players are currently under one-way contracts for next season, all of them with cap hits of at least Jack Johnson's $3.25MM. That makes for an expensive group, especially when you consider the fact that Marcus Pettersson, a restricted free agent, deserves a substantial raise after becoming one of the team's more reliable options.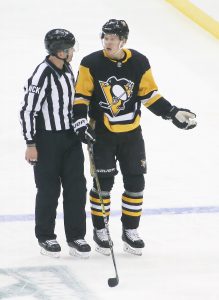 Mackey suggests that the one skating for a new team come 2019-20 may well be Olli Maatta, who ended up a healthy scratch for three games after his -2 performance in game one. This certainly isn't the first time that Maatta has been considered a potential trade candidate, in fact his name has surfaced on a consistent basis since signing his six-year, $24.5MM contract in 2016. While the 24-year old defenseman is not a liability, he also hasn't taken the necessary steps to make him an untouchable on the Pittsburgh roster.
That's not to say that there wouldn't be interest in him even with three years and more than $12MM still left on his contract. As Rutherford says, there will be plenty of teams looking for defensive upgrades this summer and he is still a potential top-four option on many of them. His cost certainty may actually be an attractive component to any trade, given his relative youth and the soaring costs of restricted free agents.
The question then becomes whether the Penguins group of defensemen is good enough to compete for a Stanley Cup next season without any other additions. Rutherford seemed to think so when he told reporters including Josh Yohe of The Athletic that this was the best blue line the team has had since he joined them. Rutherford of course joined the Penguins before the 2014-15 season, and won back-to-back Stanley Cup championships in 2016 and 2017. Maatta, Kris Letang, Brian Dumoulin and Justin Schultz were part of both titles, while Johnson, Pettersson and Erik Gudbranson were all added in the past year.
Photo courtesy of USA Today Sports Images