Topics in this edition of the mailbag include Adam Fox's future, bad contracts that could be on the move, how much Petr Mrazek's next contract should cost, what Chicago could do with the number three pick, and what's in store for the Rangers this offseason.
met man: What do you think happens to Adam Fox?  Will Carolina trade his rights at the upcoming draft?
From Carolina's standpoint, I don't see the need to drag this out.  If the defenseman plays out his final college year, the Hurricanes pretty much lose all of their leverage so why take it to 2020?  They would be wise to take the best deal they can get over the next few months as I don't see Fox having a change of heart about joining the Hurricanes.  With the defensive depth they have, there's no immediate path to the NHL for him.
That said, it all comes down to Fox's willingness to sign.  Any team wanting to trade for his rights is going to want some kind of assurance that he'll put pen to paper on a contract and failing that, they'll want to put some conditions in the trade to protect themselves.  For example, a conditional seventh-rounder in 2020 that upgrades to let's say a second-round pick in 2020 if he signs.  Since he has the extra year of college eligibility, any conditions would have to be in that 2020 draft so the upcoming draft in June doesn't have to serve as a soft deadline.  I suspect Carolina's preference would be to move him by then but I wouldn't be shocked if it drags out into free agency where teams have a better idea of what their roster looks like before committing to a trade.  He should on the move this summer though.
@RunnerSaltShack: What's it going to take to move bad contracts? Lucic?  Callahan?  Abdelkader? Which bad contract is likely to move this year?
I'll answer the second part first and say of those three, Callahan is the likeliest to be dealt.  The shorter the remaining term on the deal, the easier it is to move a player and with one year left, Callahan immediately jumps to the top of the list.
As for what a cost may be, let's note what Winnipeg gave up to offload Steve Mason's $4MM deal on Montreal.  They gave up a young roster forward in Joel Armia plus a fourth rounder and a seventh rounder.  Callahan has a higher cap hit at $5.8MM but it's also plausible that an acquiring team could actually keep him instead of buying him out as the Canadiens did with Mason.  Accordingly, I'd set the price at somewhere around there, assuming Callahan is willing to play ball and waive his trade protection.
As for Milan Lucic, with four years at $6MM remaining, the cost in terms of young assets to offload the deal would be huge.  We don't know who Edmonton's GM will be for next season but whoever it is, it's a cost that they wouldn't want to pay.  As a result, I think the only way he moves if it's a swap of long-term bad contracts but even at that, I think there's too much term remaining on the deal for that to even be a semi-realistic possibility.  There may come a time where that deal is movable but we're a couple of years from that point.
I'm not sure Detroit would be all that interested in moving Justin Abdelkader.  While he had a tough year this season, he's only a year removed from a 35-point campaign which isn't a terrible return on a $4.25MM AAV.  Four more years isn't ideal but given his stature on the team, I can't see new GM Steve Yzerman being all that interested in attaching assets to move the deal out when they're still in a rebuilding stage though they need to free up some cap space at some point in the near future.  I just think they'll look to move someone else out first.
In terms of other bad contracts that could be on the move this summer, Vancouver winger Loui Eriksson (three years, $6MM) could be an option as his salary starts to dip.  Teams with limited budgets may be inclined to take a player like that on without requiring a massive incentive to do so given the actual cost savings they'd realize over signing someone who isn't on a front-loaded deal.
mikedickinson: What kind of deal will it take for the Hurricanes to lock up Mrazek? The guy has been very good this year, and a missing piece.
What a nice comeback year he's had.  This was looking like a potential last chance situation if Mrazek struggled like he did last season but instead, he did well splitting the starts with Curtis McElhinney and has played well in the playoffs.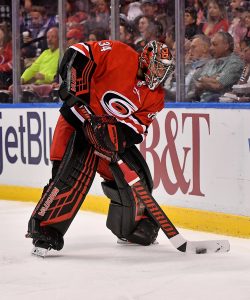 The fact that he only played a half season should work in Carolina's favor.  Most of the teams that will be looking for help on the free agent market are going to be looking for a full-fledged starter or someone that is willing to sign cheap enough as a guaranteed backup.  There shouldn't be a sizable market for the platoon/1A-1B guys like Mrazek is.
In terms of comparables, a couple of players come to mind.  Coyotes goalie Antti Raanta, whose career high in games played came last season with 47, signed a three-year, $12.75MM deal.  His numbers were a little better than Mrazek's but he also has a bit of risk given his injury issues over the years, something that certainly came into play in 2018-19.
The other is someone you're surely familiar with in Hurricanes goalie Scott Darling.  He played a little less in his final year in Chicago than Mrazek did this season but he was still able to land a four-year, $16.6MM deal.  Of course, that hasn't worked out well at all for Carolina which is why Mrazek's in a situation to potentially cash in here.
I think those two players represent the high end of Mrazek's earning potential.  Carolina will be cautious given what happened with Darling and Mrazek isn't going to want to sign an overly long contract at what could be a below-market rate if his strong play continues.  As a result, I'd peg him for a three-year deal with an AAV between $3.5MM and $4MM.  It's a deal that gives Mrazek some stability but doesn't break the bank at the same time and allows Carolina to employ a platoon between the pipes over the next few years as well.
random comment guy: What are the Hawks gonna do at #3? Seems to be a crap shoot after Hughes and Kakko (assuming he goes second). Do you think they will stand pat or trade (possibly with a contract to open up cap relief)?
I have a hard time thinking GM Stan Bowman would want to part with that particular pick to offload a bad contract, especially since they actually have a bit of salary cap flexibility this summer for the first time in a long time.  I also don't foresee there being much of an appetite to trade the pick for an established player so I think they stand pat.
The interesting call will be who to take.  Russian winger Vasili Podkolzin is a popular choice to go third but he has two years left on his deal in the KHL and as we've seen in recent weeks, some Russian teams are dead set against the idea of letting players out even a couple of weeks early let alone a couple of years.  There's no player transfer agreement in place between the two leagues either.  The Blackhawks are still in the mindset of trying to win right now so it's plausible that having to wait could act as a deterrent.  Given their recent spree of drafting defensemen, Bowen Byram may be off the table so perhaps that would make them give some strong consideration to someone like center Alex Turcotte.  With some draft-eligible prospects still playing (Cole Caufield had quite the showing at the Under-18's), it's hard to make any specific predictions on who they'd take this early but I expect they'll be making that selection two months from now.
acarneglia: Outside of presumably drafting Kakko with the 2nd overall pick, what does the rest of the Rangers offseason look like?
First off, they'll have to hire a replacement for Glen Sather as team president.  That's probably going to be John Davidson (or at least that's the overwhelming expectation).
I expect them to be active in free agency but not necessarily just looking to land simply top-end players.  Part of them taking a big step forward will be continuing to give their youngsters a chance to play themselves into the top roles that they're expected to fill.  That will take some time so GM Jeff Gorton's free agent targets will factor that in mind.  Some complementary players on short-term deals would make a lot of sense for them, both up front and on the back end.  I could see them landing one impact player though as they will have some money to spend.
Chris Kreider's case is going to be an interesting one.  He's eligible for an extension on July 1st and Gorton will want to have a sense sooner than later as to what one will cost to allow him to decide whether or not to keep him or trade him.  He can make a big impact but there are a lot of nights where he's quiet so if I had to guess right now, I don't see the team signing him right away.
They'll also have a decision to make between the pipes.  Alexandar Georgiev showed some promise last season as Henrik Lundqvist's backup and the soon-to-be-signed Igor Shestyorkin will be starting his first season in North America.  Who gets the nod to start next season and does the other become potential trade bait with several teams looking for promising young netminders?
The Rangers are on the right track in their rebuilding process so I don't expect a lot of roster turnover this summer.  They should stick with the plan they have in place and if they do that while adding a couple of pieces here and there, they'll be in good shape moving forward.
Photo courtesy of USA Today Sports Images.