The completion of the first round of the playoffs created plenty of headlines on the ice.  There were several notable pieces of news off the ice as well which are highlighted in our top stories of the week.
Long-Term Injuries: The Sabres won't likely have defenseman Zach Bogosian available to them at the start of next season after the veteran underwent hip surgery.  The procedure carries a recovery period of five-to-six months.  Bogosian had been a potential buyout candidate in June but that option is no longer on the table as a result of the procedure.  Meanwhile, Maple Leafs winger Zach Hyman will miss roughly the next six months after tearing his ACL midway through Toronto's first-round series against Boston.  Hyman played three games with the injury, averaging over 18 minutes a night in those contests.
Two Teams Interested In Martin: Veteran coach Jacques Martin hasn't come up in too many head coaching searches but that's not the case now as both the Sabres and Senators are considering him for their current vacancies.  Both teams are looking for some structure after disappointing seasons which has been a hallmark of Martin's teams over the years.  Interestingly enough, Martin and the Senators have some history together as the 66-year-old spent parts of nine seasons with Ottawa from 1995-96 through 2003-04.  Martin has been an assistant in Pittsburgh since 2013-14.
Penguins Likely To Trade A Defenseman: Big changes are expected in Pittsburgh this offseason after an early exit at the hands of the Islanders in the postseason.  It appears that at least one of those changes will come on the back end as GM Jim Rutherford acknowledged that the Penguins will likely have to move at least one defenseman this summer.  Over the last year, they've added Jack Johnson in free agency plus Erik Gudbranson and Marcus Pettersson via trades which has given them a fair amount of depth at the position.  In the postseason, it was Olli Maatta who was the odd man out and with three more years left on his contract with a $4.083MM AAV, it stands to reason that the 24-year-old could very well be involved in trade talks in the near future.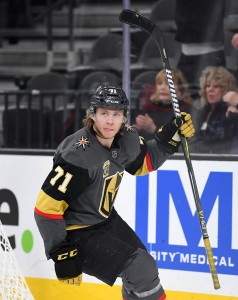 Karlsson Seeking A Long-Term Deal: Vegas has plenty of extra money on their books for next season as a result of several extensions they've handed out over the past several months.  Despite that, they have one more core forward left to re-sign in William Karlsson, who indicated that he's hoping to sign a long-term deal this summer and that preliminary talks have already started.  Karlsson was a revelation in 2017-18, going from a depth player in Columbus to one of the top scorers in the league.  Given that major change, the two sides were only able to settle on a one-year, $5.25MM pact last offseason.  While Karlsson's numbers took a bit of a step back this season, he still posted 56 points and should be still in line for a nice raise, especially since he once again has salary arbitration eligibility.
Hart Trophy Finalists Announced: The daily reveals for the award finalists came to an end on Sunday with the nominees for the Hart Trophy being announced.  The finalists are Connor McDavid (Edmonton), Nikita Kucherov (Tampa Bay), and Sidney Crosby (Pittsburgh).  The trophy is awarded annually to the player deemed to be most valuable to his team.  The NHLPA also has a similar trophy in the Ted Lindsay Award for the most outstanding player in the league.  McDavid and Kucherov made the final three while Blackhawks winger Patrick Kane is the third finalist for that one.
Photo courtesy of USA Today Sports Images.