While the playoffs are now underway, many teams have already started their offseason planning.  What storylines lie ahead around the league in what is shaping up to be a likely busy NHL offseason?  Next up in our Offseason Keys series is a look at the Detroit Red Wings.
Just a few years ago, the thought of Detroit missing the playoffs in three straight years was crazy.  They were the model of consistency around the league but all good things must come to an end.  However, they're dealing with the drawbacks of keeping many veterans from previous years around and now find themselves attempting to rebuild.  They took a big step in that process last week with the hiring of Steve Yzerman as their new GM but here's what else to watch for in Detroit.
Free Up Contract Slots
By now, most teams have signed a good chunk of their CHL draft picks from the 2017 draft class.  They may have one or two players left but not too many.  Then there's Detroit, who have five players they must sign by June 1st or lose the rights to.  They'll have to decide quickly whether or not to keep them or let them go back into the draft.  The list is headlined by a pair of third rounders in Lane Zablocki and Zach Gallant.
Perhaps part of the delay here is Detroit's contract situation.  They already have 38 of 50 contracts committed for next season without factoring in any of those five aforementioned players or any of their upcoming free agents (seven unrestricted and seven more that are restricted).  Obviously, not all will return but if even half do and the team adds a few others in free agency, trade, or signing some of their June 1 players, they appear to be trending towards being right against the limit next season.
While that's not a completely untenable situation to be in, it's far from desirable either as it can limit their ability to make in-season moves.  With that in mind, expect Yzerman to try to clear out some of the clutter and give themselves some flexibility to work with heading into the summer.
Rebuild The Back End
Defense has been a position of concern in Detroit for a while and it really became noticeable this season.  Granted, they lost over 130 man-games to injury but there are question marks all over their back end.  Youngsters like Filip Hronek and Dennis Cholowski had some strong moments but had some shaky ones as well.  That's understandable given their inexperience but there were plenty of shaky plays from the veterans which played a big role in them finishing in the bottom five in goals allowed.
The good news is that there aren't a lot of long-term commitments.  Danny DeKeyser has three years left on his contract but the other veterans are either unrestricted free agents this summer or have one year remaining (Mike Green, Jonathan Ericsson, Trevor Daley, and Madison Bowey).  Niklas Kronwall is a free agent and while it looked like retirement was a likely option for him, he logged nearly 20 minutes a night and could still be in the plans for 2019-20.
The short-term commitments give Yzerman some flexibility to work but a lot of work needs to be done.  The Red Wings can't bring back the same back end if they want to have better results so it wouldn't be surprising to see them try to shop one of their veterans with one year left.  However, Green, Ericsson, and Daley all have some form of trade protection in their contracts which could complicate things.
Over the next couple of years, they will be able to backfill some of the looming departures with some of their prospects but they will still need to add from outside of the organization.  With that in mind, expect Detroit to take a look at some blueliners on the open market at the very least this summer but it wouldn't be surprising to see them try to acquire a younger defender via the trade route as well.
Create Cap Flexibility
While Detroit has seen their streak of playoff appearances come to an end, their streak of years being right up against the Upper Limit has continued; they used nearly $7MM of LTIR relief to remain in compliance with the salary cap in 2018-19 which creates the potential for a small bonus overage if any of their entry-level players reached any games played bonuses.  With Henrik Zetterberg and Johan Franzen both under contract for 2019-20, that's not likely to change.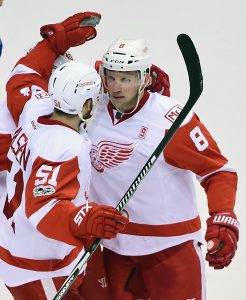 On top of carrying those two deals for players that have effectively retired, the Red Wings also have several other bad contracts on the books up front.  Frans Nielsen has underachieved since coming over from the Islanders and still has three years at $5.25MM per year left.  Justin Abdelkader's production dipped to just 19 points this season which is not a good return on a contract that pays $4.25MM per season through 2022-23.  Even Darren Helm's $3.85MM AAV for two more years is a bit high for his role.  Finding a way to move out one of those contracts would go a long way towards cleaning up their contract situation but as is the case with their veteran blueliners, all three of these players have no-trade protection in their deals as well.
Andreas Athanasiou and Anthony Mantha each have one year left on their bridge contracts before becoming restricted free agents with salary arbitration rights in the 2020 offseason.  It's going to cost considerably more than the $6.3MM the two make combined to lock them up long-term so next summer essentially works as a soft deadline to get at least one of their bad deals off the books.  If they can do it before then and help their chances for 2019-20, it'd be even better for them.
Photo courtesy of USA Today Sports Images.