While the playoffs are now underway, many teams have already started their offseason planning.  What storylines lie ahead around the league in what is shaping up to be a likely busy NHL offseason?  Next up in our Offseason Keys series is a look at the Buffalo Sabres.
After a rocky 2017-18 season, the Sabres shook up their roster and had expectations of improvement in 2018-19.  While they did earn 14 more points than they did a year ago, they still missed the postseason by a significant margin once again which means they are once again in for an offseason of upheaval.  Here's what to watch for in Buffalo.
Hire A New Head Coach
One of the few consistent things the Sabres have had in recent years is coaching turnover.  Since they let Lindy Ruff go during the 2012-13 season, they've had four different head coaches.  That will soon become five as Phil Housley was let go at the end of the season after just two years with the team.  (That puts him tied for the longest-tenured head coach in Buffalo since Ruff's departure.)
Obviously, they need to hire a replacement but the question is what type of coach should they be looking for?  They've tried a first-time bench boss.  They've tried a veteran coach.  They've even tried bringing back someone they fired 16 years earlier.  Nothing has worked so far.
Buffalo is a fairly young team with only four regulars over the age of 30 in their lineup.  With that in mind, it could make sense to bring a coach with experience working with younger players as there is some teaching to be done.  On the other hand, this team has lacked structure and attention to detail and certain veterans have proven themselves to be capable of instilling that in a team.
Not surprisingly, GM Jason Botterill appears to be casting a wide net.  They have been linked to several different coaches including veterans Dave Tippett, Jacques Martin, and Todd Richards as well as Sweden's Rikard Gronborg who hasn't coached in North America since serving as an assistant with WHL Spokane in 2004-05 but has plenty of international experience.  With only a few vacancies remaining, Botterill can be patient in his search but if this pick winds up yielding results like Housley's tenure, he may not get to make another choice.
Re-Sign Or Replace Skinner
Jeff Skinner was a big part of Buffalo's early season success before things really started to go off the rails.  The winger got off to a very strong start with 30 goals over his first 44 games but cooled off considerably, scoring just 10 over the last 38 contests.  Still, he hit the 40-goal mark for the first time in his career which will certainly have him in the driver's seat as he approaches unrestricted free agency.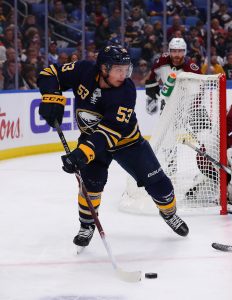 By all accounts, negotiations on a contract extension have been ongoing for several months now but the two sides are clearly still apart on getting something done.  Clearly, the difference between his first and second halves will complicate the discussions.  On top of that, the longer this drags out, the greater the temptation to test the market is likely to become.  As a result, this has to be Botterill's top priority in terms of player personnel decisions.
If they can't come to a deal, there are a handful of other high-scoring free agents available that they could shift their focus to.  Alternatively, Buffalo still has an extra first-round pick (7th and 29th) so they could put one in play to try to acquire a younger option.  One thing is for certain though – they will be in even tougher shape if they can't re-sign or replace Skinner in the coming months so there is a lot of pressure to get something done.
Goalie Decisions
Goaltending has been a question mark for a while in Buffalo and while it was better this past season, it's still a question moving forward.  In particular, has Linus Ullmark shown enough to be counted on as a viable long-term starter?  He had some strong moments but also some particularly rough ones as he played to a .905 SV% and a 3.11 GAA over 37 appearances.  He's only 25 and there's still some upside but he's also now eligible for salary arbitration so he'll be looking at a big raise from the $800K salary he received.
Last summer, the Sabres brought in Carter Hutton in the hopes that he could carry over his strong performance in St. Louis to become the front half of a platoon.  His numbers weren't much better than Ullmark's overall and at 33, he's not a viable long-term starter either way.  Is this a viable tandem to push them back into postseason contention?
If Botterill believes that the answer to either of the questions posed is no, then it wouldn't be surprising to see Buffalo wade into the free agent market for a starting goaltender.  While the development of their young defenders – a group bolstered by Brandon Montour's addition near the trade deadline – will undoubtedly help their fortunes moving forward, that alone won't be enough to move the Sabres from being near the bottom of the league in goals allowed to even being more of a mid-pack team.  It was hoped that Hutton and Ullmark could shore things up but their work between the pipes may not be done after all.
Photo courtesy of USA Today Sports Images.