With the trade deadline almost upon us, there was plenty of notable news around the league over the past seven days.
Coyle To Bruins: Boston had been linked to forward Charlie Coyle since the beginning of the season and they now have secured their target, acquiring him from the Wild in exchange for prospect winger Ryan Donato and a conditional 2019 fifth-round pick that moves up a round if Boston moves past the first round of the playoffs.  Coyle has had a bit of a down year in Minnesota but gives the Bruins some flexibility in their middle six while being signed at a reasonable $3.2MM AAV through next season.   Meanwhile, Donato has made an early impact with Minnesota, picking up four points over his first three games with the Wild including the overtime winner on Sunday night.
Ottawa/Columbus Moves: The first major trade domino fell as Ottawa moved center Matt Duchene to Columbus (along with defensive prospect Julius Bergman) in exchange for winger prospects Jonathan Davidsson and Vitali Abramov plus their first-round pick in 2019.  In addition, the Blue Jackets will surrender their 2020 first-round selection if the pending UFA re-signs with the club.  Duchene was unable to come to terms on an extension with Ottawa and will now play out the season alongside a notable pending UFA in Artemi Panarin as the Blue Jackets appear to be set to try to make a deep postseason run.  Abramov was a dominant scorer in the QMJHL but hasn't had much success yet this season in his first crack at the minors while Davidsson is having a strong season in the SHL and will likely make the jump to North America next season.  One day later, the Blue Jackets added Duchene's winger in Ryan Dzingel along with Calgary's 2019 seventh-rounder in exchange for winger Anthony Duclair plus second-round selections in 2020 and 2021.  Dzingel also turned down a long-term extension offer from Ottawa and is in the middle of a career year; his chemistry with Duchene should come in handy down the stretch.  Meanwhile, Duclair did not fare particularly well with Columbus and should get more of an opportunity in Ottawa with their forward group getting thinned out quickly.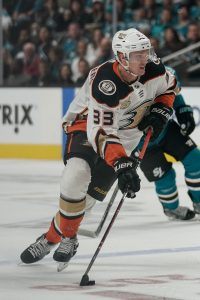 Silfverberg To Stay Put: Anaheim's most prominent rental player will be sticking with the Ducks after all.  He has agreed to terms on a five-year extension that's believed to be worth roughly $5.25MM per year.  However, the deal can't be made official until next month when the restrictions on the tagging rule are loosened; Anaheim will use the 10% cushion to make the deal official at that time.  Silfverberg's point total is down considerably this season but he also leads the team in goals with 16 through 53 games.  As a result of the deal, the Ducks had over $78MM tied up in just 16 players for next season so a cost-cutting move was expected to be on the horizon (and it didn't take too long for it to happen).
Montour To Buffalo: The Sabres likely will fall short of making the postseason this year but that hasn't stopped them from making a splash as they're added defenseman Brandon Montour from Anaheim in exchange for Brandon Guhle and a 2019 first-round pick (SJ or STL).  Montour still has three years of team control after this one and should be an important part of Buffalo's core for a while.  Meanwhile, the Ducks free up some much-needed cap room for the next couple of years while adding a decent prospect in Guhle plus a high draft pick to jump-start their retooling.
Zuccarello To Dallas, Gets Injured: The Stars made a splash up front, acquiring winger Mats Zuccarello from the Rangers in exchange for a 2019 conditional second-round pick and a 2020 conditional third rounder.  The 2019 pick becomes a first-rounder if Dallas wins two playoff rounds while the 2020 pick will convert to a first if Zuccarello re-signs with them.  The optimism from the move was short-lived, however.  He picked up a pair of points in his Dallas debut but also suffered a significant arm injury that will keep him out for at least a point and could require surgery.
And with the flurry of weekend moves, here's one more bonus story.
Nyquist To San Jose: Sharks GM Doug Wilson stated earlier in the year that he was open to acquiring another rental as they are clearly in win-now mode.  He stayed true to his word as San Jose picked up Gustav Nyquist from Detroit in exchange for a 2019 second-round pick and a conditional 2020 third-round selection (that upgrades to a second rounder if the winger re-signs).  Detroit is also retaining 30% of Nyquist's $4.75MM cap hit.  The 29-year-old is just five points shy of his career high of 54 and will make an already deep attack even more potent.
Photo courtesy of USA Today Sports Images.