The Matt Duchene era in Ottawa is over.  The Columbus Blue Jackets have acquired Duchene and minor league defenseman Julius Bergman from the Ottawa Senators in exchange for a package including a 2019 first-round pick (top-3 protected) and prospects Vitaly Abramov and Jonathan Davidsson. While extension talks have not yet occurred between the Blue Jackets and Duchene, the team would give up an additional first-round selection in 2020 if he re-signs. The two teams play each other tonight in Ottawa.
This deal has huge implications for not only the two teams involved, but the entire league that was waiting for a price to be set on the very best rentals available at this year's deadline. Duchene was one of three players considered the top tier of the market, along with former teammate Mark Stone and, coincidentally new teammate Artemi Panarin. The fact that the speedy center is heading to Columbus complicates matters, given that it now seems unlikely that the Blue Jackets would move on from Panarin after adding such a big name.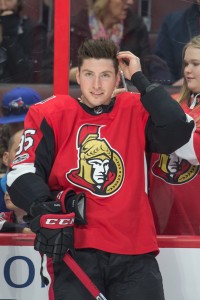 In fact, there may be reason for Columbus to add even more in the coming days. Despite not having seen playoff hockey since the 2013-14 season, Duchene remains an incredible talent that can take over a game with his speed and skill. The Blue Jackets, who currently sit one point behind the Carolina Hurricanes for the final wild card spot in the Eastern Conference, likely see this opportunity as their best chance to finally win a playoff series, something the franchise has still never accomplished. The Metropolitan Division playoff spots are even still up for grabs, with third place Pittsburgh holding just a two-point lead on Columbus heading into tonight's action.
Still, it's a hefty price to pay for a player who is having a career year and will become an unrestricted free agent at the end of the season. Duchene has 58 points through 50 games and will likely break his previous highs of 30 goals and 70 points, but is completely unproven in the postseason. In a ten year NHL career, Duchene has played just eight playoff contests and has never scored a playoff goal.
Bergman, who also comes to Columbus in the deal is unlikely to spend much time in the organization. There have been reports recently that the Swedish defenseman will be heading back to the SHL after the 2018-19 season when his entry-level contract expires. The Senators needed to keep the number of contracts equal given their other upcoming moves and the fact that they are currently sitting just two spots under the 50-contract threshold.
The Blue Jackets did however avoid giving up the very best of their prospects. While Abramov is armed with incredible puck skills (perhaps among the best in the world), he is undersized and has weaknesses throughout his game. In 52 games with the Cleveland Monsters this season the 20-year old winger has 22 points, but also still holds a development ceiling of a first-line NHL player. If Ottawa can get him there they'll have a star on their hands, but that's far from guaranteed at this point.
Davidsson meanwhile is a sixth-round pick who has found real success in Sweden since being drafted. The 21-year old forward recorded 31 points in a breakout season in 2017-18, and has 20 through 35 games for Djurgardens this season while playing a bigger role. His ceiling may not be quite as high as Abramov's, but there is a good chance that Davidsson will play NHL games at some point in the near future.
If you only look at this trade, it looks like a win for the Senators. Selling off an expiring asset during a lost season for potentially four valuable assets is a good way to build up your system and compete in the future. Unfortunately, Duchene leaves Ottawa with quite a bit of baggage that cannot be ignored. The Senators gave up a ton of value to acquire him from the Colorado Avalanche in the fall of 2017, sending out Kyle Turris, Shane Bowers, Andrew Hammond, a third-round pick and, most notably, an unprotected first-round selection.
That first-round pick did have a condition that the Senators could give up their top selection in either 2018 or 2019, but after finishing fourth in the draft lottery and staring at Brady Tkachuk on the board, Ottawa decided to push it to this season. The hope was that with some added youth and health the team would not find itself at the bottom of the standings again. Unfortunately, that hasn't happened and Ottawa now sits in last place in the entire NHL and has the best shot at first overall in June's draft. Colorado now owns that pick, meaning the Senators may very well have given up Jack Hughes in order to acquire Duchene for less than two seasons.
The Senators were never going to recoup full value for Duchene, but they do still have a chance to make this deadline a success. With this return plus potentially even more in trades for Mark Stone and Ryan Dzingel, the team can start their rebuild in full and hand the keys to a new wave of talent. The team already recalled Drake Batherson and Logan Brown today, and will still have at least three picks in the first two rounds in June.
Photo courtesy of USA Today Sports Images