Though their head coach made a playoff guarantee just six days ago, the Minnesota Wild have traded away another one of their key forwards. Charlie Coyle has been traded to the Boston Bruins in exchange for Ryan Donato and a conditional 2019 fifth-round pick. The pick would become a fourth-round selection if the Bruins advance past the first round of the playoffs this season.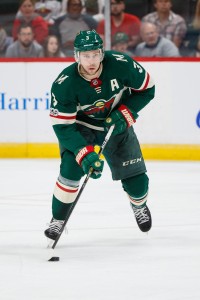 Coyle, 26, has been involved in trade rumors every time the Wild have hit a rough patch over the last few years thanks to his positional flexibility and consistent production, but this move comes after a particularly defeating loss to the Anaheim Ducks. Minnesota is still technically in a playoff spot at the moment but after losing 4-0 to the Ducks they are now 1-6-3 in their last ten and just a point ahead of four different teams in the Western Conference race. Having already sent Nino Niederreiter to the Carolina Hurricanes, Coyle's departure may be just the start of a culture change in Minnesota in which they try to start again with a different core group.
Versatility has become Coyle's calling card over the years as the Wild regularly move him around the lineup, including long stretches at both right wing and center. He hit his offensive peak in 2016-17 when he recorded 56 points, but has just 28 this year through 60 games and has struggled to find the consistency that previously stood out through his career. Still, the big-bodied forward can play in a variety of situations and comes with just a $3.2MM cap hit this year and next. He'll become an unrestricted free agent after the 2019-20 season.
One of the biggest questions regarding Coyle is where his offense has gone in the playoffs each year. The Wild have faced perennial first-round exits thanks to a struggling postseason offense, and Coyle has been part of those failures. The forward has scored just 15 points in 44 career playoff games, and just six in his last 28.
For the Bruins, Coyle represents an upgrade for their middle-six down the stretch and through next season. Boston has had trouble finding any sort of secondary scoring outside of their top four forwards, and will now add a relatively young option that does have a history of success. It doesn't hurt that Coyle is a Massachusetts-born Boston University alum and plays a perfect style of game for how head coach Bruce Cassidy likes to run his teams.
Still, giving up on Donato is a somewhat surprising move for the Bruins given his outstanding start just last season. After scoring 43 points in 29 games during his junior season at Harvard and being named a finalist for the Hobey Baker as one of the country's best collegiate players, Donato burst onto the NHL scene with three points and almost 20 minutes of ice time in his debut. Things haven't gone quite as well for him since, with just 15 points in his next 45 games but there is still a lot to be excited about with the 22-year old forward.
The Wild are obviously trying to get younger this season and change their core, but on first blush the returns for both Niederreiter and Coyle may seem underwhelming. They'll hope for more success for Donato than Victor Rask has experienced since his journey from Carolina, which has resulted in two points in ten games and a trip to injured reserve.
Focus now turns to the next moves for both of these teams, as it seems unlikely either is finished. The Wild still have pending free agent Eric Staal and others to deal if they want to blow things up, while the Bruins could still use some more scoring for the middle part of their lineup. Boston has been expected to be involved in the trade market as the deadline approaches, but after this deal it is not clear if they will want to give up the excessive assets required to land some of the bigger names. At least if they do go after the likes of Artemi Panarin, Matt Duchene or Mark Stone they are still holding their first-round pick, something that wasn't needed to land their newest forward.
Michael Russo of The Athletic was first to report that Coyle had been traded.
Photo courtesy of USA Today Sports Images