The Pittsburgh Penguins have found a taker for Derick Brassard, and filled their third-line center role in the process. The team has sent Brassard, Riley Sheahan, a 2019 second-round pick (PIT), and two 2019 fourth-round picks (PIT & MIN) to the Florida Panthers in exchange for Nick Bjugstad and Jared McCann. Neither team will be retaining any salary.
Pittsburgh had been looking to ship Brassard out all season, as the veteran forward just never fit into a role with the team. Acquired last season from the Ottawa Senators, Brassard has registered just 23 points in 54 regular season games with the Penguins, and contributed just four points during the team's early playoff exit last spring. That wasn't enough given the opportunity he was given to play alongside Phil Kessel, and he'll now find himself in the Florida sun for the time being. Don't count on Brassard staying there long though, as his pending unrestricted free agency isn't attractive for a Panthers team that is likely to miss the playoffs.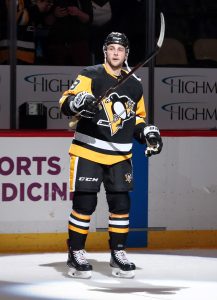 Flipping Brassard to another contender could help the Panthers keep collecting picks while opening up cap space, the biggest asset they've gained in this transaction. Florida is expected to take a run at both Artemi Panarin and Sergei Bobrovsky in the offseason—or perhaps even sooner—and Bjugstad wasn't providing enough to justify his $4.1MM contract. The big center has had trouble staying healthy throughout his career and has just 12 points in 32 contests this season. McCann meanwhile has 18 through 46 games but still hadn't really established himself as a key member going forward.
That's exactly what the Penguins will hope happens for both players, as they prepare for another run at the Stanley Cup this season. Pittsburgh is now just three points behind the New York Islanders for first place in the Metropolitan Division, but will have to fight tooth and nail to hold off the rest of the group fighting for their spot. Even with the Washington Capitals and Columbus Blue Jackets on long losing streaks, all three Metro playoff spots are undecided.
It's important to note how close the Penguins have now pushed up to the salary cap ceiling, as it will be difficult to make any additional moves without sending money the other way. Pittsburgh is close to getting Justin Schultz back from long-term injured reserve, and would no longer have the room to add someone like Micheal Ferland who they have been linked to extensively. That might not matter though, as Bjugstad brings plenty of size to a lineup that was looking to add muscle for a stretch run. The 6'6″ forward isn't an overly physical player, but can use his strength to get pucks out of traffic and create chances for himself and teammates. He's expected to start at center for the Penguins, though has plenty of experience in Florida on the wing as well.
Three picks are a hefty price to pay for Pittsburgh, given that they spent a good bit on Brassard just last year, but the team is in clear win-now mode with Sidney Crosby, Evgeni Malkin and Kessel all still able to compete at a high level. There will come a point where the team struggles to graduate any players from their prospect system, but they've shown in the past to be excellent college and undrafted free agent recruiters to fill those gaps.
Florida meanwhile has now restocked some of the draft picks they had traded away in recent years. At one point this season they were without any selection in the second or third rounds, but now will select six times in the first four and could get even more by flipping these expiring contracts. For a team with a good young group of players and now plenty of cap space in the summer, the Panthers are a team to watch on the trade market over the next month and near June's draft.
Photo courtesy of USA Today Sports Images