With the trade deadline fast approaching, we continue our look at the situation for each team over the coming weeks. Where do they stand, what do they need to do, and what assets do they have to fill those needs? As we continue with the Atlantic Division, here is a look at the Ottawa Senators.
This will be a franchise-changing time for the Ottawa Senators who are in a tough situation with three significant players ready to hit unrestricted free agency in Matt Duchene, Mark Stone and Ryan Dzingel. The team has made it clear it's trying to get them signed to long-term extensions, but will the team offer appropriate deals to them and do any of the three really want to stay with a franchise that seems intent on being one of the cheapest franchises in the NHL.
If the team can't get them to sign on the dotted line before the trading deadline, then the team will move them with the real possibility that all three will be moved before the trade deadline and with every passing day, it looks more and more likely that Ottawa and general manager Pierre Dorion will be shipping them off. The team has made it clear they are rebuilding their team, which might be just fine if they hadn't paid a fortune last season to acquire Duchene from Colorado. In that mega-package for Duchene, the Senators also traded away their first-round pick, which right now (pending a draft lottery) is likely to be the No. 1 overall pick.
Considering that none of the three will agree to a sign-and-trade, Ottawa will be lucky to get a quality return for their three forwards, especially for Duchene and Stone who are two of the most coveted assets on the trade deadline.
Record
21-31-5, eighth in the Atlantic Division
Deadline Status
Major seller
Deadline Cap Space
$30.79MM in full-season cap hit, 1/3 used salary cap retention slots, 48/50 contracts per CapFriendly
Upcoming Draft Picks
2019: OTT 2nd, SJS 2nd*, PIT 3rd, OTT 4th, OTT 5th, OTT 7th, CAL 7th
2020: OTT 1st, SJS 1st, OTT 2nd, OTT 3rd, CBJ 3rd, OTT 4th, OTT 6th, SJS 6th, STL 6th, OTT 7th
* Sharks will give Ottawa the higher of two different picks, their own and the Florida Panthers' second-rounder.
Trade Chips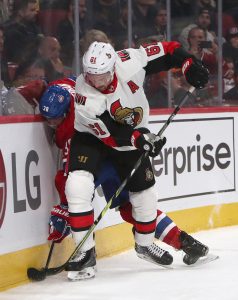 As said earlier, the team will attempt to lock up one or two of Duchene, Stone and Dzingel, but if not, the team is ready to move on from them. Stone has received quite a bit of attention as the Winnipeg Jets are rumored to be aggressively pursuing the 26-year-old winger. Fortunately for Stone and the Senators, he's having a career year as he's already scored 26 goals and 57 points and looks to be developing into a consistent 30-point scorer for whatever team can eventually sign him.
Duchene himself, should bring a hefty return, although not as much as Ottawa paid for him a season ago. Duchene is also posting big numbers and looks to be heading for a career-year himself as he already has 26 goals and 54 points and should provide many playoff teams with a solid No. 2 center for the stretch run. Dzingel shouldn't be forgotten either as the 26-year-old is also putting up nice numbers and again, is headed for a career year. Dzingel already has 21 goals and 41 points, and is just two goals of equaling his career-high. While not of the same magnitude as either Stone or Duchene, Dzingel could also bring back a significant return.
The Senators have a number of other players who could find themselves moved as well, including defenseman Cody Ceci. The 25-year-old will be hitting restricted free agency and with a number of young defensemen coming up through the system, the Senators may prefer to trade Ceci and avoid having to pay big money for him. Now that the team has gotten Jean-Gabriel Pageau back from injury, he too could find himself traded as a depth option for a playoff team.
Five Players To Watch For: D Cody Ceci, F Matt Duchene, F Ryan Dzingel, F Jean-Gabriel Pageau, F Mark Stone
Team Needs
1) First-rounders: Without a first-round pick for the upcoming draft, the Ottawa Senators might feel a little better if it could pick up a couple of first-rounders if they end up trading both Duchene and Stone. There is nothing the team can do to get back their own first and they will have to deal with that, especially if the Colorado Avalanche win the draft lottery with Ottawa's pick. However, even if they can add a couple late first-rounders, that still would look better than having no first-round pick at all. The team does have a couple of second-rounders, but anything they can do to stockpile picks, especially in the first round would only help them.
2) Young NHL-established Players: It already seems like the Senators have a large number of prospects either already on the team, trying to earn more playing time or waiting with the Belleville Senators, waiting for their chance to get called up. While the jury is still out on many of those prospects, the team could easily use some young players who have already broken through to the NHL and might provide even more offense with a new chance and plenty of opportunities in Ottawa. The Senators are rumored to be asking for Jack Roslovic from Winnipeg in any deal involving Stone, but Roslovic is exactly what the team needs — a player who is closing in on 100 NHL games already and is starting to come into his own now. The Senators need more of those types of players to fill the gap that will exist if the lose Stone, Duchene, Dzingel or anyone else they can.