As the holiday season approaches, PHR will take a look at what teams are thankful for as the season heads past the one-quarter mark. There also might be a few things your team would like down the road. Let's take a look at what's gone well in the early going and what could improve as the season rolls on for the Nashville Predators.  Click here for the other articles in this series. 
What are the Predators most thankful for?
Depth scoring. One of the big strengths the team has is their depth scoring as they have solid lines throughout and scoring seems evenly distributed. Scoring is not an issue as the team averages 3.19 goals per game. The team is ranked 12th in scoring and while only one player has more than 10 goals this season (Filip Forsberg with 14), the team has 12 players with at least five goals and a handful of depth, but quality players who are producing offense, including Craig Smith, Ryan Hartman, Colton Sissons, Calle Jarnkrok and Austin Watson just to name a few. With so much in the tank, the team should be well rested when the playoffs approach.
Who are the Predators most thankful for?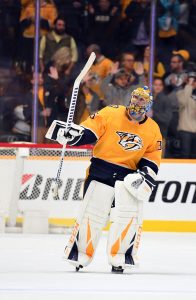 Many people believed that while goalie Pekka Rinne was coming off a Vezina Trophy-winning season last year, there might be a decline in the veteran's play after a disappointing playoffs and the fact that the goaltender is 36 years old and cannot be expected to keep up those numbers forever. Fortunately for Predators' fans, Rinne has been outstanding once again as despite missing some time with an injury early in the season, he has amassed a 1.96 GAA in 22 games with a .929 save percentage.
Others felt that Rinne might slowly lose his job to goalie-in-waiting Juuse Saros, but so far that hasn't been the case. The team has been using Rinne quite often and rely on him for the big games. Saros has appeared in just 13 games this season, many of which came during the time that Rinne missed due to injury.
What would the Predators be even more thankful for?
Despite their success due to their depth players, the team has to hope that they can get some of their top players back from injury. The team's top goal scorer is Forsberg, but the winger has been out with for more than two weeks and could be out for double that with an upper-body injury. The team hopes to get defenseman P.K. Subban back soon, who has missed a large chunk of the season with an unknown injury, while Viktor Arvidsson has also missed quite a bit of time to injury as well. If the team could get healthy, they may have a chance to fare even better in the Central Division, even though they are just one point out of first place.
What should be on the Predators' Holiday Wish List?
The continued development of Eeli Tolvanen. The team had high hopes when they brought Tolvanen over from the KHL at the age of 19. He's immensely talented and showed some of those skills off in a brief callup when he tallied a goal and an assist in four games while filling in for several of the team's significant injuries. That, of course, couldn't last and he was immediately sent down after Kyle Turris returned off the IR. Many people want Tolvanen to remain with the team, but in reality it's a waste to play him few minutes in Nashville on a bottom-six line. Until he can outplay someone on the top-six, he needs to spend as much playing time as possible in the AHL until his skills can surpass one of their top players.
Photo courtesy of USA Today Sports Images.