There has been a distinct theme in the questions submitted thus far for the mailbag with Toronto's William Nylander getting a lot of attention.  With that in mind, here is a special Nylander edition of the PHR Mailbag with the answers to other questions running over the weekend as usual.
ThePriceWasRight: How long do the Nylander and Ritchie sagas play out? Maple Leafs have shown they likely don't need Nylander but could still use a shutdown d-man. Anaheim, on the other hand, could use some offense in its lineup.
Nylander's case is tough to handicap.  Toronto has shown they have no issues scoring without him so far but I don't think that kills his leverage either; he is still a top-line player.  Considering the gap that they're apart (which is believed to be around $1.5MM per year), he's not necessarily losing too much money by sitting out if Toronto eventually ups their offer.  On top of that, a year one payment that is mostly signing bonus money would help recoup anything he loses as well and that is the route I think will be taken.  This could easily go another month at this point and follow a similar path as Jacob Trouba's post-ELC deal which was signed in November although a long-term pact will be the end result instead of a bridge contract.
As a side note, there is a small benefit in this dragging out from Toronto's salary cap perspective.  The longer this drags out, the higher the AAV will be this season (when they have more than ample cap room) but it will be lowered throughout the rest of the contract.  CapFriendly has a good breakdown of this on Twitter.  We're only talking probably a couple hundred thousand per year at most but with how much the Maple Leafs are going to have tied into that core group, every little bit counts.
(Ritchie will be covered in the regular mailbag this weekend.)
mikedickinson: The Hurricanes are playing well, but you've gotta think they need a center, and we have too many defensemen. Why are the odds of Nylander shooting his way out of Toronto and going to Raleigh? He and Aho would be a dynamic duo. Faulk and prospects headed to Toronto?
Zack35: Aside from Dubas saying "we can and we will" why would the Leafs not just trade Nylander to Carolina for Justin Faulk? Maybe not a 1 for 1 trade but that kind of framework. Signing him for anything above 7 mil when they have a ton of scoring already doesn't make sense to me.
Toronto is known to have shown interest in Faulk over the summer but at that time, Nylander wasn't involved in the trade discussions.  It's hard to see that changing now.
From the perspective of the Maple Leafs, they wouldn't be wise to trade a top-line winger for a second-pairing defenseman with just two years of team control remaining.  A short-term return isn't ideal for a long-term asset like Nylander is.  I also think Toronto would be better off targeting someone that's a little better in the defensive zone although Faulk's offensive skillset in their system is quite intriguing.  He wouldn't be the ideal fit for them in my opinion but he would certainly represent an upgrade and it wouldn't be shocking to see the Leafs circle back on him at some point.
From Carolina's perspective, this is a team where seemingly every decision that has been made since the ownership change has been about cutting costs.  Go back to their GM search where candidates were withdrawing due to low offers and limited power, the trade with Calgary, offloading Jeff Skinner for a futures-based package; even the radio broadcast was cut to save some money.  To turn around and add what would wind up being their biggest contract by a considerable margin just doesn't seem to fit that mindset, especially with Sebastian Aho needing a new, expensive deal after this season.  If they're going to be a lower-spending team, I can't see them taking a real serious run at Nylander although he'd certainly bolster their offense.
@poulter_s: What is the realistic chance William Nylander gets traded?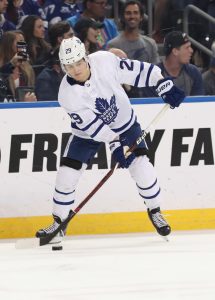 I don't think it's all that realistic, to be honest.  I know with these types of holdout situations, the trade speculation picks up but the player ultimately winds up re-signing most of the time.  As part of his pitch to bring in John Tavares, GM Kyle Dubas insisted that he could keep their core (including Nylander) together.  To go back on that promise that quickly wouldn't resonate well.  I also suspect that the reported salary demands (if true) would be limiting the number of potential suitors out there.
Ultimately, if I had to handicap what's going to happen, I'd guess that the focus becomes a six-year deal, one that buys out just one year of UFA eligibility which will ultimately lower Nylander's demand on the AAV with fewer UFA years than a max-term contract.  Toronto will up their offer to closer to $7MM and they'll settle there with Nylander's camp knowing that he will be in the prime of his career when he hits the open market where an even bigger contract will await him.
binarydaddy: I'm seeing a lot of Leafs/Nylander questions here…but the real question should be; the Leafs aren't going to give him what he wants, Shanahan's made that clear regarding salaries moving forward. So which teams do you see as being possible suitors for a Nylander/Gardiner combo to get a top-5 d-man into Toronto now? Gardiner is clearly not the future and the thought of him putting up 50-points/season means he should be paid upwards $6M+/year is unfathomable! The Leafs aren't going to be able to stay in games with the likes of Boston or Tampa if they rely on their offense to carry the load. Not to mention, we all know Freddy ain't the best in October. Can the Leafs win on offense alone or could you see a package that sends Nylander and Gardiner to LAK for a Doughty scenario?!? Or maybe to SJS for a Brent Burns?
The short answer is that on the surface, no team with a top-five defenseman should have interest in a deal like that.  No one with an established elite defender should want to move that player for a winger and a rental blueliner while adding considerably to their salary cap for this season once Nylander eventually signs.   I'd go as far as saying no team with a legitimate and controllable number one blueliner is going to do a deal with that type of framework.  That's a premium position to fill where players of that ilk are often franchise players and while a Nylander/Jake Gardiner package is indeed very strong, they're not franchise players.
For a number one defenseman signed beyond this season to move for a forward, it would need to be an established center (a premium position) coming the other way and although some believe Nylander could still play down the middle, he's not established at that position just yet.  Other than Erik Karlsson, there isn't really an elite rental option out there (and with the penalty built in the trade to San Jose if he's sent back East, he wouldn't be an option for Toronto even if the Sharks decided to flip him).  Gardiner himself is one of the more prominent rentals which is why his price tag is probably going to exceed the $6MM mark when all is said and done.
If Dubas wants to trade Nylander, I would recommend they go a different direction than the one you're proposing.  As I don't believe an established number one defender is realistically on the table, I'd instead target a 20-23 year old that is already a top-four player and still has room to develop into a top pairing option.  I'd be aiming for at least five years of team control remaining (to match Nylander and line up with their current young core) and with that, the price tag shouldn't be higher than what they're willing to pay Nylander currently.  Given the big tickets they're going to have on the books up front next year, the difference of a few million dollars between this type of player and an established number one defender is going to be critical for their ability to keep as much of the existing core intact as possible.
Can Toronto win on offense alone?  I have a hard time thinking so (teams built that way haven't fared too well in the playoffs) although they'll be difficult to stop entirely in the playoffs.  They'll slow down but the Leafs are still going to score a lot in the postseason.  That's why a number one defender isn't a must-have.  Get a young rearguard that can help now and long-term and then supplement that with a rental player at the deadline.  That's still a pretty substantial improvement that would go a long way towards helping their chances.
If you have non-Nylander questions, there's still time to post them in the comments section here or by using the hashtag #PHRMailbag on Twitter.
Photo courtesy of USA Today Sports Images.