Today the New York Islanders took the first step towards a "culture change." Lou Lamoriello, well known for his strict player policies and organizational rules, relived GM Garth Snow and head coach Doug Weight of their responsibilities, assuming the general manager role himself and starting a search for the next coach. He said that the decision had nothing to do with the re-signing of John Tavares, and though Lamoriello is well known for sliding his way out of tough questions he might be telling the truth.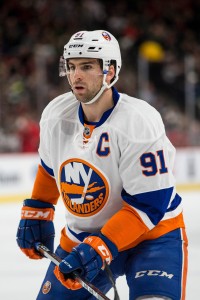 The fact is, the Islanders needed a change whether Tavares re-signs or not. The face of the franchise hasn't been able to carry the organization to the promised land during his nine year career, despite his remarkable consistency on the ice. Now, Lamoriello will attempt to remove the idea of a single player at the front of an organization and that's something Tavares will need to buy into. Instead, there will be plenty of uttering of the old phrase "it's about the logo on the front, not the name on the back" and other team-first proverbs. How that sits with the 27-year old superstar, who was close with Weight and had been playing under Snow his entire career, isn't certain.
What is certain is that Tavares could become arguably the most valuable unrestricted free agent the league has ever seen. In the middle of his prime and valuable in almost every facet of the game, Tavares is a direction-changing presence that could turn around a franchise immediately. Put him on a team that barely missed the playoffs and they will likely get in. Put him on a contender and they could become a powerhouse. Lamoriello knows that, and hasn't been shy about signing his best players to long-term, big money contracts in the past. After all, this is the executive that signed Ilya Kovalchuk to a 17-year $102MM contract before the league rejected it, only to eventually get a 15-year $100MM deal approved with the Russian sniper.
So, will Lamoriello be able to negotiate a long-term deal with Tavares to keep him with New York for the next portion of his career? When we asked a similar question in January, before Lamoriello had been hired, more than 55% of our readers didn't believe Tavares would end up back with the Islanders. Has that changed with the different management group? Or does the fact that he's just a few weeks away from free agency make it even harder to sign on the dotted line? In just over three weeks Tavares will be able to start talking to other teams, and seeing what they have to offer him. That's not a lot of time for Lamoriello to work with, but as he's known for saying—"if you have time, use it."
[Mobile users click here to vote!]
Photo courtesy of USA Today Sports Images