Free agency is now less than a month away from opening up and there are quite a few prominent players set to hit the open market while many teams have key restricted free agents to re-sign. Here is a breakdown of Columbus's free agent situation.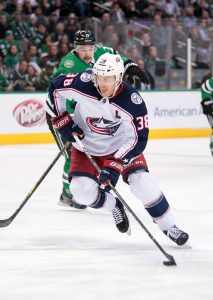 Key Restricted Free Agents: F Boone Jenner – While Jenner hasn't been able to repeat his 30-goal performance from 2015-16, he has still been an important middle-six forward the last couple of seasons for the Blue Jackets.  Their issues getting consistent play at center resulted in Jenner spending most of this past season there after being shifted to the wing for the majority of the previous campaign.
The 24-year-old is coming off of his bridge contract and is owed a $2.9MM qualifying offer later this month, one he'll undoubtedly receive.  The big question here is how much more he's going to get this time around and whether Columbus will be able to afford it in their budget, especially with three of their top players needing new contracts one year from now.  If it's more than they're willing to pay, the Blue Jackets will be well positioned to take advantage of a center market that has a lot more demand than supply around the rest of the league.
D Ryan Murray – When healthy, Murray has been a capable fourth or fifth defenseman for the past several years.  Unfortunately for him and the team, staying healthy has been a concern almost every year and 2017-18 was no exception as he missed 34 games due to an upper-body injury.
At this point, the fact he was a second-overall pick (back in 2012) shouldn't really come into play in negotiations but Murray is still in line to receive a raise on the $2.825MM he made this past season.  For someone who spent some time on the third pairing, an increase may make him a little pricey for his role.  However, their back end could look a little different depending on their unrestricted free agents (more on that shortly) so there could be an opportunity for more playing time for the 24-year-old next season.  Long-term deals are common coming off of a bridge contract but it wouldn't be surprising to see Columbus look short-term here.
Other RFAs: F Oliver Bjorkstrand, F Ryan Kujawinski
Key Unrestricted Free Agents: D Jack Johnson/Ian Cole – Cole's acquisition at the trade deadline was supposed to force Johnson out but that wound up not happening.  As a result, Johnson's ice time was cut to the point where he didn't even play in the playoffs.  While that seemingly wouldn't bode well for his future, at least one prominent insider believes he's still in line for a pretty good raise on his next contract.  It's safe to say that the Blue Jackets won't be the one providing it to him, however.
The same can't be said for Cole who fit in nicely.  He didn't log big minutes (just over 18 minutes per night in the regular season and a little over 19 in the playoffs) but helped to stabilize their bottom pairing.  He had several suitors back at the deadline and should have quite a few this summer as well which means he should get a sizable jump on his next contract from the $2.1MM AAV he played under over the past three seasons.
F Thomas Vanek – The veteran was acquired for cheap at the deadline and wound up being quite productive with Columbus, collecting 15 points in 19 regular season games.  When you add that to the 41 points he put up with the Canucks, you quietly get the fourth highest point getter that's set to hit the open market next month.  He has settled for one-year deals the last two summers and considering how much he has bounced around lately (he has played for eight different teams since 2013), another short-term pact may be in the works this time around.  If he can come close to repeating his performance next season, whoever gets him may be getting a nice bargain.
Other UFAs: D Andre Benoit, F Alex Broadhurst, F Matt Calvert, D Taylor Chorney, D Cameron Gaunce, F Mark Letestu, G Jeff Zatkoff
Projected Cap Space: The Blue Jackets currently have just over $61.6MM committed to 19 players, per CapFriendly.  Even after factoring in raises for Jenner, Murray, and Bjorkstrand, they should still have a decent amount of payroll room to work with this summer.  However, with new deals on the horizon for goalie Sergei Bobrovsky, winger Artemi Panarin (both eligible for unrestricted free agency next year), and defenseman Zach Werenski (eligible for restricted free agency), GM Jarmo Kekalainen may want to look for players willing to take one-year deals to ensure they have as much flexibility as possible next summer.
Photo courtesy of USA Today Sports Images.